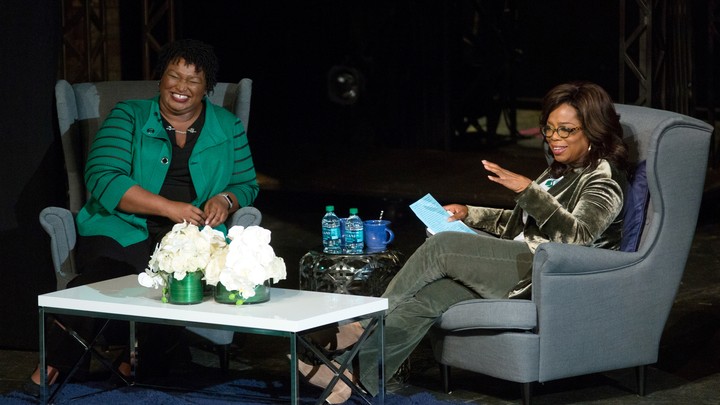 What We're Following
Harvard vs.: Harvard defended itself in court for the past three weeks over allegations that it applies unfair admissions standards to Asian applicants (the lawsuit was brought by a coalition of Asian American students, cobbled together by the conservative legal strategist Edward Blum). It's unclear if the lawsuit will lead to changes in Harvard's admissions process. But if the case goes to the Supreme Court, the real outcome to watch is the future of race-conscious admissions.
Health Issues: What do voters really, really care about? Health care—
"everywhere and nowhere, a strange kind of omnipresent sleeper issue," writes Annie Lowrey. Democrats are in a position to run on health care rather than gloss over relevant policy. "To black women in Georgia, the stakes of the debate over health-care access are no less than life or death," writes Vann R. Newkirk II, reporting from Savannah.
Apology: Every week, the psychotherapist Lori Gottlieb answers readers' questions in the Dear Therapist column. But this week, in a special installment, she addresses a question not from one reader, but from various men who have asked her both in her inbox and in her own therapy practice: Is it possible to apologize for a sexual assault? And if so, how? Plus: what happened when one woman reached out to the man she said raped her in college.
---
Snapshot
---
Evening Read
Veronique Greenwood's grandfather was an eminent nuclear physicist, whose career was derailed by what seemed to be a crackpot theory. After his death, she came into possession of his papers, and began to peel back this enduring family mystery:
One rainy day this past March, deep in the thicket of papers and lost myself, I called my father. Trained as a scientist, he had always been fascinated by Francis's obsession, which Francis had continued to talk about his whole life. Francis was not fired in the end. But my grandparents did eventually retire early. They moved onto their boat and spent many years sailing across the world. But on their ultimate return to the United States, Francis submitted his papers several more times and engaged in ever-more-tangled correspondence, which I now had spread across the floor of my home.

My father described a picture he'd seen long ago. "It was a painting of this immensely complicated structure made up of linear pieces. It climbs, and it climbs, and it climbs, and above it is this perfect sphere floating in space. And when I saw that … I looked at that painting and I thought, I know exactly what that is: You can't get there from here!" he said. There is a gap between what you can prove with the tools available to you and what you believe to be true. Mathematicians spend decades constructing proofs for intuitions they had years earlier. Artists struggle to capture an inspiration on canvas. Scientists follow hunches, writers follow stories, all of us stumble forward on a tightrope of our own making without any guarantee that it will bear us. The painting is by Paul Klee; it is called Limits of Understanding.
---
What Do You Know … About Culture?
The new biopic Bohemian Rhapsody sweeps through the life of Queen's lead singer, Freddie Mercury, who died in __________ due to

AIDS

-related bronchopneumonia.
Scroll down for the answer, or find it here.
2. The comedian Louis C.K. returned to this mainstay comedy venue this past week with a new set, after admitting to sexual misbehavior toward multiple women last November.
Scroll down for the answer, or find it here.
3. This small, beloved art-movie streaming service—a combination of the Criterion Collection and the Turner Classic Movies archive—is shutting down this month.
Scroll down for the answer, or find it here.
Answers: 1991 / Comedy Cellar / Filmstruck
---
Poem of the Week
Here's a portion of "Something Left Undone" by Henry Wadsworth Longfellow, from our November 1863 issue:
By the cares of yesterday
Each to-day is heavier made,

Till at length it is, or seems,
Greater than our strength can bear, —
As the burden of our dreams,
Passing on us everywhere
---
Looking for our daily mini crossword? Try your hand at it here—the puzzle gets more difficult through the week.

We're always looking for ways to improve The Atlantic Daily, and we welcome your thoughts as we work to make a better newsletter for you.

Did you get this newsletter from a friend? Sign yourself up.
We want to hear what you think about this article. Submit a letter to the editor or write to letters@theatlantic.com.
Shan Wang
is a senior editor at
The Atlantic
, where she oversees newsletters.