The Atlantic Daily: On the Edge of a Sword
The recounts of states past. Plus worse fires yet to come, Stan Lee and the superhero comic, and more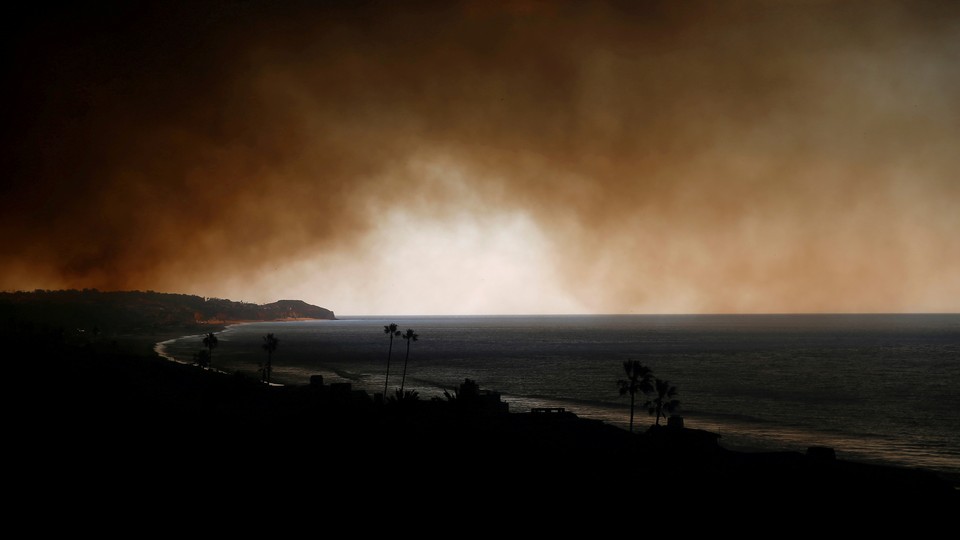 What We're Following
'Camp Fire': "Forest fires might be seen as the particularly horrific edge of a sword that is coming for us all," writes Robinson Meyer on the two massive wildfires—the Camp and Woolsey fires—that have devastated communities in both the northern and southern parts of California. These conditions suggest the worst is yet to come.
On Veterans Day: President Donald Trump's Paris visit over the weekend, and what he chose to say and do—or not—on the 100th anniversary of the end to the fighting in World War I, has underscored to European leaders like Emmanuel Macron of France that the U.S. administration's "America First" message means just that. What else we're thinking about on Veterans Day: Read our November 2017 series featuring perspectives from veterans on issues from universal health care to women in military service to how PTSD impacts children.
Birthright: What happens when a nation limits birthright citizenship? This Caribbean country offers a lesson on what follows, writes Jonathan M. Katz.
---
Snapshot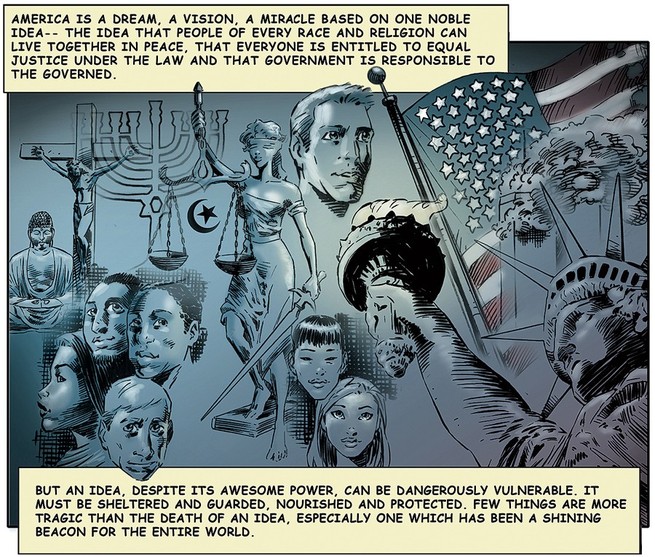 ---
Evening Read
In 2000, Florida gave us a recount that ended with the Supreme Court showdown Bush v. Gore. But a more instructive moment to look to as the state begins historic recounts might instead be this 1985 Congressional race in Indiana, writes the historian Julian E. Zelizer:
Arguably, the Bloody Eighth is what led to the eventual GOP takeover of the House, under Newt Gingrich, in 1994. The Bloody Eighth was his trial run, and the 1994 election his proof of concept. Thus even though Democrats won their seat, they lost the long-term narrative.

When pundits look back at the 2000 presidential election, the lesson they tend to draw is that what really matters in a recount is raw power. Who cares that the Supreme Court's Bush v. Gore decision was, by many lights, among the most partisan, least legitimate rulings ever issued? George W. Bush, not Al Gore, became president.

But what's at stake in this year's recount is not the presidency—it's a Senate seat that won't determine which party controls that chamber, and a governorship that was previously in Republican hands. Of course the result matters, but, as in the fight over the Bloody Eighth, the narrative matters, too. Indeed, how the public perceives the process could influence the 2020 election (and beyond) more than the actual outcome. Which side will claim the mantle of justice? Which will end up looking corrupt?
---
What Do You Know … About Education?
1. In what was effectively the first-ever State of the Union address delivered at the then-provisional U.S. capital of New York City, this president pushed forward the idea of a national university in America.
Scroll down for the answer, or find it here.
2. This public-schools superintendent and Democratic gubernatorial candidate defeated the two-term Wisconsin governor Scott Walker in last week's midterm elections, running with a focus on education policy.
Scroll down for the answer, or find it here.
3. According to a recent national survey, 58 percent of white people with a college degree say that America has gotten better since 1950. But this percentage of white people without a college degree say it's gotten worse.
Scroll down for the answer, or find it here.
---
Dear Therapist
Every week, the psychotherapist Lori Gottlieb answers readers' questions in the Dear Therapist column. This week, Evan from Delaware writes in about stressful living in a multigenerational household:
I am 24 years old and have lived at home with my grandparents and mother since I was in college. It was a nice arrangement for many of those years, and the deal has been simple: I get to live at home for basically nothing, and in return I clean, run errands, occasionally cook, and take care of whatever they need. In addition to this, for the past eight months I have been working part-time, and I'm actively seeking full-time work.

However, about seven months ago the arrangement changed rather dramatically. My grandfather had been suffering mildly from Parkinson's disease and had not had many issues, but one day he fell and ended up in the hospital. This was followed by a short stay at a recovery home, and finally he came back home …

My grandfather has gotten better since then, but much of the same routine continues, with me being at my grandparents' and mother's beck and call for everything from the essential to the mundane. Every day I become more and more annoyed by their endless requests and nitpicking. I feel like home is just another job, and it's hard to open up or connect to someone my own age about it, because no one I know is in the same situation.
Read Lori's advice, and write to her at dear.therapist@theatlantic.com.
---