The Family Weekly: 'Uber for Kids' and the Future of How Children Get Around
Plus: fighting the loneliness epidemic in schools, talking to kids about race, and being an accomplice to an affair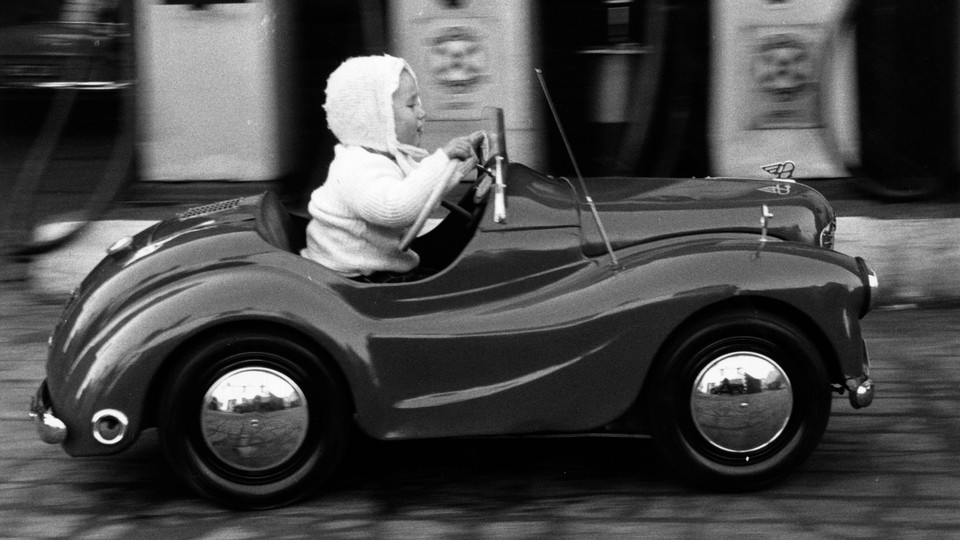 This Week in Family
For parents who are too busy to drive their kids to school or soccer practice, popular ride-sharing services like Uber and Lyft aren't an option—minors can't ride without an accompanying adult. A new spate of kid-focused start-ups are trying to fill in the gap, writes the Atlantic staff writer Joe Pinsker. These apps have the potential to make some parents' lives easier, but they raise questions of who, precisely, they benefit.
In school, young people are taught all sorts of nonacademic topics—nutrition, sex ed, fitness, the dangers of drugs. The Atlantic staff writer Ashley Fetters explored the possibility of introducing a new one: loneliness prevention. As the U.K. rolls out a loneliness-prevention program starting in primary school, Fetters wonders whether a similar curriculum would work in the United States, and how it might help students deal with feelings of isolation.
---
Highlights
In the latest installment of "Home School," The Atlantic's video series about parenting, the author Jemar Tisby talks about the importance of talking to children about race, and the necessity of it happening "early, often, and honestly." As he says, "the worst conversation adults can have with kids about race is no conversation at all."
Talking about salaries is notoriously tough, writes Joe Pinsker, and two economists have tried to quantify just how uncomfortable it is. They found that people who make the most money are often the most reluctant to talk about it.
---
Dear Therapist
Every Monday, the psychotherapist Lori Gottlieb answers readers' questions about life's trials and tribulations, big or small, in The Atlantic's "Dear Therapist" column.
This week, Lori advises a woman whose relationship started as an affair and who is worried that since her boyfriend cheated on his ex, he'll cheat on her, too. She loves him and they've been dating exclusively for eight months, but she isn't sure how to fully trust him moving forward.
Lori's advice: Start talking about your relationship on a deeper level, and purposefully bring up the hard issues.
Once you two start talking about yourselves and your relationship on this deeper level, it will make it easier to move past the affair and bring up the kinds of things couples who are seriously dating should talk about. In your case, that might be your age difference and what you're both wanting at this point in your lives—are you ready to get married in the near future if you two are indeed a match? Is he? Are you both interested in that? How does each of you feel about kids and finances and your careers and the division of labor in your household if you end up together for the long haul?
Send Lori your questions at dear.therapist@theatlantic.com.
---