The Family Weekly: What Marketers Think Moms Want
Plus: Declining sperm counts, the problem with time-outs, and the rise of the "engagement photoshoot"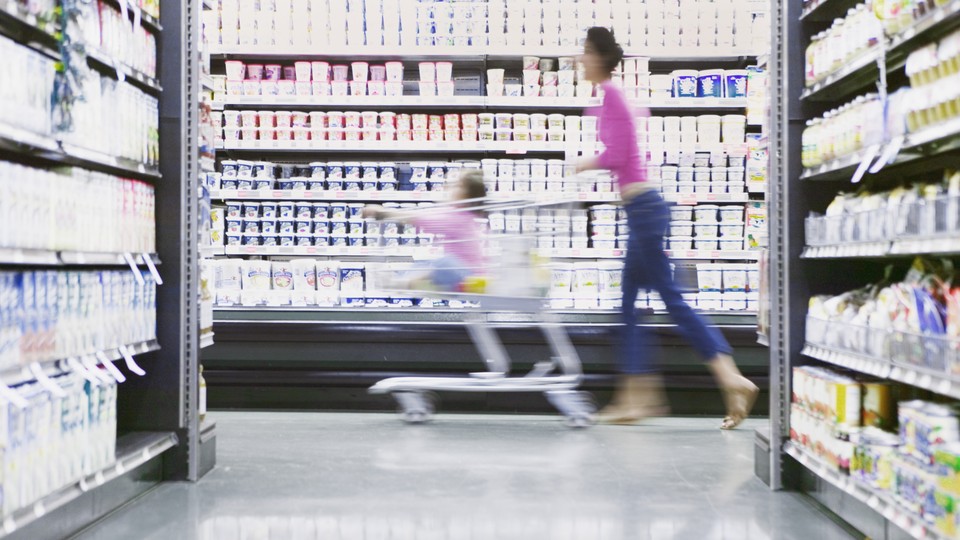 This Week in Family
In an attempt to understand how marketers try to sell things to moms, the Atlantic staff writer Joe Pinsker attended the 14th annual "Marketing to Moms" conference, where marketers discussed the emotions that best characterize moms today: stress, doubt, and guilt. It's a "bleak depiction of modern motherhood," Pinsker writes, but marketers believe it makes for effective advertising, helping them peddle products like cookie gift boxes, Lysol, and lemonade. Stress, in short, is helpful for boosting consumerism.
Spurred by the changing norms of social media, soon-to-be newlyweds are increasingly participating in a new tradition: the engagement photo shoot. They've become "not mandatory, but kind of mandatory" for engaged couples in the age of Instagram, the Atlantic's Natalie Escobar writes, as a way to publicly display their love—or at least a perfumed representation of it. The costs can reach sky-high prices—up to $1,400 for a session—but couples say that they value the photos for more than just a social-media post.
---
Highlights
Men's sperm counts in the U.S. and Europe have been declining for the past few decades, and scientists can't seem to agree on the reasons why. The Atlantic staff writer Ashley Fetters writes about some of the proposed theories: lifestyle factors, environmental pollution, and chemical contamination.
The "time-out" has long been a staple of American parenting, but this type of punishment may not be helpful for raising considerate children. As Joe Pinsker writes, telling kids "Go to your room" sends a coded message—"suppress those underlying emotions until you're ready to interact with the world again"—that doesn't really address the underlying problems.
---
Dear Therapist
Every Monday, the psychotherapist Lori Gottlieb answers readers' questions about life's trials and tribulations, big or small, in The Atlantic's "Dear Therapist" column.
This week, a reader isn't sure whether to intervene in a difficult situation—she has 10 grandchildren, and one of them is a 7-year-old with autism. The grandmother wants to make sure that the cousins don't exclude or ostracize the 7-year-old because she's "wired differently," but she isn't sure what to say—or if she should say anything at all.
Lori's advice: Make sure you have conversations with all the cousins, but don't force anything.
I think that's the key for all of the cousins—not forcing interactions, but fostering open-mindedness and flexibility. If you encourage inclusion and respect for differences, the cousins will appreciate Poppy's many lovable qualities without feeling like they have to play with her every minute or pretend not to notice what's plainly in front of them. Better for them to understand that it's not that Poppy is self-absorbed when she's obsessed with a topic, but that sometimes her mind gets stuck on it.
Send Lori your questions at dear.therapist@theatlantic.com.
---