The Books Briefing: The Fictional Dystopias That Are Too Close for Comfort
Your weekly guide to the best in books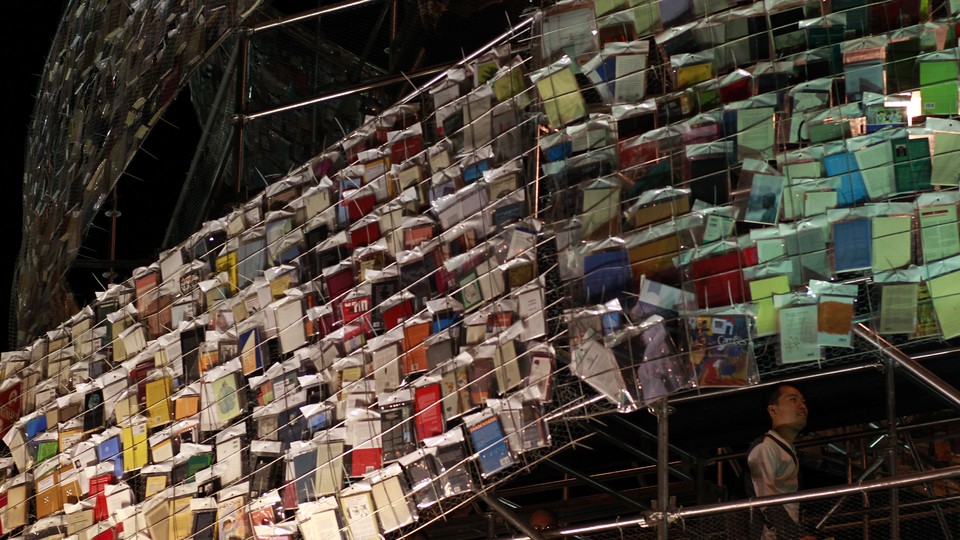 Welcome to the first edition of The Books Briefing. Each Friday, we'll thread together Atlantic stories on books that share similar ideas. Then, we'll turn it over to readers, asking for your recommendations of books that our list left out.
This week, we're looking at how dystopian novels use the human body to explore questions about the purpose and value of life. In the essays below, you'll find several such dystopias, including an America in which abortion has been outlawed, a society that measures human worth in terms of procreation, and one that values longevity over quality of life. The teen protagonists of a novel inspired by West African mythology are oppressed because of their skin color—which also gives them magical abilities. And in a near-future world, girls' bodies develop a power that upends the pillars of society.
---
What We're Reading
The Remarkable Rise of the Feminist Dystopia
"Writers including Louise Erdrich, Leni Zumas, and Bina Shah are warning readers of what could happen in a near-future world, with sperm counts mysteriously plummeting, global temperatures and STD rates rising, and a pivotal anti-abortion vote poised to tip the balance of the Supreme Court. Dystopian fiction isn't soothing anymore. It's too close for comfort."
---
The Swedish Novel That Imagines a Dystopia for the Childless
"Ninni Holmqvist's dystopia doesn't emerge from autocracy but from widely held beliefs about the necessity of procreation, taken to an extreme."
---
Suicide Club Takes On the Tyranny of Wellness
"Though its subtitle bills it as 'a novel about living,' Suicide Club is more precisely a novel about control and its limits—about the fine line between power and powerlessness that is exposed by even the most successful efforts to take charge of one's life and purpose."
---
Where Fantasy Meets Black Lives Matter
"True to the genre's cinematic conventions, sabers gleam, unlikely paths converge, guardsmen give chase, and close calls follow in quick succession. But Tomi Adeyemi also probes beneath the surface details of contemporary American flash points to address the complicated, intersectional nature of domination."
---
What If Women Had The Power?
"In [this] world, a story-within-a-story that's presented as historical fiction, teenage girls discover that they can generate electricity from their hands at will. This new power, as it reverberates throughout cultures across the world, changes everything."
---
You Recommend
What's a dystopian novel that you think everyone should read? Share your recommendation on The Atlantic's Writers page on Facebook, tweet at us with the hashtag #AtlanticBooksBriefing, or fill out this form. We're looking forward to reading with you. See you next Friday.
This week's newsletter is written by Rosa Inocencio Smith. The book on her bedside table right now is The Recovering, by Leslie Jamison.
---