The Atlantic Daily: Scrutinized, Demonized, and Shrouded in Mystery
A Democratic senator signals a 2020 presidential run. Plus the eve of confirmation, when YouTube is the babysitter, and more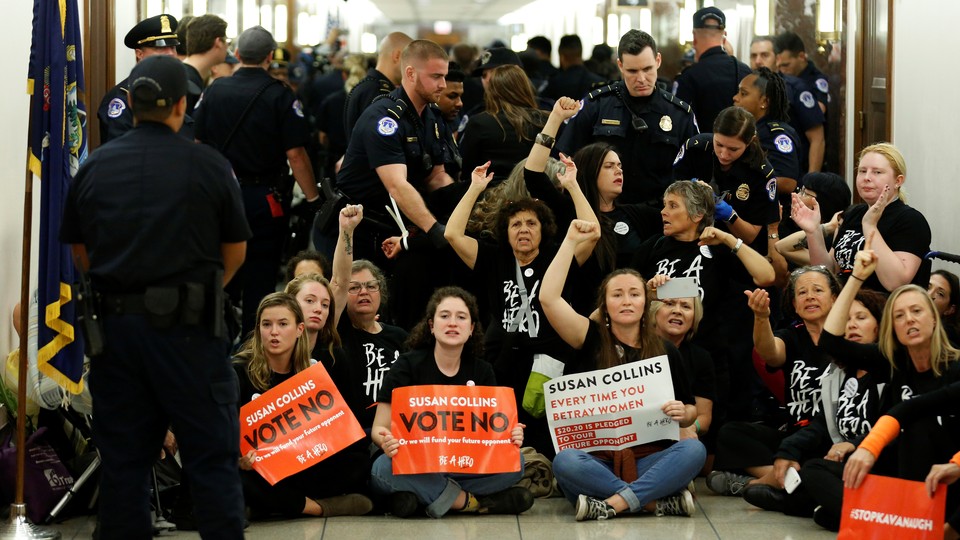 What We're Following
Decides, Deciding, Decided: Republican Senator Susan Collins of Maine, following this speech on the Senate floor, said she would vote to confirm Brett Kavanaugh to the U.S. Supreme Court (she also said she believed the judge wouldn't overturn Roe v. Wade). Democratic Senator Joe Manchin of West Virginia, breaking with his party, said he would also vote "yes." The final vote will take place Saturday. Meanwhile: A Democratic senator with a high-profile role in the Kavanaugh hearings makes a clear move toward a 2020 presidential run.
Tricked: Over the past year, three scholars had been writing and submitting hoax papers—with outrageous findings bolstered only by the trendy jargon used to describe them—to notable journals. By the time they went public with their experiment this week, seven of their 20 articles had already been accepted.
Understanding Harassment: Olga Khazan asks why far more sexual harassers are men than women. David Graham tries to untangle how Susan Collins evaluates sexual-assault claims: She called Christine Blasey Ford a "survivor," but, he writes, "her decision to vote for Kavanaugh is based on her ultimate rejection of Ford's account."
Read and Watch: Venom is part superhero film and part Tom Hardy and his relationship with a ball of alien goo. This documentary on Maya Arulpragasam, better known as the rapper and singer M.I.A., is a revealing exploration of her life and career as a pop artist, an activist, and a refugee of Sri Lanka (and here's a Q&A with M.I.A. herself). Finally: a writer's vivid journey back to the recipes of Iran, where she was born, at a time when Iran has been "scrutinized, demonized, and shrouded in mystery in the eyes of many."
---
Snapshot
---
Evening Read
This YouTube empire for videos targeted at toddlers has racked up 19 billion total views to its videos, nearly four times as many as Sesame Street's collection. Alexis Madrigal takes us inside the increasingly sprawling, weird, and global world of YouTube entertainment for children:
To an adult, the appeal of ChuChu videos is not totally obvious. On the one hand, the songs are catchy, the colors are bright, and the characters are cute. On the other, the animation is two-dimensional and kind of choppy, a throwback to the era before Pixar. And there is a lot of movement; sometimes every pixel of the screen seems to be in motion. Krishnan and Chandar believe that any given shot needs to include many different things a child could notice: A bird flying in the background. Something wiggling. These things hold kids' attention.

The men know this with quantitative precision. YouTube analytics show exactly when a video's audience falls off. ChuChu and other companies like it—whatever their larger philosophy—can see exactly what holds a toddler's attention, moment by moment, and what causes it to drift. If a video achieves a 60 percent average completion rate, ChuChu knows it has a hit.
YouTube, our modern babysitter.
---
What Do You Know … About Culture?
1. The Spanish American celebrity chef ________________________ led a major effort to feed Puerto Ricans in the aftermath of Hurricane Maria.
Scroll down for the answer, or find it here.
2. Bradley Cooper directs, writes, and performs alongside ______________________ in the new film _________________________.
Scroll down for the answer, or find it here.
3. The crossword puzzle was first introduced into newspapers during the ________________________ presidency, in the years leading up to World War I.
Scroll down for the answer, or find it here.
---
Poem of the Week
Here's a portion of "World News," by Greg Delanty, from our September 2014 issue:
We are a family perishing
in our own home. It is below zero
outside and we set fire
to the house, which is in the middle of no-
where, to warm us up. Our very own pyre.
---