The Atlantic Daily: Grim
Another 2020 presidential candidate? Plus an error-riddled clean-cars rollback plan, Halloween traditions, and more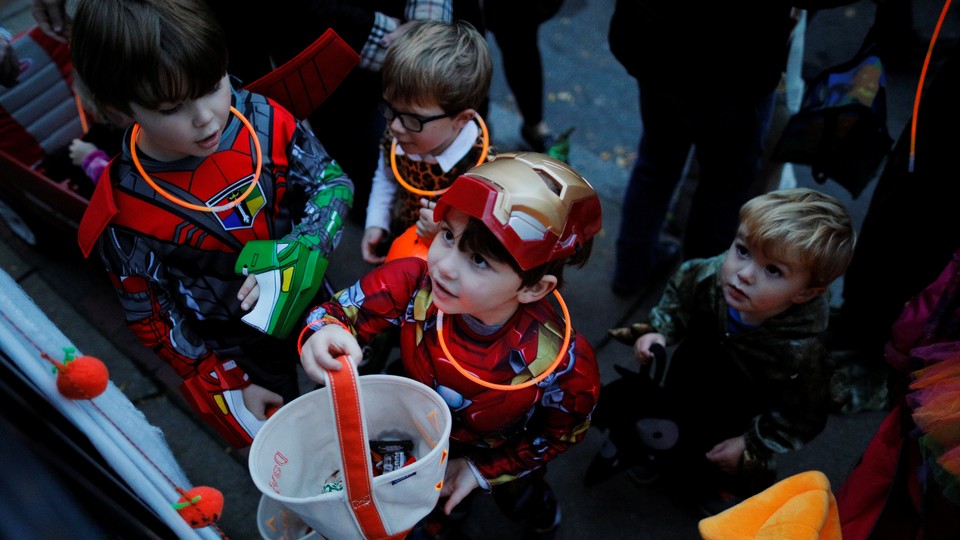 What We're Following
Bad Math: "One of the White House's most consequential environmental rollbacks may be in self-inflicted legal danger," writes Robinson Meyer. The administration's clean-cars rollback plan is riddled with literal miscalculations. Many of the blaring headlines about a major new World Wildlife Fund report are mischaracterizing how many species humans have been responsible for wiping out. The reality is not exactly that "humanity has wiped out 60 percent of animals since 1970," though the real news is still grim, writes Ed Yong.
In-State: The U.S. midterm elections are now less than a week away. As prominent political figures criss-cross the country to stump for state and local-level candidates, they have an opportunity to burnish their own presidential ambitions—is this former vice president, for instance, eyeing a 2020 bid? Here's a look at the West Virginia Republican legislature's impeachment of the justices on its state supreme court, and the consequences of a politicized judiciary. And here are several concrete ideas for expanding voting rights.
Halloween Traditions: The tradition of going door-to-door demanding candy seems like it's not quite what it used to be for many U.S. families. If parents aren't taking their children door-to-door for candy, where are they taking their children instead for costumes and treats? Plus: The everlasting joys of scary stories for kids.
---
Snapshot
---
Evening Read
Romance novels have a spotty record when it comes to depicting relationships of consent: their plots often deal in aggressive pursuits or situations where a "No" implies "Yes."
While many romance novels woo readers with the guarantee of a happy ending, the genre has a fraught relationship with how exactly its characters end up there. The most infamous subcategory of romance, so-called bodice-rippers, first gained massive popularity during the 1970s with stories of helpless women saved from the tedium of their lives by the love—and overpowering libido—of lustful, virile men….

Concerns about the genre's depiction of love and sex have received renewed attention as coverage of the #MeToo movement shifts to acknowledge the role that cultural products play in shaping consumers' understanding of consent. In a November 2017 interview with The Washington Post, Hillary Clinton dismissed romance as a genre full of "women being grabbed and thrown on a horse and ridden off into the distance," which she cited as an example of "how men often are very aggressive toward women who love it" in art.

In the years since bodice-rippers first rose to prominence within the genre and the marketplace, romance writers have been grappling with the questions raised by these sorts of assumptions about their work.
Hannah Giorgis talks with an author who's decided to approach the genre differently.
---
What Do You Know … About Science, Technology, and Health?
1. A recent report revealed that a former top executive at this major technology company received a $90 million payout, after being asked to resign over serious sexual-misconduct allegations.
Scroll down for the answer, or find it here.
2.  Mission over: The ____________________ telescope, NASA's beloved exoplanet-searching spacecraft launched into orbit in 2009, has run out of fuel.
Scroll down for the answer, or find it here.
3. Groups dedicated to sharing and commiserating over everything from diabetes to addiction to rare diseases to infidelity support communities have mushroomed online on this platform.
Scroll down for the answer, or find it here.
---