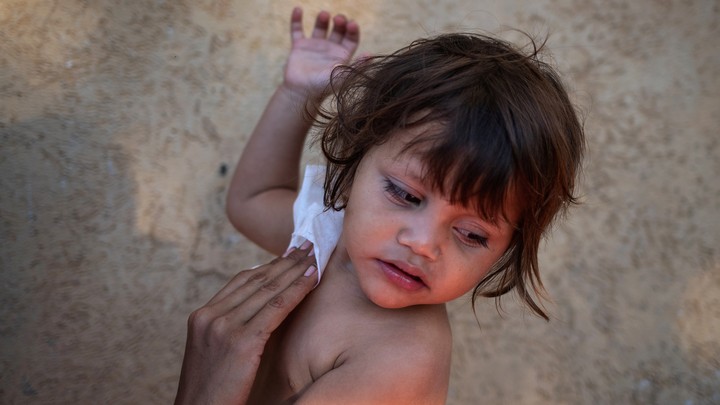 What We're Following
Populism Meets Reality: All isn't running smoothly in the European Union. In an unprecedented move, the EU rejected member country Italy's 2019 draft budget, calling out Italy's "wishful thinking about growth." But was this "wrist slap from Europe" actually what Italy's populist government wanted?
Leaving: During the Cold War, Communist countries routinely forbade and persecuted their citizens from leaving, and the U.S. opposed such policies, Krishnadev Calamur reminds us. Now, President Trump is demanding Central American countries stop people from leaving their borders—but here's why the administration's attempts at deterrence aren't effective.
Retiring: Retired Supreme Court Justice Sandra Day O'Connor, the first woman to serve on the Supreme Court, revealed on Tuesday a dementia diagnosis, and announced she was retiring from public life. She'd stepped down in 2006 from the Court, where she'd often cast a deciding vote, to care for her husband, who was suffering from Alzheimer's.
---
Snapshot
---
Evening Read
Retired United States Army General Stanley A. McChrystal reflects on a decision to throw away a portrait of Confederate Army commander Robert E. Lee—a man he'd been raised to venerate—that had hung in his home for many years:
Although it was a portrait of a man, to many it evoked wider ideas and emotions. For like an object bathed in the light of the setting sun, Robert E. Lee's shadow took on exaggerated size and grew steadily as America's Civil War retreated ever further into the softer glow of history.

A mythology grew around Lee and the cause he served. For many, Lee's qualities and accomplishments, already impressive, gained godlike proportions. This was the Lee I first came to know: a leader whose flaws and failures were sanded off, the very human figure recast as a two-dimensional hero whose shadow had eclipsed the man from whom it came.

But as time passed, the myth was reexamined. The darker side of Lee's legacy, and the picture in my office, now communicated ideas about race and equality with which I sought no association. Down it came.
---
What Do You Know … About Family?
1. A new subcategory of ride-hailing startups—with names like Zūm and Sheprd—aimed at shuttling around _____________ without their _____________, are popping up on a small scale in cities across the U.S.
Scroll down for the answer, or find it here.
2. It runs in the family: By this one study following boys in South London, two-thirds of them came from _________ percent of the families.  
Scroll down for the answer, or find it here.
3. For half of new mothers diagnosed, postpartum depression is their first depressive episode of any kind. But roughly _________ percent of those women diagnosed, PPD becomes a lifelong condition.
Scroll down for the answer, or find it here.
Answers: kids; parents / 10 / 38
---
Urban Developments
Our partner site CityLab explores the cities of the future and investigates the biggest ideas and issues facing city dwellers around the world. Gracie McKenzie shares their top stories:
"The people burdened by student debt are not the kind of overprivileged Millennials ... but rather, it's the people who were told that this is the only way to get ahead." These maps show where Americans have the most student debt.

Using 311 data, the Science vs. team mapped noise complaints in 41 census tracts in New York City. What they found: Per capita 311 calls increased in all neighborhoods, but they rose at a 70 percent faster rate in the gentrifying ones.

Instead of reconstructing aging school facilities, the Beverly Hills, California, school district is using a voter-backed ballot measure to pay for a legal campaign against a subway extension.
For more updates like these from the urban world, subscribe to CityLab's Daily newsletter.
---
Looking for our daily mini crossword? Try your hand at it here—the puzzle gets more difficult through the week.

We're always looking for ways to improve The Atlantic Daily, and we welcome your thoughts as we work to make a better newsletter for you.

Did you get this newsletter from a friend? Sign yourself up.
We want to hear what you think about this article. Submit a letter to the editor or write to letters@theatlantic.com.
Shan Wang
is a senior editor at
The Atlantic
, where she oversees newsletters.