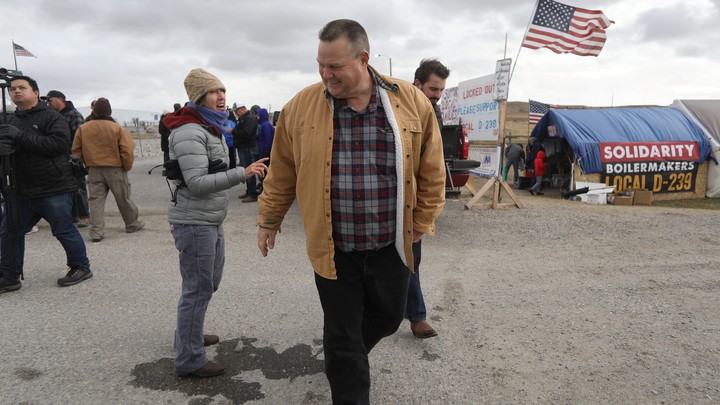 What We're Following
The Big Tent: In Arizona, two candidates are vying in a close race to become the state's first female senator—a centrist Democrat and a Republican aligning more closely with President Donald Trump. But the centrist wasn't always so solidly centrist; in fact, quite the opposite. In Montana, a candidate who "looks less like a standard-bearer of the Democratic Party than like the kind of guy who long ago abandoned it" is trying to show the state's white working class they still have a place in the party.
Paralysis: What's behind this recent spike in an unusual illness that is rendering some children paralyzed and looks remarkably like the nearly eradicated disease polio? The rare but severe condition doesn't appear to be a one-off, doctors fear—it's likely to become a new biennial normal. Ed Yong explores the cause.
#MeToo in Science: The most well-known cases of men implicated in the #MeToo movement have often involved high-power Hollywood figures, TV-famous journalists, and major company executives. What happens when the reckoning comes for a celebrity scientist?
---
Snapshot
---
Evening Read
Deborah Copaken attended her 30th reunion at Harvard, as a major lawsuit against the university for alleged discrimination against Asian applicants was about to get under way. Here, just a few of the things she learned from her now grown-up classmates who were in attendance:
No one's life turned out exactly as anticipated, not even for the most ardent planner.
Every classmate who became a teacher or doctor seemed happy with the choice of career.
Many lawyers seemed either unhappy or itching for a change, with the exception of those who became law professors. (See No. 2 above.)
Nearly every single banker or fund manager wanted to find a way to use accrued wealth to give back (some had concrete plans, some didn't), and many, at this point, seemed to want to leave Wall Street as soon as possible to take up some sort of art.
Speaking of art, those who went into it as a career were mostly happy and often successful, but they had all, in some way, struggled financially.
They say money can't buy happiness, but in an online survey of our class just prior to the reunion, those of us with more of it self-reported a higher level of happiness than those with less.
Our strongest desire, in that same pre-reunion class survey—over more sex and more money—was to get more sleep.
---
What Do You Know … About Global Affairs?
1. One year ago, Daphne Caruana Galizia, who had been looking into corruption in her home country of _____________ and was part of the global investigation _________________________, was killed.
Scroll down for the answer, or find it here.
2. A far-right candidate and a leftist candidate from a party that's been in power for much of the past twenty years will face off this weekend in this country's presidential election.
Scroll down for the answer, or find it here.
3. The Trump administration is now looking to withdraw from the Intermediate-Range Nuclear Forces Treaty, signed in 1987 by then–U.S. President _________________________ and the then–Soviet leader _________________________.
Scroll down for the answer, or find it here.
Answers: Malta; Panama Papers / brazil / Ronald Reagan; Mikhail Gorbachev
---
Urban Developments
Our partner site CityLab explores the cities of the future and investigates the biggest ideas and issues facing city dwellers around the world. Gracie McKenzie shares today's top stories:
Law-enforcement officials do not yet know who is responsible for this week's attempted mail bombings. But assassination attempts via letters and packages have a long, lethal history, and their victims are almost always postal workers.

Lisbon is known for its intricate, mosaic-inlaid, highly slippery limestone sidewalks. The city wants to replace a few stretches of them with concrete—a seemingly sensible decision that has sparked outrage.

Atlanta's MARTA rail stations tend to take up a lot of land, with vacant pockets left over. Sanjay Patel of Soccer in the Streets knew that these swaths of empty, unused space would be ideal for mini soccer fields.
For more updates like these from the urban world, subscribe to CityLab's Daily newsletter.
---
Looking for our daily mini crossword? Try your hand at it here—the puzzle gets more difficult through the week.

We're always looking for ways to improve The Atlantic Daily, and we welcome your thoughts as we work to make a better newsletter for you.

Did you get this newsletter from a friend? Sign yourself up.
We want to hear what you think about this article. Submit a letter to the editor or write to letters@theatlantic.com.
Shan Wang
is a senior editor at
The Atlantic
, where she oversees newsletters.