The Atlantic Daily: The World Will Not Keep Them Safe
Meet our new daily crossword puzzle. Plus a return to a Trump-ier Trump, disaster in Indonesia, and more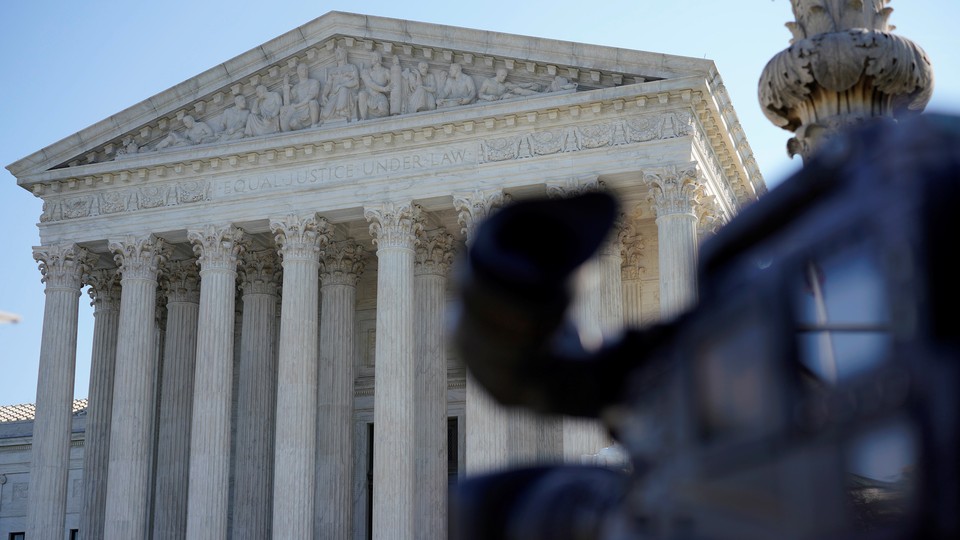 What We're Following
It's My Party: Political tribalism seems to have arrived at the steps of the Supreme Court, which begins a new term on Monday without a ninth justice. If Brett Kavanaugh becomes Justice Kavanaugh, following an openly partisan defense last week, he'll carry "a virus of illegitimacy" to the court's decisions, Ronald Brownstein argues. Elsewhere in the GOP: Will Republican white women abandon their party when voting in the upcoming midterms?
Trading Jokes: "It's one of my only good traits, I do not drink," Donald Trump quipped to reporters on Monday, as he commented on Brett Kavanaugh's assertions about drinking during a press conference initially intended to trumpet a revamped—rebranded—trade deal with Canada and Mexico. It's a return to 2016-campaign-trail form for the president, who's "funny, condescending, demagogic, and full of untruth." Jokes aside, does he still support his nominee, whose seat on the Supreme Court hinges on an ongoing FBI inquiry?
A New Daily Crossword Puzzle: Meet our new daily mini crossword, which we hope will offer a measure of delight and constancy in a chaotic time. Tackle Monday's, or puzzle your way through the past week. Today, the smartphone is singularly the focus of societal awe and anxiety. A century ago, that mantle belonged to crosswords, which first appeared in newspapers in the years leading up to World War I.
---
Snapshot
---
Evening Read
How the Kavanaugh confirmation process has played out is a reminder of another facet of privilege afforded to men like Kavanaugh, writes Megan Garber:
Women cannot afford to assume that the world will keep them safe, or give them the benefit of the doubt. Nor can the many others who do not enjoy the protective embrace of a place invested in their futures: Trayvon Martin was posthumously denigrated, in the effort to defend George Zimmerman's killing of him, for being that most common of things: a young man who experimented with weed. The Dallas Police Department, in investigating the killing of Botham Jean in his own home at the hands of an armed police officer, recently reported that marijuana had been found in Jean's home, as if its presence had a bearing on his slaughter. Substances that alter the mind, certainly, can be just that—temporary escapes from a wearying world, offering lightness and fun and relief—but their affordances are unevenly distributed in a way that mimics many other systemic inequalities. For those who lack the privileges enjoyed by people like Brett Kavanaugh, the escapes themselves can also be profound liabilities.

This is possibly why, for Brett Kavanaugh, alcohol seems to be not just a matter of identity, but also a point of pride. He seems to understand, on some level—and to revel in the fact—that the ability to drink to such excess is a reflection of his status.
---
What Do You Know … About Education?
1. The U.S. Justice and Education departments are now reportedly suing Yale University for allegedly discriminating against _________________________ applicants. A court case that accuses Harvard of a similar bias in admissions is already under way.
Scroll down for the answer, or find it here.
2. In countries around the world, girls are outperforming boys in school. Girls are also more inclined than boys to _________________, a persistent gender difference that may be linked to these persistent educational outcomes.
Scroll down for the answer, or find it here.
3. No other country rewards a college degree as richly as the U.S., and few other countries punish people so relentlessly for not having one. Americans with college degrees earn ______ percent more than those who only completed high school.
Scroll down for the answer, or find it here.
---
Dear Therapist
Every week, the psychotherapist Lori Gottlieb answers readers' questions in the Dear Therapist column. An anonymous reader writes in about her husband of thirty years, who no longer wants to have sex:
I have asked him to go to therapy with me on multiple occasions over the last five years. He considered it several times but always declined, stating he just had no interest in a physical relationship. I have encouraged him to discuss our situation with a friend or his physician, but if he has, he hasn't shared the outcome with me …

Celibacy is not my choice and I miss that portion of our relationship, along with the intimacy, greatly. So I am at a crossroads: End my celibate marriage even though we are very good friends, parents, and partners? Seek a supplemental relationship? Or sacrifice my own sexuality?
Read Lori's advice, and write to her at dear.therapist@theatlantic.com.
---