The Family Weekly: What Teens Think About the Kavanaugh Allegations and Consent
Plus: babies' dreams, a debate about the "confidence gap," and how to deal with a mother's criticism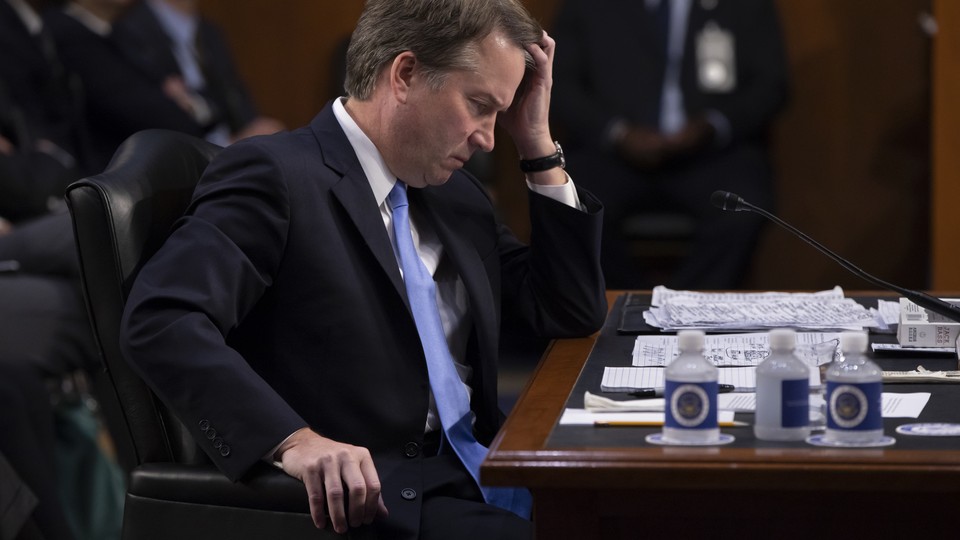 This Week in Family
After Christine Blasey Ford came forward early this week with allegations that the Supreme Court nominee Brett Kavanaugh had sexually assaulted her when she was in high school, some commentators discredited her story as characteristic of adolescents. This defense of Kavanaugh hasn't sat well with a lot of teenagers, writes the Atlantic staff writer Joe Pinsker. He talked to several students about their thoughts on the allegations, the fallacy that "boys will be boys," and the conversations they're having with their peers about consent.
When parents see their newborns move around in their sleep, they often wonder what's happening in their infants' brains. However, psychologists don't definitively know if babies' brains can conjure up dreams, and they have no idea what they might be dreaming about, writes the Atlantic staff writer Alia Wong. Though it's difficult to strap an infant into a brain scanner, scientists have inferred that, like older children and adults, babies dream during REM sleep, but they just have no language to communicate about it.
---
Other Highlights
Two pieces this week talked about the so-called "confidence gap" between men and women—and whether it can actually explain differences in their professional outcomes.
Puberty kills girls' self-confidence, and these feelings of self-doubt often follow them into adulthood, write Claire Shipman, Katty Kay, and JillEllyn Riley. While researching their book, The Confidence Code for Girls, they found that although middle-school and high-school girls are often more academically successful than boys, this doesn't translate into feeling good about themselves or feeling like they can take meaningful risks.
Yet a lack of confidence doesn't explain the underlying sexist reasons why women are often less outspoken in the workplace, writes Stéphanie Thomson. Although women are often told to just "lean in," in the parlance of the best-selling book, this rarely works out for them in practice. "Unless women can temper their assertiveness with more stereotypically feminine traits like empathy and altruism," Thomson writes, "confidence will do little to advance their careers."
---
Dear Therapist
Every Monday, the psychotherapist Lori Gottlieb answers readers' questions about life's trials and tribulations, big or small, in The Atlantic's "Dear Therapist" column.
This week, a reader writes in about her toxic relationship with her mother, who has constantly commented on her appearance and weight since she was a teenager. Now, after moving away from her family and gaining more self-confidence, the reader wants to visit home more often to see her father, who was diagnosed with cancer. But the thought of having to interact with her mom—who still tells her she should lose weight—makes her incredibly anxious, and she's not quite sure what to do.
Lori advises the reader to try to empathize with her mother's "maternal anxiety"—but not to engage with her criticism.
If she continues making critical comments, simply take some deep breaths to calm yourself, then walk over and give her a big hug and say, "I'm sorry you're so worried, Mom. I care about you, too, so I hope you'll find a way to worry less, especially with everything going on with Dad." And then you change the subject, or if she escalates the criticisms, muster that compassion again and say, "It breaks my heart to see you so anxious, Mom," then exit the room and go visit with your dad.
Send Lori your questions at dear.therapist@theatlantic.com.