The Family Weekly: School-Day Schedules Don't Work for Families
Plus: how white parents perpetuate racism, stay-at-home dads and masculinity, and a couple who disagrees on whether to have more children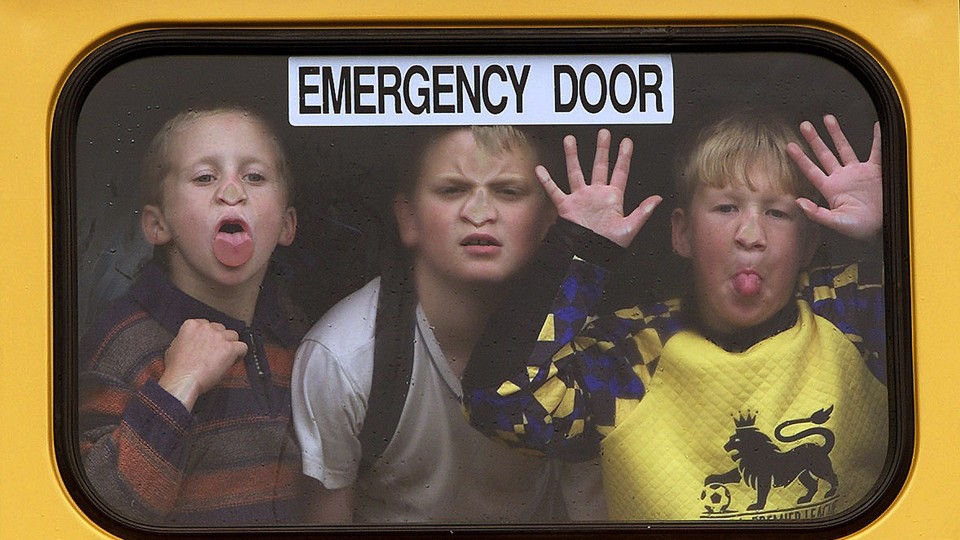 This Week in Family
Despite their best intentions, progressive-minded white families often perpetuate racial inequality through the day-to-day decisions they make for their children. There are ways to change that, the sociologist Margaret Hagerman tells the Atlantic staff writer Joe Pinsker, but it requires a serious examination of the ways that white parents talk about race with their children, the choices they make about where to enroll their kids in school, and the neighborhoods they decide to live in.
For most K–12 students, the school day ends at 3 p.m., but their parents' workdays don't end for another two hours. This creates a child-care conundrum for families; since about half of school districts don't have after-school programs available for students, parents often have to foot the bill for a caretaker or scale back their hours. Kara Voght writes about the parents who go to great lengths to find a work-around for this child-care crisis, like camping out all night to register for after-school programs, and the ways that the school day could be adjusted to ameliorate this problem.
---
Other Highlights
Between one and two out of every 1,000 new mothers experience postpartum psychosis, which puts them at risk of hurting themselves—or even their children. While some countries have reduced sentences for mothers who commit infanticide, Emilie Le Beau Lucchesi writes, the U.S. criminal-justice system has a tough time differentiating between mental illness and intent to kill.
American manhood is rooted in strict gender roles such as physical toughness and status as the breadwinner in the family. However, since stay-at-home dads don't fall into that second category, the sociologist Scott Melzer says that they have the chance to redefine what masculinity means to them personally. Melzer discusses his new book, and the ways that fathers can learn to thrive when they're at home with the kids, with the Atlantic staff writer Ashley Fetters.
---
Dear Therapist
Every Monday, the psychotherapist Lori Gottlieb answers readers' questions about life's trials and tribulations, big or small, in The Atlantic's "Dear Therapist" column.
This week, a reader asks Lori about quarreling with her husband about whether to have another child. Before getting married, they had agreed to have two children, but now that they have a 1-year-old, the reader's husband is wary of the the time and financial commitment of another child. Although the wife knows the expensive reality of having children, she believes that they can afford to have another kid and really wants to stick to their original plan.
Lori's advice? Don't make any big decisions right now while you have a new child:
You could agree to defer the conversation about whether to have a second child for a set period of time (say, six months, or a year). In that time (or more, or less), you might discover something about yourselves or each other that will shift one or both of you toward the middle.
Send Lori your questions at dear.therapist@theatlantic.com.
---
Editor's note: In last week's newsletter, we misstated the rate of teenage pregnancy and STIs in the Netherlands. We regret the error.
---