The Atlantic Daily: An Eerie Symmetry
Accusations against Brett Kavanaugh are building. Plus, Rod Rosenstein's fate and the future of Mueller's Russia investigation, our new home for books coverage, and more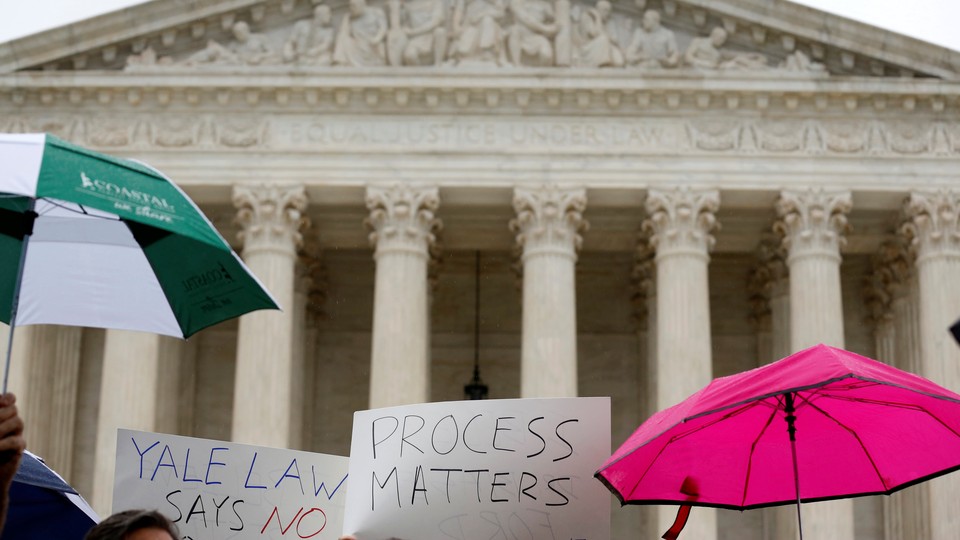 What We're Following
Tales of Uncertainty: Several new allegations of sexual misconduct have emerged against the Supreme Court nominee Brett Kavanaugh. The GOP's apparent haste to confirm Kavanaugh is tearing an already ugly confirmation process apart at the seams. Meanwhile, Deputy Attorney General Rod Rosenstein, who as of Monday evening is still holding on to his job, will meet with President Donald Trump later this week. If he leaves the administration, what will happen with Mueller's Russia investigation?
What We're Reading: We have a new home for book reviews, author interviews, literary essays, and more. Just a sampling: Rowan Hisayo Buchanan writes about a new graphic novel that depicts a science-fiction universe filled with women. Sophie Gilbert reviews a retelling of The Iliad from the perspective of a female slave: "Would women's stories be believed more often if hearing women's stories at all wasn't such a novel phenomenon?" Come read with us.
Quitting Mosquitoes: Of the 3,000 species of mosquitoes in this world, about 70 transmit malaria. Others carry Zika or yellow fever. At best, they cause annoying itches. So what would happen if mosquito populations were eliminated from an ecosystem? This ambitious four-year study will try to find out.
---
Snapshot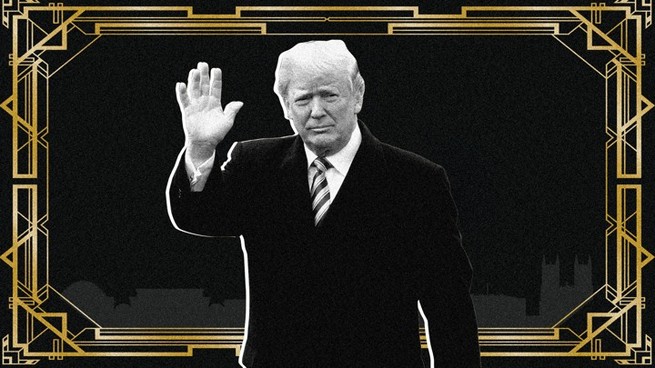 ---
Evening Read
Thirty years ago, the night before Deborah Copaken's college graduation, she was date-raped, she writes. Copaken didn't report the incident; she didn't tell her parents.
But there has been an upside to the Kavanaugh circus and Trump's presidency. For one, it has galvanized women and the men who love us. For another, like so many rape survivors in this country living through this particular moment in history, having to relive our assaults daily—even hourly—with every new allegation of rape, I have been so brought to my knees by this latest allegation that I, too, was inspired to speak out.

Directly. To my rapist.

I wrote him a letter, 30 years after the night in question, reminding him of what he'd done and how hard it has been to overcome.

And do you know what this man did, less than half an hour later? He called me on the phone and said, "Oh, Deb. Oh my god. I'm so sorry. I had no idea. I'm filled with shame."
They then spoke over the phone for a long time. Read Deborah's full story here.
---
What Do You Know … About Education?
1. ____________ percent of American public schools start classes before 8:30, according to the most recent federal data.
Scroll down for the answer, or find it here.
2. In 1862, Abraham Lincoln signed the ____________ Act, granting land to states that could be sold to fund a university, and paving the way for institutions such as West Virginia University, Texas A&M, and Cornell.
Scroll down for the answer, or find it here.
3. As the popularity of yoga has grown at K–12 schools in America, so has pushback against the activity. In 2016, parents objected to its implementation at an elementary school in Georgia, successfully compelling the district to remove which Sanskrit phrase from the program?
Scroll down for the answer, or find it here.
---
Dear Therapist
Every week, the psychotherapist Lori Gottlieb answers readers' questions in the Dear Therapist column. An anonymous reader writes in about his "inadvertent asshole" best friend, whom he loves, but whom his wife hates:
To put it another way: I have known people who are nice, polite, and thoughtful, but who have not been there when I truly needed them. This friend, on the other hand, can come off as a prick, but if you call him at 2 o'clock in the morning for literally anything, he'll be there, no hesitation. He's always been there for me, and I love him like a brother.

Here's the problem: My wife can't stand him. Never could. And since he got married, it's only gotten worse. When he was single, I could always see if he wanted to get drinks or grab a bite to eat, just the two of us. But now he always wants to include our wives. They invite us to dinner, drinks, concerts, and wine tastings, but every time my wife flatly declines, and I end up making excuses. This has been going on for a couple years now, and I think they are starting to get the hint.
Read Lori's advice, and write to her at dear.therapist@theatlantic.com.
---