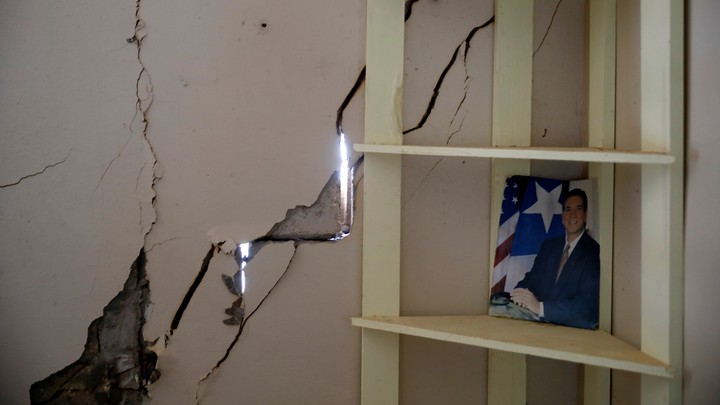 What We're Following
Rebuilding Puerto Rico: One year after Hurricane Maria hit, Puerto Rico is still in recovery. An estimated 200,000 people have left for the mainland of the U.S. in the past year, as the island continues to grapple with problems beyond rebuilding: "A battle between past and future, a struggle between colony and colonizer, a complicated relationship between a diaspora and home, and an unresolved mix of questions about status and citizenship."
Confidence Gap: As they enter their teenage years, girls report a dramatic decline in confidence, according to new research surveying girls in the U.S. from the ages of 8 to 18 and their parents (boys don't experience drops of the same magnitude). The proportion of girls who report that they feel they're not allowed to fail jumps from 18 to 45 percent between the ages of 12 and 13. Another view: A lack of confidence isn't in itself what holds women back in the workplace.
Strikes at McDonald's: A #MeToo movement has long been brewing outside the doors of the fast-food industry. Earlier this week, workers at McDonald's restaurants across 10 U.S. cities went on strike, finally prompting some action from the corporation. The workers' demands were reasonable and doable, argues Hannah Giorgis—so why has it taken the company so long to respond?
---
Snapshot
---
Evening Read
An expat in Paris, Rachel Donadio describes the dizzying experience of reacquainting with her former home on each trip back to the U.S. One standout difference? The buffet of toothpaste options at any given American drugstore.
Of course, other things leap out, too, on first impact back in New York: glacial air conditioning; cars that seem as big as studio apartments; chirpy customer service—any customer service; cheese that's not so much cheese as oil poured into plastic; Amtrak, a national train service roughly twice as expensive and twice as slow as that of any self-respecting (albeit debt-ridden) European country. And then there are the significant social differences: gay people being super out and proud; people of color, and women, in positions of actual authority.
Read Rachel's observations on American oddities, after a decade abroad.
---
What Do You Know … About Global Affairs?
To resolve a decades-long name dispute with Greece, Macedonia is voting at the end of September in a national referendum that will add an adjective to its name, making it the Republic of _________ Macedonia.
Scroll down for the answer, or find it here.
2. The Trump administration dropped the U.S. refugee cap for the 2019 fiscal year to 30,000, the lowest cap since the current refugee-resettlement program went into effect under which president?
Scroll down for the answer, or find it here.
3. In Europe, attitudes toward refugees seem to have shifted since 2015. In Germany and Sweden, _______ percent and _______ percent of those surveyed in each country, respectively, said they'd support taking in more refugees, according to recent data.
Scroll down for the answer, or find it here.
Answers: NORTH / Ronald Reagan / 82; 81
---
Urban Developments
Our partner site CityLab explores the cities of the future and investigates the biggest ideas and issues facing city dwellers around the world. Gracie McKenzie shares today's top stories:
Go inside Tulsa's new 66.5-acre, $465 million public park—which features a boating pond, a five-acre adventure playground, and a spacious skate park with lessons for beginners.

Why is the home-building industry stuck in the 1940s? "Past approaches no longer answer today's demands," the architecture professor Avi Friedman writes: "Every step of the process needs to be reconsidered." Read his suggestions for improvements.

Last week, Mexico City's incoming mayor Claudia Sheinbaum Pardo announced a competition to redesign the city's young logo. The backlash has been swift.
For more updates like these from the urban world, subscribe to CityLab's Daily newsletter.
---
We're making some changes to The Atlantic Daily. We welcome your thoughts as we're perfecting the newsletter.

Did you get this newsletter from a friend? Sign yourself up.
We want to hear what you think about this article. Submit a letter to the editor or write to letters@theatlantic.com.
Shan Wang
is a senior editor at
The Atlantic
, where she oversees newsletters.