The Atlantic Daily: Ripe for Reevaluation
Hurricane Florence threatens even as it weakens. Plus a movement to restore voting rights to ex-felons, the waning global influence of the U.S., and more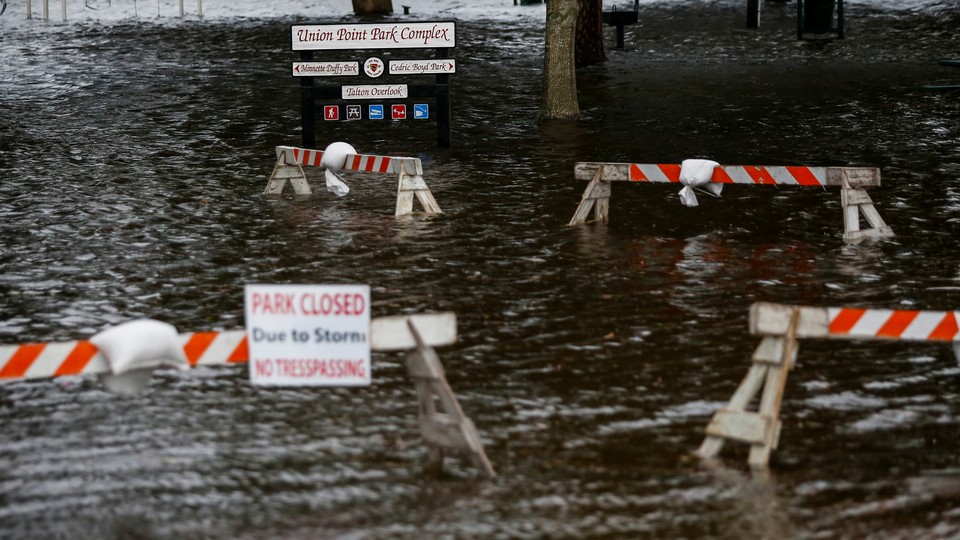 What We're Following
Hurricane Watch: It's no longer a Category 4 storm, but as Florence looms against the Carolina coast, to evaluate the danger it poses wholly by the 1 to 5 scale would be a mistake. Most of the Houston victims of Hurricane Harvey last summer died by drowning, as unprecedented rainfall and subsequent flooding swallowed the region. The grisly and complicated business of getting an accurate death toll exposed federal and local failures both before and after Hurricane Maria. (President Trump tried to deny the scale of the devastation, blaming "the Democrats.")
Un-Disenfranchisement: In November, Florida voters will decide whether 1.5 million former felons living in the state should have their voting rights restored. Currently, the state is one of three that permanently strips the ability to vote from anyone who's committed a felony. A black, formerly homeless man and a white, conservative former congressional chief of staff are two leading voices in the movement to re-enfranchise fellow "returning citizens."
Us vs.Them: "I think that the soft power of the United States … is being reduced at the present moment," António Guterres, the secretary-general of the United Nations, tells Uri Friedman. Is Guterres prepared for a scenario in which America withdraws from the UN? "I will do everything possible to avoid it," he demurred. Within the U.S., us-versus-them tribal impulses are infecting the political system, the Yale Law School professor Amy Chua argues.
---
Snapshot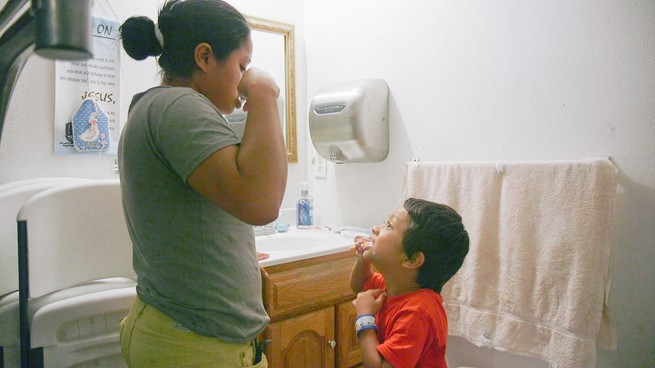 ---
Evening Read
Sophie Gilbert on Little Women's place in the American canon:
Its reputation as fictional fare for and about girls and women prevents it, even now, from achieving the status of, say, Huckleberry Finn. Many male readers feel, as G. K. Chesterton put it, like "an intruder in that club of girls." At the same time, the domestic setting and sermonizing that irked [the author, Louisa May] Alcott herself can strike contemporary female readers as bland and restrictive: The book's popularity shows signs of waning among a younger audience. But the fascination with Little Women endures among writers and filmmakers, as a current surge of adaptations attests. Inspired by the challenge of bridging the gap between Alcott's life and Alcott's writing, efforts to renew and expand its power help illuminate complexities in a novel whose literary stature is ripe for reevaluation.
Keep reading, as Sophie explores the many misconceptions about the classic book.
---
What Do You Know … About Global Affairs?
The late militant Jalaluddin Haqqani, whose network has attacked U.S. and Afghan soldiers, was once allied with the U.S. against ____________.
Scroll down for the answer, or find it here.
2. The Xinjiang region of China is home to many _____________, an ethnic minority group who mostly practice Islam.
Scroll down for the answer, or find it here.
3. The country of ____________ has the world's second-largest market for smartphones.
Scroll down for the answer, or find it here.
---
Urban Developments
Our partner site CityLab explores the cities of the future and investigates the biggest ideas and issues facing city dwellers around the world. Karim Doumar shares today's top stories:
For more updates like these from the urban world, subscribe to CityLab's Daily newsletter.
---