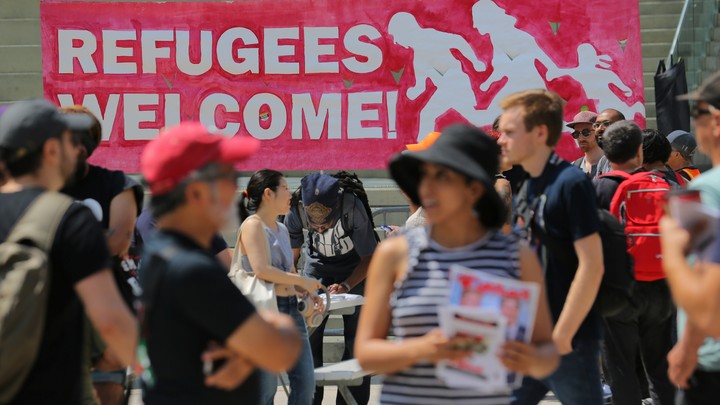 What We're Following
Democracy, Now: The America of today may not have been what the Founders envisioned or prepared for, with technology platforms inflaming online discourse and national politics stretching into unprecedented partisanship: "We are living, in short, in a Madisonian nightmare," writes Jeffrey Rosen. Is American democracy itself in crisis? Does Europe offer a glimpse into—and a warning of—where America might be headed? American courts would also do well to look beyond American law, writes Supreme Court Justice Stephen Breyer.
Resettling Refugees: The U.S. is on track to resettle 20,000 refugees this year, less than half of the 45,000 cap the Trump administration set for the 2018 fiscal year, putting it behind its North American neighbor Canada, which aims to resettle 27,000 refugees this year. Advocates and experts are preparing for a further scaling-back in the U.S., even as the global refugee count continues to rise.
Moral Failings at Michigan State: A new lawsuit contends that Larry Nassar, the former doctor for MSU and USA Gymnastics, drugged and raped an 18-year-old MSU female field-hockey player in 1992—and that a currently serving member of the university's board of trustees helped cover it up back then. Here are the ways MSU has consistently failed its students.
—Shan Wang
---
Snapshot
---
Evening Read
The next populist revolution will be Latino, argues Reihan Salam:
In the age of Donald Trump, college-educated white liberals consider right-wing white populists in small towns and outer suburbs to be the gravest threat to their values and, sotto voce, their power and influence. Many seem to assume that rainbow liberalism will remain deferential to the demands of avowedly enlightened, well-off people like themselves …

But what if working-class Latinos aren't especially interested in serving as junior partners in a coalition led by their self-proclaimed white allies? What if they instead support new forms of anti-establishment politics, rooted in grievances and vulnerabilities that place them at odds with liberal white elites?
Keep reading, as Reihan outlines why Latino voters might turn against the Democratic establishment.
---
What Do You Know … About Science, Technology, and Health?
1. After being released from dolphin rehab near Port River, Australia, a dolphin named Billie taught her wild peers how to ____________.
Scroll down for the answer, or find it here.
2. Modern iPhones have 12 different emoji that depict ____________.
Scroll down for the answer, or find it here.
3. Scientists are developing a new ___________ treatment for acne.
Scroll down for the answer, or find it here.
---
Look Back
Thomas Jefferson was appointed Secretary of state https://www.theatlantic.com/magazine/archive/1872/11/jeffersons-return-from-france-in-1789/537267/
On the very day of his landing Jefferson read in a newspaper that President Washington had appointed him Secretary of State. "I made light of it," he wrote soon after to a lady in Paris, "supposing I had only to say No, and there would be an end of it." ... It was at [the mansion of Uncle Eppes in Chesterfield County] that Jefferson received the official announcement of his appointment as Secretary of State. A gentleman from New York overtook him at Eppington, bearing his commission signed by the President; also a letter from the President cordially inviting him to accept the place, yet giving him his choice to return to Paris if he preferred to do so. It was evident that General Washington expected him to accept. Mr. Jefferson's reply was such as became the citizen of a Republic. He told the President that he preferred to remain in the office he then held, the duties of which he knew and felt equal to, rather than undertake a place the duties of which were more difficult and much more extensive. "But," he added, "it is not for an individual to choose his post. You are to marshal us as may be best for the public good."
---
We're making some changes to The Atlantic Daily. We welcome your thoughts as we're perfecting the newsletter.

Did you get this newsletter from a friend? Sign yourself up.
We want to hear what you think about this article. Submit a letter to the editor or write to letters@theatlantic.com.
Shan Wang
is a senior editor at
The Atlantic
, where she oversees newsletters.