The Atlantic Daily: On One Condition
Jeff Flake's change of heart, a 50-million-account Facebook breach, a "mythic persona" gets sued by a federal agency, and more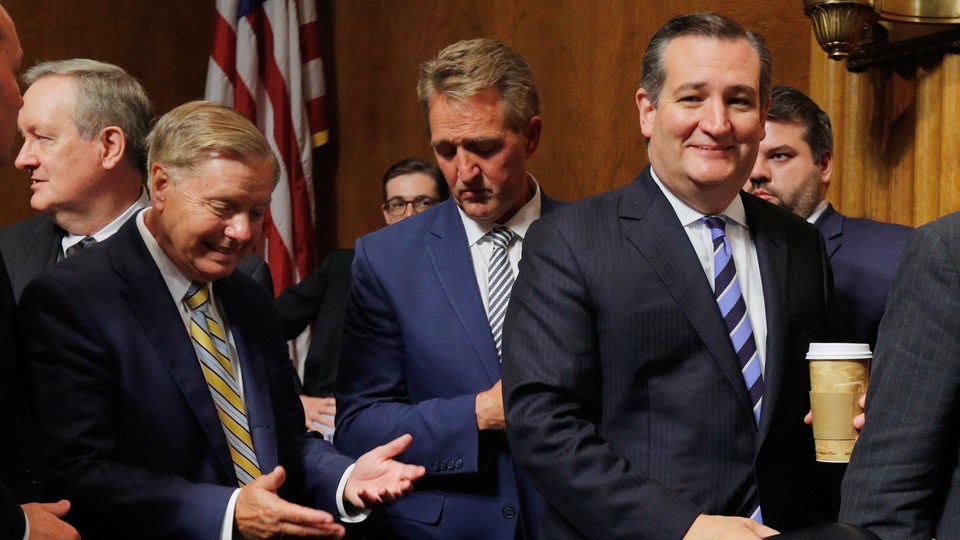 What We're Following
Exploitation: Find yourself automatically logged out of your Facebook account on Friday? The social-media company found, then fixed, a security defect that allowed attackers to exploit a certain Facebook feature and thus gain control over as many as 50 million user accounts. The frequency of Facebook's security debacles over the past year has rendered users numb to their magnitude: Welcome to the "age of privacy nihilism."
Confirmation?: Senator Jeff Flake voted Friday to advance the nomination of Brett Kavanaugh to a full Senate vote, but imposed a critical condition on his floor vote: Reopen an FBI background investigation into Christine Blasey Ford's sexual-assault allegations. How uncertain is the lifetime appointment of President Trump's Supreme Court pick now? ("Whatever they think is necessary is okay," Trump told reporters.)
Admission: The U.S. Justice and Education Departments are investigating another Ivy League school for alleged discrimination against Asian American applicants. What if these places just admitted more students? (A related question: Why are nearly all the American colleges that are perceived as most prestigious private?) And as a defense against questioning around his drinking behavior during Thursday's testimonies, Brett Kavanaugh leaned twice on his acceptance to an elite college and law school, Joe Pinsker noted.
Read and Watch: The third season of the comedy The Good Place kicked off Thursday night, handling the weighty topic of what human beings owe to each other "with humor, gentleness, and a fundamental faith it its viewers." Saturday Night Live returns for its 44th season this weekend, with only one new cast member and the same Trump impersonator—what will jolt it from its current staleness? And this "eminently readable" new book addresses the "lies society has been fed about female sexuality, agency, and infidelity."
---
Snapshot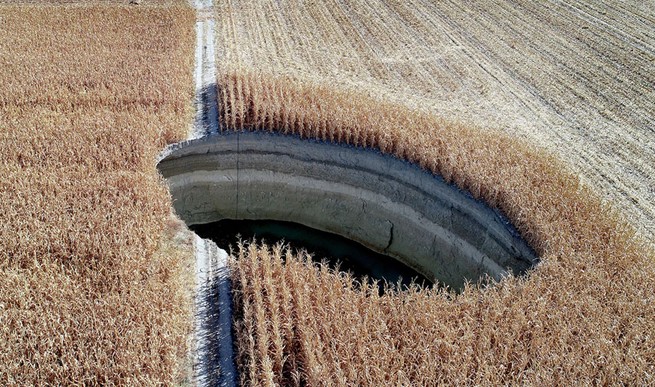 ---
Evening Read
The U.S. Securities and Exchange Commission is now suing the Tesla CEO Elon Musk for securities fraud. A man who's fixated on vast visions of an improved future, but who still has a real business to run, Musk has become his own worst enemy, Ian Bogost writes:
With 22 million Twitter followers, he has a direct line to his fans. In December 2016, Musk tweeted, "Traffic is driving me nuts. Am going to build a tunnel boring machine and just start digging ..." Who doesn't feel that way? The difference is, Musk actually followed through on the promise. "I am actually going to do this," he added a few hours later. The Boring Company, a (still nascent) underground transit play, was the result. It currently has plans to dig and operate electric-sled tunnels in Los Angeles, Baltimore, and Chicago.

Moves like these have earned Musk a mythic persona, one that blends inventor-visionary with magnate-madman. That's also why he's often compared to Tony Stark, the industrialist alter-ego of Iron Man in the Marvel comics and movies.

The only problem is, Tony Stark is a fictional character.
Musk dreams admirable dreams: commercially viable electric cars, clean energy, eliminating traffic in cities, sending more people to the moon and even to Mars. Can he effectively lead a company that executes these visions?
---
What Do You Know … About Culture?
1. Trailed by scandals—from anti-Semitic rants to admitting to physical abuse of an ex-girlfriend—__________________ has landed a directing gig for a remake of the Western classic The Wild Bunch.
Scroll down for the answer, or find it here.
2. A new documentary, Free Solo, follows a man's quest to scale ___________________, a 3,000-foot granite cliff in Yosemite Valley, without the aid of ropes or safety gear.
Scroll down for the answer, or find it here.
3. The music-streaming service Spotify recently announced a partnership that would allow it to create customized playlists for users based on their ____________________.
Scroll down for the answer, or find it here.
---
Poem of the Week
Here's a portion of "Patience" from our April 1880 issue, by Edith Jones (you may know her better by her married name, Edith Wharton):
O my Beloved, life's golden visions fade,
   And one by one life's phantom joys depart;
   They leave a sudden darkness in the heart,
And patience fills their empty place instead.
---