The Atlantic Daily: Confirmation Hearings, or a Trial?
During Thursday's testimonies, a mix of defiance, tears, fear, and fury. Plus killing some animals to save others, commercializing the moon, and more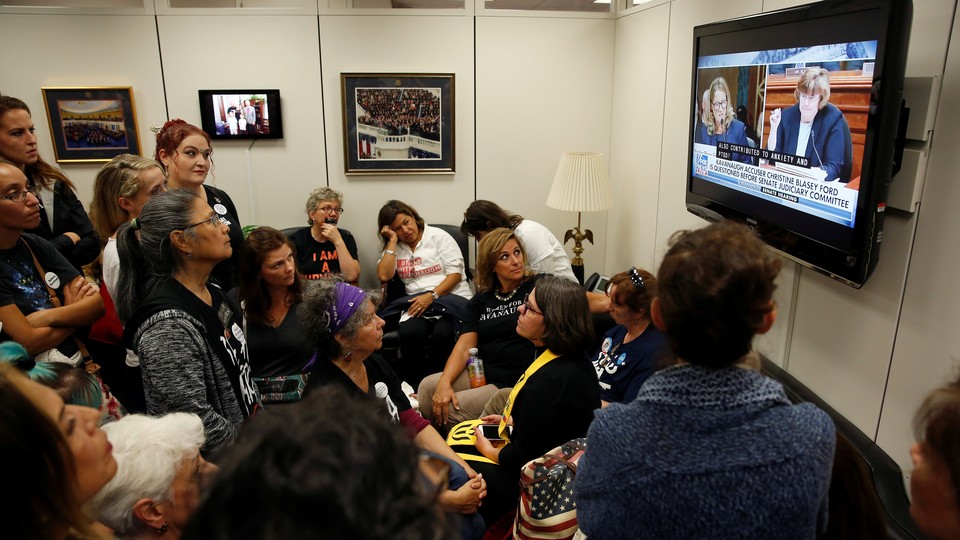 What We're Following
Confirmation Hearings: The American public met Dr. Christine Blasey Ford on Thursday, as she faced an odd line of questioning from a GOP-hired sex-crimes prosecutor. "And hours later, the public saw an entirely new Brett Kavanaugh," who was defiant, tearful, and angry, calling the confirmation process a "national disgrace." Catch up here on the most striking moments from the trial, including this lashing-out from a Trump critic-turned-ally.
The Reading Gap: Girls are reading more than boys in nearly every developed country in the world, reports Alia Wong. Most recently, a sweeping study of children in the United Kingdom found that boys are more likely to skip passages of text when reading, and "frequently choose books that are beneath their reading levels." What's the remedy for this gender gap?
Commercializing the Moon: Some in the commercial sector are aiming high—on the moon. A U.S. company has already announced that it intends to send a person to land there in 2019. Blue Origin, Jeff Bezos's company, said it was shooting for a 2023 spacecraft landing. "Instead of leaving flagpoles in the regolith, they want customers, in the government and commercial sectors, who will pay," writes Marina Koren.
---
Snapshot
---
Evening Read
Sometimes in trying to protect endangered species, conservationists end up harming and killing large numbers of non-native animals:
To save rare plants and giant tortoises from extinction in the 1990s and early 2000s, conservationists shot roughly 140,000 goats on the Galapagos Islands, mostly from helicopters. To save rare birds on South Georgia Island in the South Atlantic, conservationists dropped 300 metric tons of poison bait on the island to exterminate rats between 2010 and 2015. In the United States, barred owls moving west of their own accord are shot because they compete for nesting sites for the endangered spotted owl. Sea lions that eat endangered salmon on the West Coast are trapped and given lethal injections. And in New Zealand, government officials have pledged to kill all of the rats, stoats, and brushtail possums in the entire country by 2050.
Emma Maris writes about the scientists searching for an approach that doesn't involve killing some animals to save others.
---
The Renewal Awards
The Atlantic and AllState are issuing a call for the 2019 Renewal Awards, a nationwide competition created to celebrate local nonprofit organizations driving positive change in America. Nominate a nonprofit here by Friday, November 30.
---
What Do You Know … About Global Affairs?
Latin America is seeing its own migrant crisis, as 2.3 million _______________________ have fled a country now under the dictatorship of President _________________________.
Scroll down for the answer, or find it here.
2. The 185th __________________________ opened in _______________ this weekend. Organizers are expecting more than 6 million total visitors for the two-week-long festivities.
Scroll down for the answer, or find it here.
3. At a UN Security Council session this week in New York, President Trump called out this country for alleged attempted meddling in "our upcoming 2018 election."
Scroll down for the answer, or find it here.
---
Urban Developments
Our partner site CityLab explores the cities of the future and investigates the biggest ideas and issues facing city dwellers around the world. Gracie McKenzie shares today's top stories:
The designer of the Razor scooter says he never meant for the 2000 Toy of the Year to be for kids: The idea was meant to fundamentally change urban transportation. Why did it take two decades?

Real social and economic change won't come from billionaire philanthropists, the writer Anand Giridharadas argues: "When the winners get to redress the injustices they helped to create, they gain a veto for any kind of solutions to those problems that would threaten them."

A generation ago, places like Oklahoma City felt as if they were in a permanent state of decline, says its longtime mayor. Here's why people are coming back.
For more updates like these from the urban world, subscribe to CityLab's Daily newsletter.
---