The Atlantic Daily: Trump Defends His Supreme Court Nominee—And Himself
Plus what Dr. Christine Blasey Ford will say at her opening testimony, always-on body cameras, and more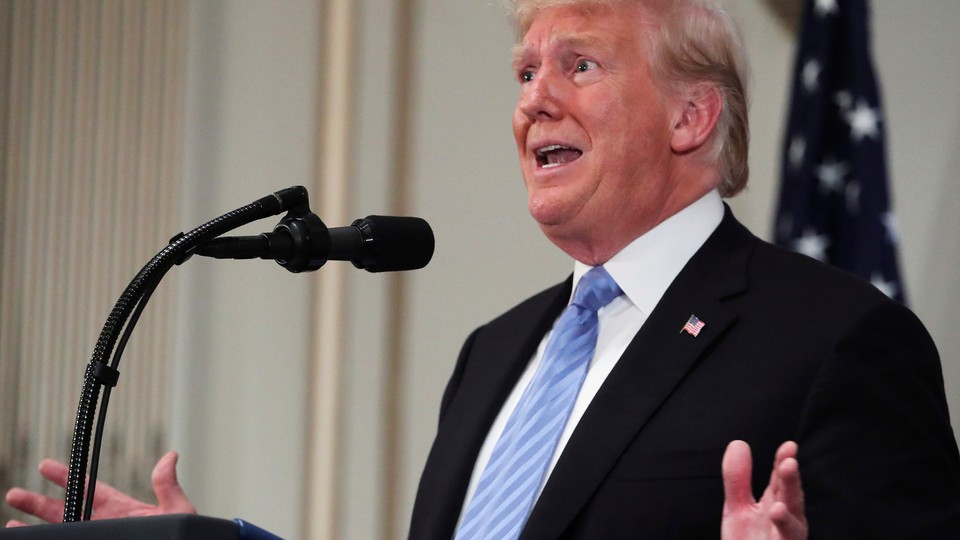 What We're Following
No Precedent: New sexual-misconduct accusations have surfaced against Brett Kavanaugh just before he's expected to take the witness stand at Thursday's hearings, following his first accuser Christine Blasey Ford's testimony. Kavanaugh's and Ford's prepared statements are available here and here. From another angle: a brief list of parenting tips "to protect your kid's Supreme Court nomination," from James Hamblin.
Press On: In a meandering, self-contradictory press conference—the second of his presidency—Donald Trump acknowledged that the sexual-misconduct allegations against him influenced his opinion on the claims against his nominee, weakly defended Kavanaugh, said that "the Democrats would vote against" George Washington, and called a reporter "Mr. Kurd." Here are some of the most astonishing exchanges from Wednesday. He's also snubbing Canada.
Body Cameras: A cloud-storage and video-imaging company is proposing cameras that would automatically activate in response to "triggering events," such as a car crash or a gun being pulled. The patent for these devices describes how police officers wearing the camera can scan a crowd for faces, running that against a database of wanted people. But what about the expectation of privacy in public spaces?
---
Snapshot
---
Evening Read
The former Cornell University scientist Brian Wansink has published hundreds of studies over the years aimed at changing the food environment to encourage people to make healthful eating decisions. But his research—now broadly under question, including more than a dozen retractions—harshly reflects a system that rewards buzz over merit:
It's easy to let down one's skepticism toward apparently virtuous work. Studies are manipulated and buried and disingenuously designed or executed all the time for commercial reasons, notoriously in domains like pharmaceuticals, where there is a clear incentive to prove that a product is safe and effective—that the years and millions of dollars that went into developing a drug were not wasted, and rather that they were in service of a safe and effective billion-dollar product. But a bulk of the inquiry into Wansink's research practices centered on a study about getting children to choose fruits and vegetables as snacks if they were marked with stickers bearing popular cartoon characters. Why would someone fabricate a study about how to get kids to eat more fruits and vegetables?
Among these retracted studies: that grocery shopping while hungry leads you to buy more food. Read on here.
---
What Do You Know … About Science, Technology, and Health?
1. Vacuum-cleaner filters, prone to clogging, could take new design clues from this sea animal, which feeds on plankton.
Scroll down for the answer, or find it here.
2. The founders of ___________________, acquired by Facebook in 2012, announced this week their plan to resign.
Scroll down for the answer, or find it here.
A new study using mice that show symptoms of _________________ hints at a new approach for thwarting neurodegenerative diseases.
Scroll down for the answer, or find it here.
---