The Family Weekly: There's No Easy Way to Talk About Wanting Grandkids
Plus: The history of family separations, an examination of roommate relationships, and fertility apps.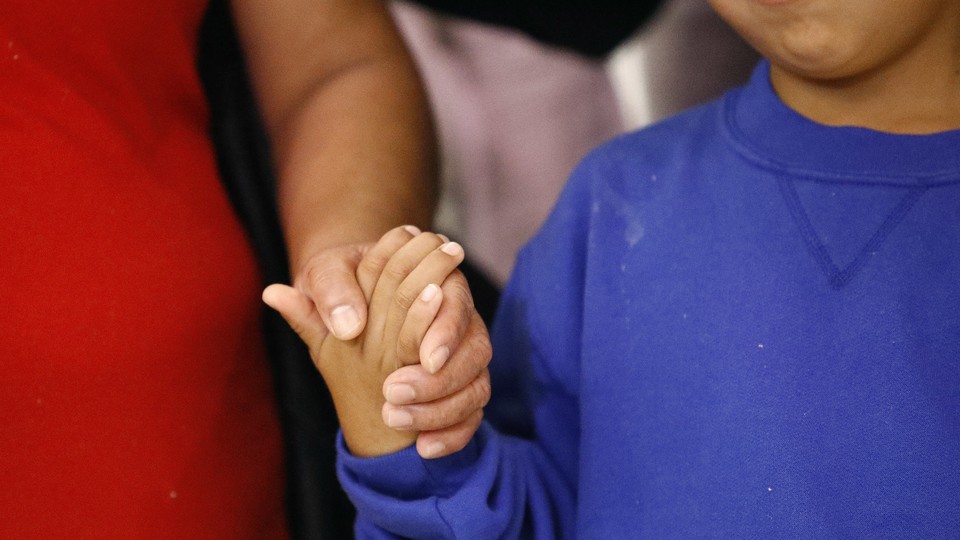 This Week in Family
The importance of having tough conversations came up in stories about two very different kinds of relationships: those between family members and those between complete strangers.
When the writer Robin Marantz Henig started pining for grandchildren, bringing up the topic with her daughters seemed it'd be like entering an emotional minefield. She quickly found out that there's "no such thing as an innocent question" when it comes to asking adult children about their plans for childbearing, and that it's best to approach the conversation with a lot of empathy—a parent and their adult child might have very different visions of the child's family.
Roommate horror stories are hardly just the stuff of college dorms. As the cost of rent has risen in many cities around the country, more and more American adults are creating homes with complete strangers. Allie Volpe writes about how living with nonfamily members in such an intimate setting can create conflict, but also harmony. One expert's advice? Treat the roommate search like speed-dating, and have some honest conversations about what everyone's expecting.
---
Other Highlights
When stories of family separations started to make national news earlier this summer, it was the first time many Americans had seen immigration officials take parents away from their children at the border. However, it's far from the first time that Latin American families have been pulled apart as a result of American policies. Natalie Escobar, an Atlantic editorial fellow, wrote about the century-long history of families unwillingly separated by the U.S.-Mexico border.
When heterosexual couples want to have kids, fertility apps can help users plan sex around their menstrual cycles (basically, a high-tech version of the rhythm method). There's a problem with a lot of the apps, though: They're designed to just be used on the female partner's phone. Ashley Fetters, an Atlantic staff writer, examined this design flaw's ties to old-fashioned ideas about women's fertility and gender roles.
---
Dear Therapist
Every Monday, the psychotherapist Lori Gottlieb answers readers' questions about life's trials and tribulations, big or small, in The Atlantic's "Dear Therapist" column.
This week, a reader tells Lori that she's considering separating from her husband if he doesn't stop texting a female colleague. She has told him multiple times that she wants him to stop, and although he tells her that they're just friends and that he's stopped, she keeps catching him doing it.
Lori says that the reader has two ways to deal with the situation: Leave him, or have a completely different conversation than the one they're having.
You don't trust your husband—and for good reason—but he may not trust you either, in the sense that he may not trust your capacity to acknowledge his truth were he to share it openly with you. There's a difference in a relationship between privacy (space that everyone needs in healthy relationships) and secrecy (which tends to be corrosive). What may have started off as privacy—texts between friends—has now moved into secrecy, not necessarily because he's doing anything wrong, but because of something going on between the two of you.
Send Lori your questions at dear.therapist@theatlantic.com.
---