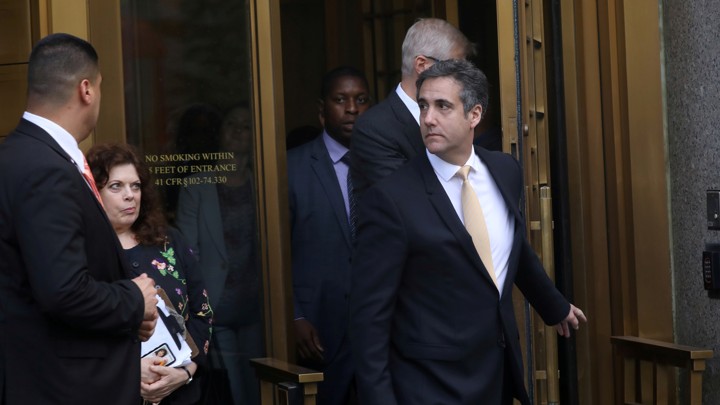 What We're Following
Guilty, Guilty: Michael Cohen, the longtime personal lawyer and fixer to Donald Trump, pleaded guilty to breaking campaign-finance laws with payments to cover up Trump's alleged affairs, and said he did so at the candidate's direction. Here's what that could mean for the president. In a separate case, Trump's former campaign chair, Paul Manafort, was found guilty on eight counts of fraud and financial crimes in a dramatic conclusion to the first trial of Special Counsel Robert Mueller's probe.
Focus on Fresno: The poorest large city in California suffers from persistent racial and economic inequality, including lingering segregation from a long history of discriminatory housing policies. Unaccompanied migrant children who live in Fresno also face even greater barriers than others to gaining legal representation in immigration court—which can mean the difference between deportation and staying in the U.S. Here's what happens to the children who have to represent themselves.
Issues of Access: Thanks to the ease of online shopping and the low cost of consumer goods, Americans are accumulating more stuff than ever, only to discard or donate much of what they buy. Meanwhile, as marijuana use becomes more widespread and socially acceptable, more and more people are having problems with their own frequent use of the drug—and public-health experts worry the country isn't equipped to help them.
---
Snapshot
---
Evening Read
Matt Thompson on what it would mean if Trump said the N word:
It is quite unlikely that new revelations about his behavior will yield any new information about his character. To wit, Trump's conduct at this point reveals very little about him, but our reactions as a society reveal a great deal about us.

That means we have a definitive answer to the question "Does it matter?" Yes. All of this matters. It matters what the president does, because it matters how each of us responds. If I could at this point, I would find and replace every variation on that question with another: "What would happen?"
Keep reading, as Matt plays out the possible consequences.
---
What Do You Know … About Family?
1. The U.S. fertility rate recently reached a record low at ____________ babies per 1,000 women of childbearing age.
Scroll down for the answer, or find it here.
2. Children who show patterns of violence or other troubling antisocial behavior are diagnosed with __________.
Scroll down for the answer, or find it here.
3. The most common mental-health complaint among teenagers is ____________.
Scroll down for the answer, or find it here.
Answers: 60.2 / conduct disorder / Anxiety
---
Urban Developments
Our partner site CityLab explores the cities of the future and investigates the biggest ideas and issues facing city dwellers around the world. Gracie McKenzie shares today's top stories:
Where housing is unaffordable, public space is increasingly privatized, and streets prioritize personal vehicles, sidewalks are the Last Commons. No wonder we're fighting over them.

A good salary, a low cost of living, and a strong job market? Here are the cities where you'll get the most bang for your buck.

To halt the illegal flow of raw sewage into Nova Scotia's LaHave River, it took water samples, a Facebook page, and one determined 11-year-old.
For more updates like these from the urban world, subscribe to CityLab's Daily newsletter.
---
We're making some changes to The Atlantic Daily. We welcome your thoughts as we're perfecting the newsletter.

Meet The Atlantic Daily's team.

Did you get this newsletter from a friend? Sign yourself up.
We want to hear what you think about this article. Submit a letter to the editor or write to letters@theatlantic.com.