The Atlantic Daily: 'Literally Unreal'
Marchers at a white-nationalist rally were far outnumbered by counterprotesters. Plus how roommates relate, confronting diet culture, and more.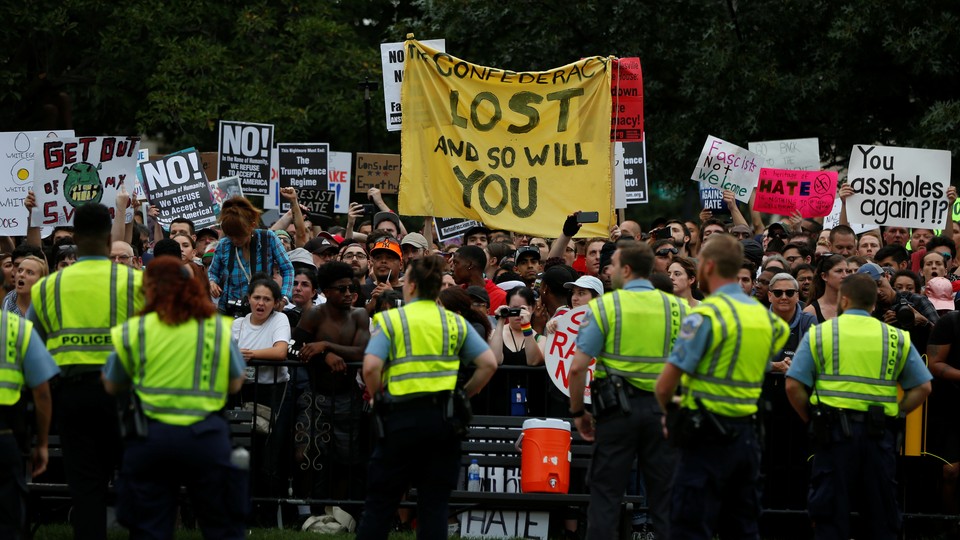 What We're Following
Charlottesville Anniversary: The white-supremacist "Unite the Right" rally planned for August 12 in Washington, D.C., drew roughly two dozen marchers, who were were far outnumbered by counterprotesters. Elaine Godfrey and Madeleine Carlisle reported from the event. Donald Trump commemorated the violence that followed last year's rally with a tweet that decried "all types of racism," but he avoided explicit condemnation of hate groups. Here's what Susan Bro, whose daughter was killed in Charlottesville last year, has to say about the country's response to white nationalism.
Turkey's Troubles: Turkey's central bank took steps to slow the decline of the lira, the county's national currency, after the doubling of U.S. tariffs on Turkish steel and aluminum exacerbated its slide. In his tweet announcing the tariffs, Trump declared that "our relations with Turkey are not good at this time!" Krishnadev Calamur explains what's fractured in the allies' relationship.
Academy Angst: The Academy of Motion Picture Arts and Sciences announced a new Outstanding Popular Film category for the Oscars, reportedly in response to broadcasters' concerns about the awards show's declining ratings. But critics say the award won't solve the Academy's problem—and could create troubling new incentives for filmmakers and studios.
---
Snapshot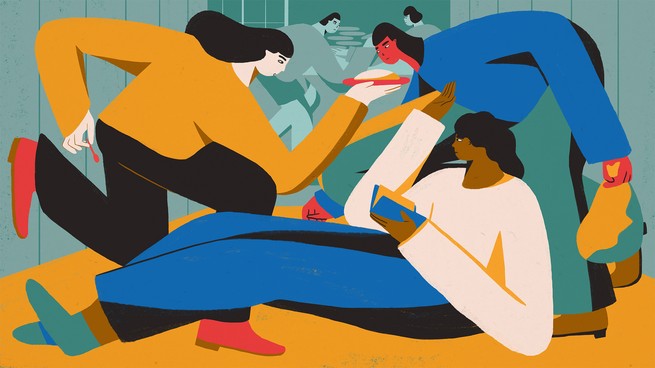 ---
Evening Read
Sophie Gilbert on America's diet culture:
The weight-loss industry in the United States is worth $66 billion a year, an amount that's substantially bigger than the GDP of Costa Rica. At any given time, about one-third of Americans are on a diet. And yet, the adult obesity rate, at 39.8 percent, continues to rise. Kim Kardashian hawks weight-loss lollipops made of sugar and unregulated appetite suppressants, touting their "literally unreal" effectiveness. (If you're looking for a way to describe the benefits of most weight-loss products sold on the internet, "literally unreal" is as good as any.) Clearly the status quo isn't working. But hating fatness, it turns out, is a hard habit for culture to break.
Keep reading, as Sophie considers how two new shows, Dietland and Insatiable, reveal how cultural concepts of fatness have changed—and where they still have a long way to go.
---
What Do You Know … About Education?
1. From 1970 to 1979, the number of ____________ majors in U.S. colleges more than doubled.
Scroll down for the answer, or find it here.
2. In the run-up to Brown v. Board of Education, some black educators in the South described their role in the school-integration movement as "_____________."
Scroll down for the answer, or find it here.
3. Starting next year, the Common Application used by hundreds of colleges will no longer ask students about their ____________.
Scroll down for the answer, or find it here.
---
Dear Therapist
Every week, Lori Gottlieb answers a reader's questions in the Dear Therapist column. This anonymous reader writes:
I recently discovered that my husband and a female colleague of his have a texting streak going back as far as 2016. I found this out when I saw his phone. While there's nothing sexual in their messages, and he assures me they are only friends, I have repeatedly expressed my displeasure and discomfort about the situation. I have also repeatedly asked for this behavior to stop. He lies and tells me they no longer text, until he gets caught red-handed again …

He tells me I am overreacting and that I should get over it. I am considering separating from him if his behavior doesn't stop. What do you suggest?
Read Lori's advice, and write to her at dear.therapist@theatlantic.com.
---