The Atlantic Daily: Off the Stage
What was it like to work for Scott Pruitt? Plus the future of the U.S. economy, how "darkness therapy" works, and more.
What We're Following
Economic Events: The latest report from the Department of Labor says that in June, the number of job openings in the United States exceeded the number of people looking for work for the first time ever recorded. That could mean the country is on its way to full employment—and if so, the city of Des Moines, Iowa, shows what workers can expect. Meanwhile, the Trump administration levied its highest tariffs yet on China, which retaliated with tariffs of its own against the U.S. Here's a breakdown of the major fronts in President Donald Trump's ongoing trade war.
Pruitt's Past: Although Scott Pruitt, the departing Environmental Protection Agency administrator, made many rapid changes to the agency and its policies during his time in office, legal experts say these moves may not amount to a long-term legacy. In some ways, his impact on environmental law has been overshadowed by spending habits and ethical lapses that not only led to numerous scandals, but also frustrated and alienated his staff. Yet for some critics of Pruitt's environmental policy, the scandals had an upside: They kept the EPA in the national spotlight.
Failing Grades: Students in Detroit are suing Michigan for failing to provide them with an adequate education, arguing that learning to read is a constitutional right. America's schools, overall, are often criticized as inadequate, but this broad conception of the system might have changed education policy for the worse.
---
Snapshot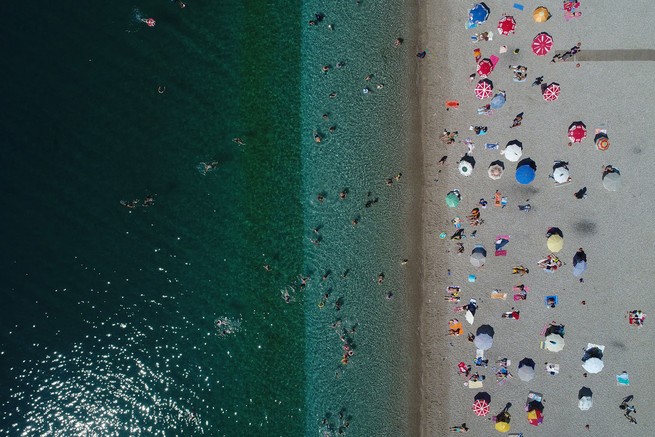 ---
Who We're Talking To
Cho Yoon Je, South Korea's ambassador to the United States, explains why reports that North Korea may be breaking its promise to scale back its nuclear program haven't yet shaken his optimism.
Andy Aldrin, who is being sued by his father, the astronaut Buzz Aldrin, tells his side of the story: "I think people are taking advantage of him."
---
Evening Read
From Čeladná, Czech Republic, Morgan Childs reports on an unusual form of therapy:
The Beskid Rehabilitation Center sits on a rolling plot of land in the boomerang-shaped Beskid mountain range, a stretch of the Carpathians reaching from the Czech Republic across Poland and Slovakia, fading into western Ukraine and the Transylvanian Alps. Full of "alternative" therapies, the BRC is the kind of place you might visit if you were feeling fine, but wanted to feel great, or if you were suffering from a low-level chronic ailment that standard Western medicine had failed to resolve. There's a cryotherapy chamber kept at a brisk -184 degrees Fahrenheit. There's an open-air "healing pyramid," a bare-bones wooden-beam structure said to have healing properties. ("Research shows that pyramid energy, thanks to its deeply relaxing effects, harmonizes the psyche," the website alleges.) And famously, there's Vila Mátma, or "My Darkness Villa," where clients spend seven days or longer alone and in complete absence of light.
Keep reading, as Childs explains how darkness therapy works, and describes what it's like to spend a night in the darkness villa.
---
What Do You Know … About Culture?
1. The longest Grand Slam final tennis match ever played lasted ____________.
Scroll down for the answer, or find it here.
2. Romelu Lukaku is the star striker on ____________'s soccer team.
Scroll down for the answer, or find it here.
3. A group of classical musicians is tracing the parallels between the work of Kanye West and the classical composer ____________.
Scroll down for the answer, or find it here.
---
Poem of the Week
From our March 1966 issue, "Fourth of July in Maine," by Robert Lowell:
High noon. Each child has won his blue,
red, yellow ribbon, and our statue,
a dandyish Union Soldier, sees
his fields reclaimed by views and spruce—
he seems a convert to old age,
small, callous, elbowed off the stage,
while the canned martial music fades
from scene and green—no more parades!
---
Reader Response
In our July/August issue, Jesse Singal wrote about the medical choices families face when children say they're transgender. Evan Urquhart, a trans man, worries that focus leaves out information that could benefit parents and kids:
Today there's so much more information out there about what gender-nonconforming kids need, for parents who are willing to learn. But I fear they won't find that information in this story; they're more likely, it seems to me, to leave the piece questioning whether their child is really trans, especially if, like me, their child didn't experience gender dysphoria until adolescence, or if, like me, their gender nonconformity coexists with depression, anxiety, or other mental-illness symptoms. Kids today don't need to go through what I went through. To start out, [parents] must accept the possibility that their child might be trans, and that they can't wish them out of being trans if they are, and nothing will turn them trans if they are not.
Read more responses to Singal's cover story, and write to us at letters@theatlantic.com.
---
Compound Adjectives
In-flight romance, ghost-town mayor, dingo-free desert, carbon-dioxide shortage.
---