The Atlantic Daily: What Was the Final Straw for Scott Pruitt?
The scandal-plagued EPA administrator is stepping down. Plus Democrats' choice of priorities, soccer's most annoying star, and more.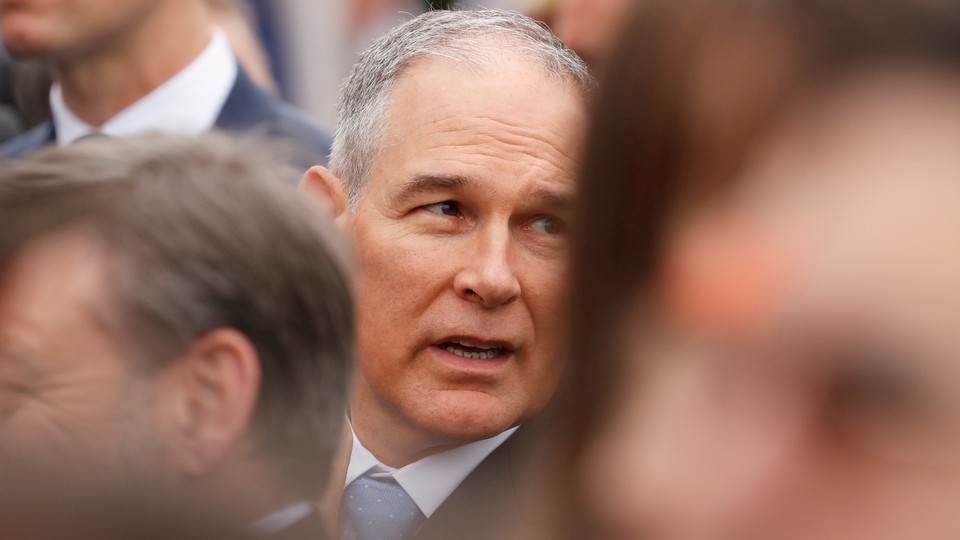 What We're Following
Pruitt's Farewell: Scott Pruitt, the administrator of the Environmental Protection Agency, is stepping down. President Donald Trump defended Pruitt through a long series of financial and ethical scandals, even as White House aides and congressional Republicans began to criticize Pruitt. Here's the chain of events that led to Pruitt leaving his post, and here's a running list of all the changes in Trump's Cabinet.
Political Crossroads: Amid the division and disillusionment of Trump's presidency, both Democrats and Republicans have become less likely than they were before to describe America in terms of democratic ideals, Peter Beinart argues. As Democratic leaders split over which constituents to prioritize, Conor Friedersdorf advises Trump supporters to renew their commitment to American values by rereading the Declaration of Independence with Abraham Lincoln as a guide.
Good Sports: Brazil's new star soccer player, Neymar da Silva Santos Júnior, has gained a reputation during this year's World Cup for melodramatic antics, which many viewers find annoying. Yet his talent transcends theatrics, Franklin Foer writes. Another superstar athlete, LeBron James, became one of the most hated players in basketball when he left the Cleveland Cavaliers in 2010. Now, after having returned to Ohio and expanded his legacy, he's leaving again—and this time, things are different.
---
Snapshot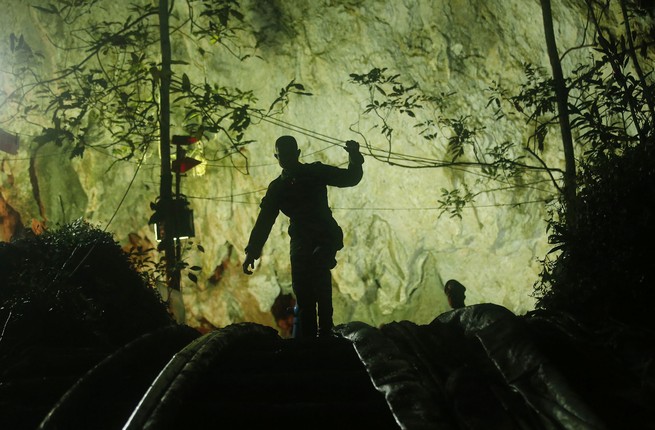 ---
Evening Read
Ian Bogost on Nextdoor, a social network dedicated to neighborhood issues and updates:
Anyone who has subscribed to a neighborhood email listserv—or used the internet—can guess what might go wrong. Social networks connect people, but many of those connections degrade into vitriol. If Twitter is where you fight with strangers, and Facebook is where you vie with friends, then Nextdoor is where you get annoyed with neighbors—for sending "urgent alerts," pushed late at night to mobile phones, about questionable emergencies; for trying to sell a tattered massage table or used carpet shampooer at near-retail price; for issuing nasty reprisals on matters large and small. But it can also foster connections among neighbors and help counter the social isolation brought about by technology.
Keep reading, as Ian describes what even the pettiest posts can reveal about American communities.
---
What Do You Know … About Global Affairs?
1. The accent native to the Meidling district of Vienna is characterized by the pronunciation of the letter ____________.
Scroll down for the answer, or find it here.
2. The most illustrious figures in French history are interred in the ____________.
Scroll down for the answer, or find it here.
3. Sixty-nine percent of the money that China reports as foreign investment comes from ____________.
Scroll down for the answer, or find it here.
---
Urban Developments
Our partner site CityLab explores the cities of the future and investigates the biggest ideas and issues facing city dwellers around the world. Gracie McKenzie shares today's top stories:
The term Great Migration makes the exodus of the Jim Crow era sound like a bunch of people just packed their bags and headed for better jobs and homes. But given what we know about conditions for black Americans in the South then—and what's happening in northern cities now—should we call it something else?

Researchers investigated the intersection of climate change and real estate in greater Miami and found that higher land elevations bring higher property values. Here's how "climate gentrification" could deepen urban inequality.

"We look to Scandinavia for wind-turbines and nice furniture, not baby-snatching and Apartheid-lite." A controversial plan to address social segregation in Danish cities reveals the country's dark tendencies.
For more updates like these from the urban world, subscribe to CityLab's daily newsletter.
---
Reader Response
Every week, Lori Gottlieb answers readers' questions in the Dear Therapist column. Michael in Detroit writes:
My wife has given up on me and is threatening to leave. She has given me six months to find treatment for the lack of emotion I am displaying toward her. I am 64 years old and love her very much. We have only been married for a couple of years. (I was previously happily married, but my first wife died of ovarian cancer.)

My wife says that I just don't display affection to the degree she craves. I get frustrated because this is all we argue about—she says I don't kiss enough, have sex enough, hug enough, etc. All the pressure on me just pushes me further away. So what do I do?
Read Lori's advice, and write to her at dear.therapist@theatlantic.com.
---
Adjectives
"Good guy," growing success, pre-colonial canines, electric flight.
---
Time of Your Life
From yesterday, happy birthday to Cathy (twice the age of Microsoft Windows); to Lois (the same age as the first commercial nuclear power plant); and to Mark (a year younger than George Orwell's novel Nineteen Eighty-Four).
---