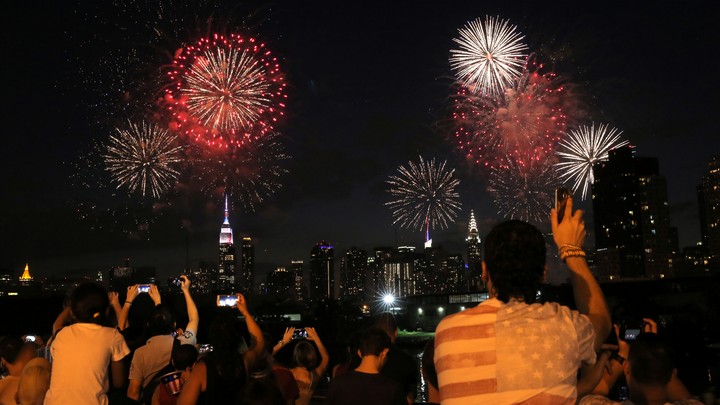 What We're Following
Immigration Debate: German Chancellor Angela Merkel struck a last-minute immigration deal with her interior minister, averting a crisis that could have brought down her coalition government. But the question of how to handle asylum-seekers isn't fully resolved. Germany's new agreement depends on Austria's cooperation, and Sebastian Kurz, the latter country's 31-year-old chancellor, is using migration issues to shape the whole European Union's agenda.
The Executive Branch: Donald Trump's administration is reportedly moving to rescind seven guidance memos that encourage schools to use affirmative action to increase the racial diversity of their student bodies. Combined with the departure of Supreme Court Justice Anthony Kennedy, who previously upheld affirmative action, that decision could change how America's campuses look. As backlash continues over his immigration policies, President Trump has tweeted messages about the role of Immigration and Customs Enforcement in fighting the MS-13 gang. These messages appear to stretch the truth about both the gang and the agency. Here's what ICE actually does.
With Liberty and Justice for All: On Wednesday, Americans will celebrate the birth of the United States, its complicated history, and its democratic ideals. In the years after the Civil War, African Americans in the South claimed July 4 as a holiday to celebrate black freedom—but in the Jim Crow era, segregationist policies stifled their gatherings. In a new animation, Matthew Stewart describes how aristocracies throughout history—including the American elite—have kept their hold on power by pitting the lower classes against one another.
"The Atlantic Daily" won't publish on Wednesday due to the July 4 holiday, but we'll be back as usual on Thursday, July 5. In the meantime, check out The Atlantic's home page for our latest stories.
---
Snapshot
---
Evening Read
Jedediah Purdy on the American landscape:
The original theory of national parks and monuments was that they would exemplify the spirit of the country. They were the American cathedrals. But instead they attract fights over collective identity. The Malheur occupiers and the opponents of Bears Ears are only the latest iteration of a long fight to free these lands from certain kinds of people. Those who created the parks, monuments, and federal wilderness system preferred certain kinds of residents and visitors: John Muir disliked and made fun of the shepherds and laborers in Yosemite; Teddy Roosevelt and his friends disliked and wanted to escape immigrants in the cities; the creation of Yellowstone and Glacier National Parks involved expulsion of native people. There has never been enough public space for the contending publics who want it. And so, the land exemplifies the country: It is the site of fights over whose country is being taken away, who is the patriot and who is the usurper or trespasser.
Keep reading, as Purdy describes how Trump's nationalism is physically reshaping the land.
---
What Do You Know … About Family?
1. In the first month after Trump's travel ban targeting immigrants from several countries went into effect, ___________ out of 6,555 eligible applicants were granted a waiver so they could reunite with close family members.
Scroll down for the answer, or find it here.
2. Symptoms of depression in many men can manifest as the emotion of ____________.
Scroll down for the answer, or find it here.
3. Though many people assume that men are more competitive than women, Deborah Tannen, a linguists professor at Georgetown University, argues that women are more competitive about _____________.
Scroll down for the answer, or find it here.
Answers: two / anger / emotional connection
---
Urban Developments
Our partner site CityLab explores the cities of the future and investigates the biggest ideas and issues facing city dwellers around the world. Gracie McKenzie shares today's top stories:
The HGTV show House Hunters is about more than open kitchens and bickering couples, Natalie Moore writes. "It's also a study of how race and housing play out in American cities, usually unbeknownst to the purchasers."

Two things Millennials and their parents disagree about: the quality of life in cities and joining country clubs.

It was only a matter of time before two of Japan's biggest obsessions came together. All aboard the Hello Kitty bullet train.
For more updates from the urban world like these, subscribe to CityLab's daily newsletter.
---
Reader Response
In our September 1967 issue, Mark Harris described "The Flowering of the Hippies" in the Haight-Ashbury district of San Francisco. Mara Wilson describes a contemporary reader's reaction:
Dr. Patricia Emerson Wanning, from Saugerties, New York, wrote, "I'm thinking of organizing a mother's march against Benjamin Spock, with a simple request that he set up housekeeping in the Haight-Ashbury." According to Wanning, Dr. Spock was to blame for the "happy irresponsibility" of the youth. Mothers who were "avoiding the pitfalls of rigid training methods" learned from earlier generations looked to him for advice on how to parent. Wanning said that Spock, in turn, "gently guided" parents to teach their children "to have no hidden resentment and go to bed 'feeling good inside.'" As a result, Wanning argued, the youth had "no other criterion for judging situations" besides what brought them pleasure. "He should be privileged to enjoy the fruits of his labors," she concluded.
Read more archival letters, and write to us at letters@theatlantic.com.
---
Adjectives
Local Twitter, English scandal, beleaguered rapper, game-changing tool.
---
Time of Your Life
Happy birthday to Carole's husband (a year younger than the Academy Awards) and to Netta (the same age as Arianna Huffington).
---
Meet The Atlantic Daily's team, and contact us.

Did you get this newsletter from a friend? Sign yourself up.
We want to hear what you think about this article. Submit a letter to the editor or write to letters@theatlantic.com.