The Atlantic Daily: Fierce Opposition
A clash between Israel and Syria highlights an unpredictable conflict. Plus devastating wildfires in Greece, how Facebook became what it is now, and more.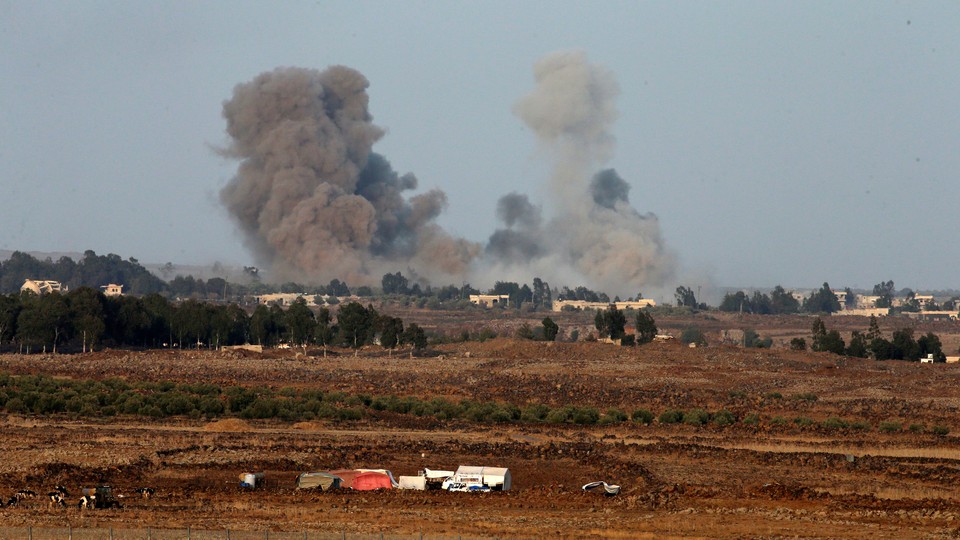 What We're Following
Israel and Syria: Israel shot down a Russian-made Syrian fighter jet that the country's military officials said had entered Israeli airspace. (Syria claims the plane was still in its own airspace when shot.) The clash illustrates how difficult it will be for Russia to fulfill its recent promise to negotiate protections for Israel against the spillover of the Syrian conflict. Israel is particularly worried about Iran's presence in Syria. Here's why.
Trump's Trust: Senate Democrats are raising concerns about the connection between Brian Benczkowski, President Trump's appointee to head the criminal division of the Justice Department, and Alfa—the biggest private bank in Russia, which Benczkowski previously represented. Natasha Bertrand reports on the questions outlined in their letter. On Monday, the White House threatened to revoke the security clearances of several former intelligence and law-enforcement officials in response to their public statements about the Russia investigation, but it's unclear what that could mean in practical terms.
The World of the Web: As Facebook faces mounting criticism for its disruption of the information landscape, the media-studies professor Siva Vaidhyanathan explains how the social network came to be what it is—and reflects on whether a more thoughtful process could have built a better internet. At prestigious universities like Stanford, where engineering students are trained to join the world's most powerful companies, some students have formed clubs centered on using computer-science skills for social good. Will those lessons and values follow them into the job market?
---
Snapshot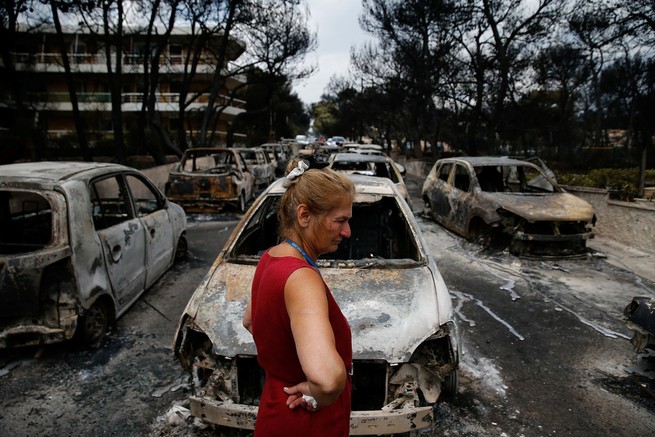 ---
Evening Read
Adam Harris joins Richard Carranza, the new chancellor of the New York City public-school system, for a town-hall meeting on desegregating the city's schools:
The racial makeup of the room was as varied as one might expect for a conversation about desegregation, particularly at such a tense moment in the city's history. The movement to integrate New York City's public schools had gotten new energy in recent months, but it was also met with fierce opposition. There have been viral videos of white parents angrily arguing that changing the schools will unfairly harm their children, politicians who backed reforms and then waffled after public pressure, and protests outside of the city's Education Department punctuated by chants of "Save our schools." In 2014, a study from the Civil Rights Project at the University of California, Los Angeles found that New York State has the most segregated public schools in the country, and that's driven largely by New York City. Carranza, after just a few months on the job, has quickly positioned himself as the leading voice for integration—and he has his work cut out for him.
Keep reading, as Adam reports on how Carranza plans to carry out his mission.
---
What Do You Know … About Family?
1. The first female mayor in the U.S. was elected in ____________.
Scroll down for the answer, or find it here.
2. The world's longest marriage is believed to have lasted more than ____________ years.
Scroll down for the answer, or find it here.
3. In a recent study on Americans' sexual fantasies, more than ____________ percent of respondents said they rarely or never fantasized about emotionless sex.
Scroll down for the answer, or find it here.
---
Urban Developments
Our partner site CityLab explores the cities of the future and investigates the biggest ideas and issues facing city dwellers around the world. Gracie McKenzie shares today's top stories:
The main takeaway from a new study that draws data from five cities: Parking eats up an incredible amount of space and costs America's cities an extraordinary amount of money.

This week, Baltimore became the latest city to sue the fossil-fuel industry. Here's why its suit could have a higher chance of success than past attempts by San Francisco and New York.

"For me, the bicycle became a part of this overall injustice I carry around." The biking community's advocacy is overwhelmingly focused on infrastructure, not the people who use it. For the urban anthropologist Adonia Lugo, that's an equity problem.
For more updates like these from the urban world, subscribe to CityLab's Daily newsletter.
---
Verbs
Exoplanet envisioned, heroism revisited, heartland revitalized, anxieties escaped.
---
Time of Your Life
Happy birthday to LeeAnna (the same age as Serena Williams).
---