The Atlantic Daily: What Did Trump Tell Putin in Helsinki?
Contradictory comments from the Trump administration. Plus the vindication of full-fat milk, the legacy of The Dark Knight, and more.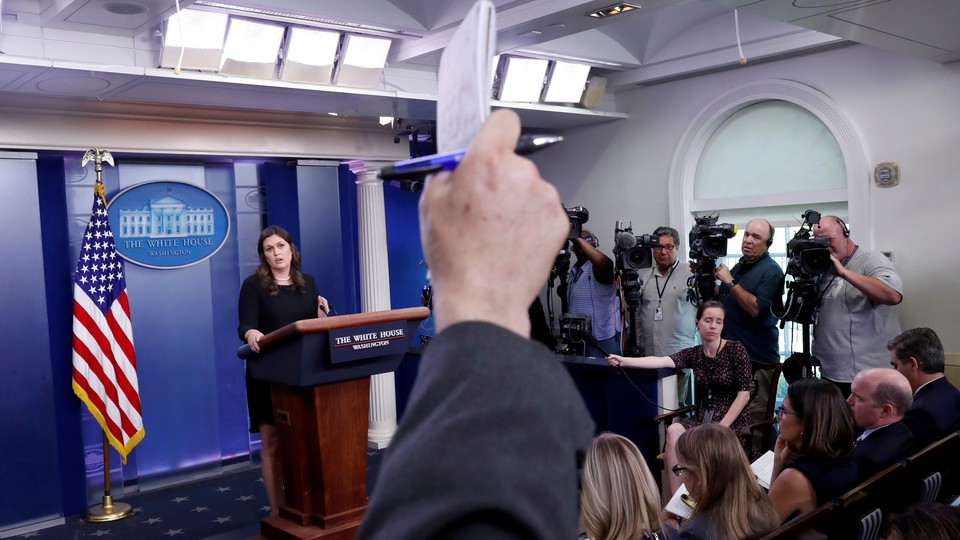 What We're Following
Communication Breakdown: The White House and the State Department initially gave contradictory answers about whether the U.S. would consider allowing Russia to question a group of American officials. According to Russian President Vladimir Putin, the offer had been discussed at his one-on-one meeting with President Trump in Helsinki. Even Trump's team had little information on the meeting, which is one reason why the White House appears to have lost control of the controversy. Yet that might not matter to Press Secretary Sarah Sanders—her only priority, Megan Garber argues, is allegiance to Trump.
U.S. vs. the World: For all the backlash provoked by his deference to Putin at the Helsinki summit, the U.S. president's biggest favor to Moscow may be his skepticism of NATO. Trump's belief that America shouldn't be obliged to defend NATO members like Montenegro from attack, which he expressed in an interview with the Fox News host Tucker Carlson, strikes at the foundations of the treaty and of America's international role. And this "America First" worldview, Peter Beinart writes, is far from patriotic.
Health, Food: Scientists who looked at the diets of people being treated for psychiatric disorders found that the nitrates found in beef jerky and other cured meats could be involved in sparking manic episodes—and their research on how rats respond to the chemicals backs up that idea. Another new study finds no link between levels of dairy fats in the blood and rates of mortality, indicating—as many prior studies have—that the health risks of eating whole milk, cheese, and butter are lower than they're often perceived to be.
---
Snapshot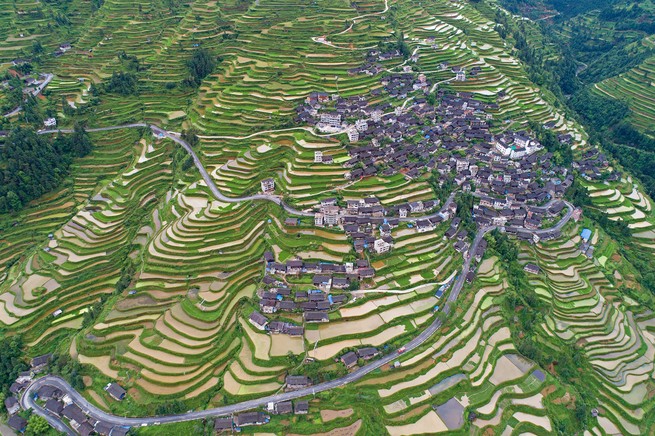 ---
Evening Read
David Sims looks back at Hollywood in 2008, when critics and studios were getting skeptical of comic-book adaptations:
Instead, the two biggest movies of the year were superhero films—Iron Man and The Dark Knight—each providing a very different road map for the future of a genre that now totally dominates multiplexes. Iron Man kicked off the Marvel Cinematic Universe, a colorful and energetic linked series that just released its 20th entry this year. But none of that would have been possible without Christopher Nolan's The Dark Knight, which came out 10 years ago. It did more than make money. It was such a phenomenon that it conferred instant validity on the comic-book movie and realigned studios' business strategies—enough that, ironically, a movie like The Dark Knight could never be made again.
Keep reading, as David describes how The Dark Knight transformed the movie industry, for better and for worse.
---
What Do You Know … About Global Affairs?
1. In Finland, 76 percent of people see Vladimir Putin unfavorably, while ____________ percent have a negative view of Donald Trump.
Scroll down for the answer, or find it here.
2. The population of Montenegro is about the same as that of the U.S. state ____________.
Scroll down for the answer, or find it here.
3. In Britain's 2016 Brexit referendum, ____________ percent of voters chose to leave the European Union.
Scroll down for the answer, or find it here.
---
Urban Developments
Our partner site CityLab explores the cities of the future and investigates the biggest ideas and issues facing city dwellers around the world. Gracie McKenzie shares today's top stories:
Car dependence not only reduces our quality of life, but it also plays a central role in worsening America's social, political, and economic divides, Richard Florida writes.

The percentage of federal funding that goes toward America's children is shrinking—and that's before taking into account the Trump administration's proposals to reduce social safety-net programs.

If you've hung around the CityLab site, sat through a city-council meeting, or hobnobbed with a housing developer, you've probably run across the term "inclusionary zoning." You might even think you know what it means. But wait, do you?
For more updates like these from the urban world, subscribe to CityLab's Daily newsletter.
---
Compound Adjectives
Cash-strapped teachers, crime-fighting taxidermy, self-sacrificing viruses, 50,000-year-old tools.
---
Time of Your Life
Happy birthday to Judy (a year younger than Superman) and to Elizabeth's brother Drew (the same age as the Aswan High Dam).
---