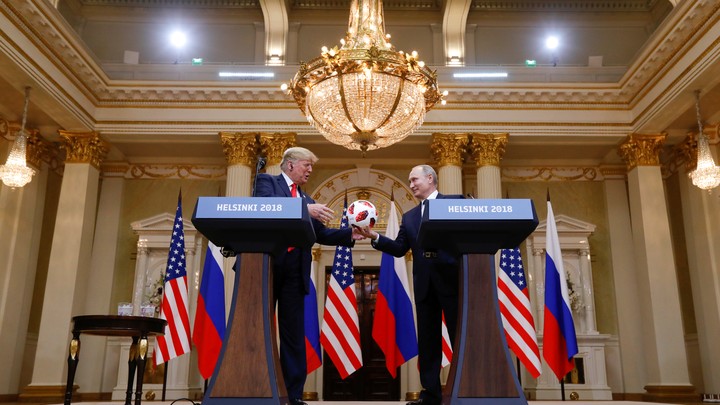 What We're Following
Presidents' Presser: Donald Trump drew stunned reactions from his critics and his political allies alike when he publicly sided with Russian President Vladimir Putin against the consensus of U.S. intelligence agencies, stating that "I do not see any reason why" the Kremlin would be responsible for interference in the 2016 presidential election. That the president would defer to Putin rather than defend American electoral integrity constitutes a national-security emergency, David Frum argues. And James Fallows writes that Republican lawmakers now face a choice.
Trading Places: Trump's trade war with China will have immediate and tangible effects for U.S. consumers, the political economist Yasheng Huang argues in a new video. Not only are prices likely to increase, but the country's financial system could also be disrupted. Other experts say the escalating tariffs will have an impact, but won't be enough to tip America into a recession—as long as the economy doesn't slow down.
Sports Symbols: France's national soccer team beat Croatia's in a World Cup victory that carried the symbolism not only of France's political debate over immigration, but also of the national tragedies in its recent past. Fans disappointed by Croatia's loss may take comfort in Kanishk Tharoor's essay on the World Cup's elusive moments of underdog success, in which, "however briefly, the weak can topple the strong, and the great chasms of the world seem to shrink."
---
Snapshot
---
Evening Read
Jason Pearl describes the scene at a 1783 demonstration of a hot-air balloon in Paris:
People ran and shouted in the streets. Some were so disturbed they got sick and vomited. Two weeks later, 400,000 spectators—more than half the population of Paris at the time—watched the ascension of the first hydrogen balloon. The restless audience would have rioted in the event of failure, but success, too, caused mayhem. People scrambled up walls, trees, and poles to get a better look at the candy-striped globe soaring in the distance. On such occasions, the rules of decorum, like the laws of nature, seemed no longer to apply.
Keep reading, as Pearl describes how technologists came to realize balloons are useless—and how they've nevertheless continued to capture the imagination.
---
What Do You Know … About Education?
1. Income-share agreements, in which students commit to paying for their education with a percentage of their future income, were first proposed by the economist ____________.
Scroll down for the answer, or find it here.
2. Students at about ____________ percent of American colleges are permitted to repeat courses in order to improve their grades.
Scroll down for the answer, or find it here.
3. The proportion of college graduates in the U.S. is the ____________ highest in the world.
Scroll down for the answer, or find it here.
Answers: Milton Friedman / 91 / 10th
---
Look Back
The U.S. conducted its first successful nuclear-weapons test on this day in 1945, as part of the Manhattan Project. In our February 1949 issue, J. Robert Oppenheimer, the project's director, reflected on how nuclear technology might be used for peace as well:
In the days of the founding of this republic, in all of the eighteenth century which was formative for the growth and the explicit formulation of our political ideals, politics and science were of a piece. The hope that this might in some sense again be so was stirred to new life by the development of atomic energy. In this it has throughout been decisive that openness—openness in the first instance with regard to technical problems and to the actual undertakings under way in various parts of the world—was the one single essential precondition for a measure of security in the atomic age. Here we met in uniquely comprehensible form the alternative of common understanding or the practices of secrecy and of force.
Read more, share this story, and find more articles from our archives.
---
Reader Response
Linda Flanagan recently wrote about the downsides of top-tier youth-soccer programs, which can be an all-consuming commitment for parents as well as kids. Colleen can relate:
I've been fighting this battle! What are we training them for? The prioritizing of the team over all else (and the accompanying acceptance of the insult that if you attempt to maintain balance you are selfish) just teaches them to be corporate drones.
Lilia disagrees:
Our soccer team has become a family to us. The players have learned humility, compassion, and teamwork.
Join the discussion on Facebook, and write to us at letters@theatlantic.com.
---
Proper Nouns
Daniel Tiger's doctrine, Sacha Baron Cohen's shamelessness, Wimbledon's wildness, Nancy Sinatra's grace.
---
Time of Your Life
From yesterday, happy birthday from Charles to Susan (who is the same age as the Corvette).
---
Meet The Atlantic Daily's team, and contact us.

Did you get this newsletter from a friend? Sign yourself up.
We want to hear what you think about this article. Submit a letter to the editor or write to letters@theatlantic.com.