The Atlantic Daily: Force and Ingenuity
Trump travels to the U.K. Plus Pusha T's portrayal of addiction, how to raise a generous child, and more.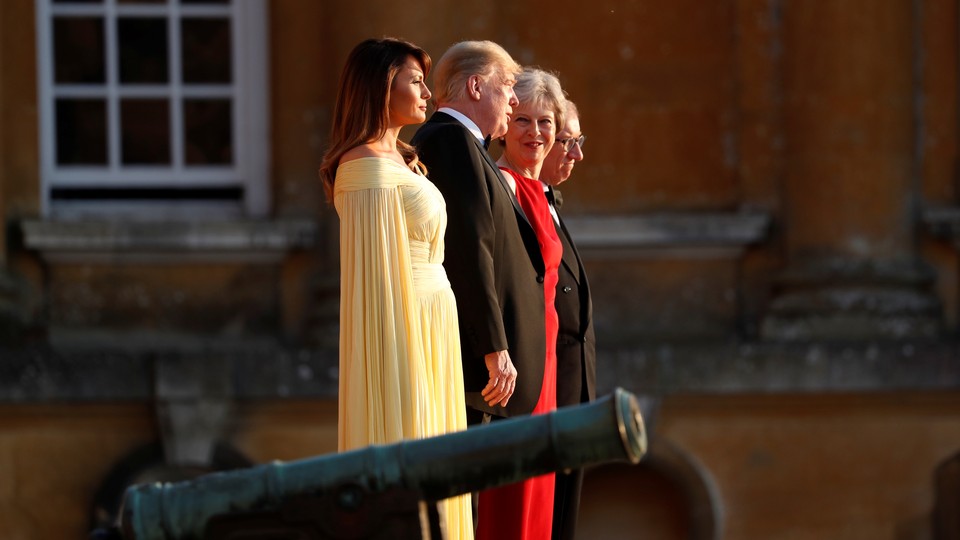 What We're Following
Foreign Relations: On the heels of a NATO summit at which he demonstrated his skepticism of alliances, President Donald Trump traveled to Britain for an official visit that's expected to be overshadowed by protests. Though Trump supported the country's withdrawal from the European Union during his campaign, he hasn't stepped in as president to ease the messy transition, making the timing of his visit particularly fraught. Trump's relationship with Kim Jong Un appears to be going more smoothly, as the president received what he described as a "very nice note" from the North Korean leader. But Kim's message leaves out an important issue.
Nominee's Nature: Brett Kavanaugh, Trump's choice to fill Justice Anthony Kennedy's seat on the Supreme Court, is under scrutiny for his financial disclosures, which show between $60,000 and $200,000 of debt that the White House has attributed to spending on baseball tickets. Kavanaugh's past rulings on federal regulation of business are likely to earn him the support of corporations, while his position on climate change has mixed implications for the EPA. Here's what a lawyer learned from arguing a case in Kavanaugh's court.
Family Time: A new book describes the golden age of family road trips, as well as the factors that led to its decline. And the latest video in our Home School animation series offers advice on how to raise a generous child—or, more practically, how to get your kids to share.
---
Snapshot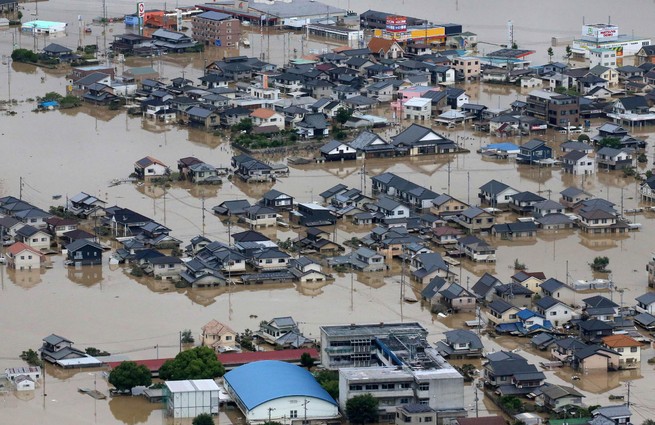 ---
Evening Read
Josie Duffy Rice on drugs in the hip-hop tradition:
Hip-hop, for all its creative force and ingenuity, has long subscribed to an image of addiction that corresponds with the culture it professed to reject—the image projected by fear-mongering politicians, the one that undergirds the criminal-justice system that launched the War on Drugs. The drug dealer in hip-hop is a resourceful antihero, part Robin Hood, part CEO. But the addict in hip-hop is like the addict everywhere else. Hopeless. Deserving of shame. Off to the side. Something subhuman—weaker, stranger, more destructive than the rest of us.
Keep reading, as Rice describes what Pusha T—who, more than most artists, has made a career out of rapping about drug dealers—fails to acknowledge about addiction.
---
What Do You Know?
1. The name of Thailand's Tham Luang Nang Non cave, where 12 boys and their coach were rescued from flooding this week,  translates to "the cave of the ____________."
Scroll down for the answer, or find it here.
2. The only U.K. newspaper with more female readers than male ones is the ____________.
Scroll down for the answer, or find it here.
3. ____________ percent of Iraqi voters turned out in the country's May elections.
Scroll down for the answer, or find it here.
---
Urban Developments
Our partner site CityLab explores the cities of the future and investigates the biggest ideas and issues facing city dwellers around the world. Gracie McKenzie shares today's top stories:
Are you a parent? Have you lived in a city? As part of "Room to Grow," CityLab's upcoming series on raising small children in urban environments, we want to hear from you. Fill out our survey.

Except for a brief stay in London, President Trump will mostly avoid Britain's cities. Protesters plan to gather across the country—and he's far from their only grievance.

What would it look like if, high above the skyline, you could actually see where trains were shuttling people around? Online artists are offering a new way to visualize an often hidden mode of transit in these striking images.
For more updates like these from the urban world, subscribe to one of CityLab's newsletters.
---
Reader Response
In our July/August issue, Jesse Singal wrote about a preteen under the pseudonym Claire, who considered pursuing a gender transition before deciding against it. Tey Meadow, a sociologist who studies transgender and gender-nonconforming children and their families, responds:
While it is true that there are "no easy answers" to the questions raised by significantly gender-nonconforming kids, believing that the most important issue is whether Claire is "really" trans misses the point of the complexity of gender transitions. Claire's story hasn't ended; she is still very much a young person and a work in progress. And it isn't up to Claire's parents, or Jesse Singal, or the general public to determine where she will end up in time. That is a question for Claire to answer herself, ideally with the love and support of parents and professionals who can be fully present and supportive, no matter how circuitous her journey may be. This is a distinction of great political importance. To position Claire as a "desister" in the way Singal did is to participate in an inherently stigmatizing discourse with a very particular and damaging social history. The frames journalists use to discuss these controversial issues are themselves political and moral decisions, and ones of great consequence. They set the terms by which the public understands trans youth.
Read more responses to Singal's story, and write to us at letters@theatlantic.com.
---
Hyphenations
High-water mark, college-counseling standby, long-standing allies, first-time nominees.
---
Time of Your Life
Happy birthday from Urja to Kashvi (a year younger than Google); to Thomas (the same age as Egypt's Aswan High Dam); from Daniel to Olawunmi (one-fourth the age of The Atlantic); and to Emily's dad, Gaylen (twice the age of MTV).
---