The Atlantic Daily: A Continual Bubble of Incident
The Trump administration missed its deadline to reunite immigrant families. Plus Trump's criticism of NATO, new discoveries about ancient humans, and more.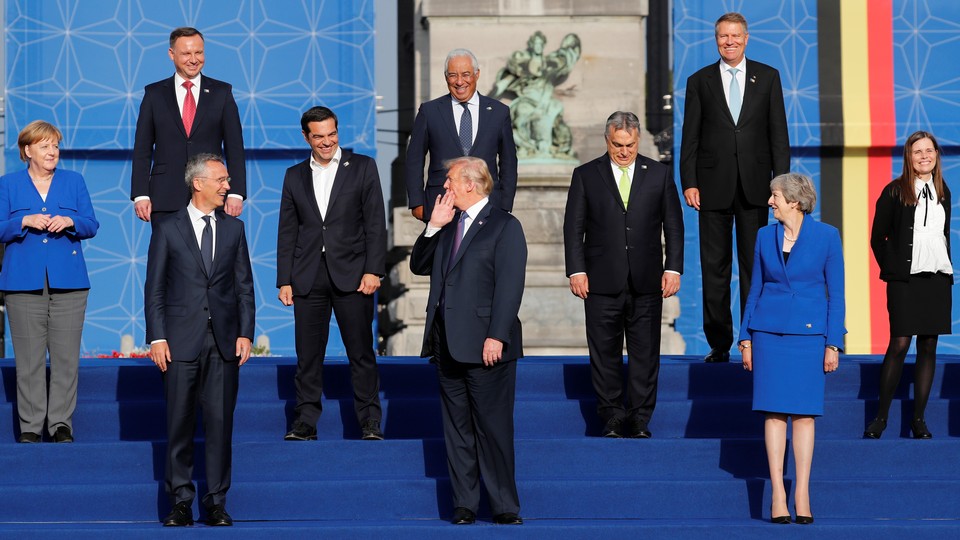 What We're Following
NATO Summit: President Donald Trump, who has long argued that America's fellow members in NATO don't pull their weight, called for member countries to increase their defense spending to 4 percent of their GDP—but that's not what NATO needs, Peter Beinart argues. While Trump's meeting with NATO comes at a precarious time in U.S.–European relations, the alliance may have been through worse.
ICE's Crisis: The Trump administration fell far short of its July 10 deadline to return immigrant children younger than 5 to their parents, accomplishing only four reunifications out of 102 cases. Thousands of older children will need to be reunited with their families by July 26. Amid national outcry over the separation of families at the border, Democratic politicians have joined activists in calling for the Immigration and Customs Enforcement agency to be dismantled, but it's not clear exactly how abolishing ICE would work. And in one Texas town, some residents hope that the reopening of an immigrant detention center will revitalize the economy. Read Jeremy Raff's report.
Ancient Ancestors: A series of new discoveries suggest that humanity may have a more complicated origin story than scientists previously thought: Ancient hominids may have evolved throughout the African continent, rather than branching out from a single location. Not only that, they may have left Africa earlier than scientists thought, and lived several decades longer than most people assume today.
---
Snapshot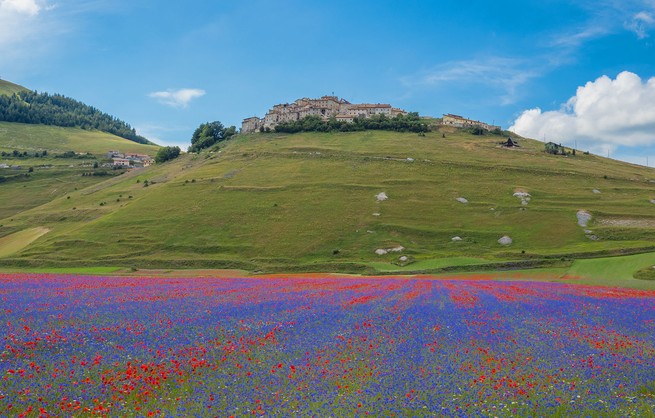 ---
Evening Read
Chris Stokel-Walker on the challenge of catching child predators online:
Those who want to abuse children have long been locked in a technological arms race with law enforcement, with tactics including hidden IP addresses, offshore servers that host illegal forums, and the meticulous social-engineering trickery. "What these people have done is developed very sophisticated ways of hiding themselves," says David Shemmings of the Center for Child Protection at the University of Kent. "I don't know whether they are actually one step ahead of the security services, but they certainly believe they are."

[Tim] Grant is the trick up law enforcement's sleeve to make sure officers keep up.
Keep reading for Stokel-Walker's profile of Grant, a forensic linguist who's helping British police catch predators by training undercover cops to talk like kids.
---
What Do You Know … About Science?
1. A new study finds that in 2016, 14 percent of all the world's cases of type 2 diabetes could be attributed to ____________.
Scroll down for the answer, or find it here.
2. Invasive rats contribute indirectly to the destruction of coral reefs by eating ____________.
Scroll down for the answer, or find it here.
3. The carbon dioxide used in the food industry to carbonate beer, chill ice cream, and package salad greens is often made as a by-product of ____________.
Scroll down for the answer, or find it here.
---
Look Back
To Kill a Mockingbird was published on this day in 1960. At the time, The Atlantic's reviewer didn't foresee the novel's future impact:
The book's setting is a small town in Alabama, and the action behind Scout's tale is her father's determination, as a lawyer, liberal, and honest man, to defend a Negro accused of raping a white girl. What happens is, naturally, never seen directly by the narrator. The surface of the story is an Alcottish filigree of games, mischief, squabbles with an older brother, troubles at school, and the like. None of it is painful, for Scout and Jem are happy children, brought up with angelic cleverness by their father and his old Negro housekeeper. Nothing fazes them much or long …

A variety of adults, mostly eccentric in Scout's judgment, and a continual bubble of incident make To Kill A Mockingbird pleasant, undemanding reading.
---
Reader Response
Every Wednesday, Lori Gottlieb gives advice in the Dear Therapist column. A reader from Toronto writes:
About 10 years ago, my mom announced she had left my dad. She later explained that one of the reasons (among many) was that he had sexually assaulted her (an assault that was never reported to authorities). My brother has told me on numerous occasions that he doesn't believe her sexual-assault accusation …

Given that my brother's attitude sickens me and that I don't trust him, I have more or less stopped talking to him and don't see a way out of this stance. Is it possible to have a relationship with a brother who doesn't believe my mom's claim that she was sexually assaulted by my dad?
Read Lori's answer, and write to her at dear.therapist@theatlantic.com.
---
Verbs
Student debt paralyzes, polar bear exercises, documentaries thrive, Trumpverstehers sympathize.
---
Time of Your Life
Happy birthday to Craig's boyfriend, Huyler (a year younger than Pokémon).
---