The Family Weekly: Speaking "Freddish" With Mr. Rogers
Plus: the anxieties that can come with being an LGBTQ parent, and the story of the 'stuck kids' of Illinois
This Week in Family
Fred Rogers made life in Mister Rogers' Neighborhood look calm and simple—but it turns out the children's TV icon was taking great pains behind the scenes to make sure the language he used in talking to kids was just right. Maxwell King describes, in a piece adapted from his upcoming book, The Good Neighbor: The Life and Work of Fred Rogers, how Rogers would revise scripts to eliminate anything that might be confusing or disturbing to his show's young audience.
Rogers's way of speaking on his show followed such specific rules that writers joked that it qualified as its own language, which they called "Freddish." "He insisted that every word, whether spoken by a person or a puppet, be scrutinized closely, because he knew that children—the preschool-age boys and girls who made up the core of his audience—tend to hear things literally," King writes.
---
Snapshot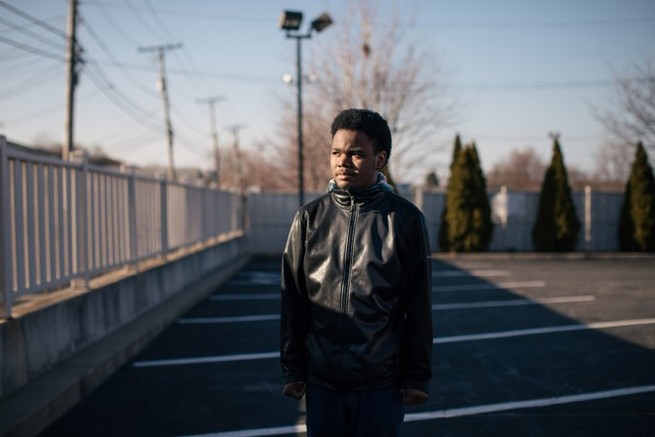 Terrence Wardell, the 18-year-old depicted here in a photo taken by Alyssa Schukar, once spent seven months in a psychiatric hospital in Chicago. He'd been cleared for discharge much earlier, though—over four months of his stay were not medically necessary.
Wardell is one of hundreds of children in Illinois who have been held in psychiatric hospitals for weeks or even months beyond when they're first allowed to leave, largely due to the trouble the state's child-welfare agency has finding other, more appropriate placements for them. A feature published by The Atlantic in collaboration with ProPublica Illinois explored the difficulties of finding places for these kids—and the toll that being stuck in a psychiatric hospital takes on them.
---
The Big Question
For The Atlantic's ongoing series, "Parenting in an Uncertain Age," Sarah Prager writes about the anxieties of following national news as a parent in a same-sex marriage:
Suddenly, [after the election,] the paperwork errand seemed urgent. What if the laws allowing LGBTQ people to adopt children were rolled back? What if our marriage was no longer recognized? The National Center for Lesbian Rights put out an FAQ after the election addressing concerns like ours. While our marriage was pretty safe, it was still recommended that we get our "adoption" done as soon as possible.
Have national politics affected your experience of parenting? If so, how? Tell us your stories in Homebodies, The Atlantic's Facebook group for discussing family life.
---
Dear Therapist
Every Wednesday, the psychotherapist Lori Gottlieb answers readers' questions about life's trials and tribulations, big or small, in The Atlantic's "Dear Therapist" column.
This week, a reader worries that they moved on from their girlfriend's abortion too quickly. "I know something like this should leave a scar," they write. "Does it make me a bad person for not feeling like I have one?"
Lori's advice? Feelings, of any kind, don't make you a bad person—they just make you human:
Let me assure you that there's no right or wrong way to feel—not just about the abortion, but about anything. Too often we judge our feelings: I'm "a bad person" if I'm … envious of my best friend; glad that my neglectful father is dying; sad that my sister fell in love because I never see her anymore; relieved that my girlfriend and I chose abortion even though I think she found the ordeal far more upsetting than I did. But not only do these feelings make us human—we also can't control them. They'll be there whether we like them or not. We can pretend they don't exist, of course, but it's nearly impossible to keep them sealed up forever. Inevitably they escape, because they're always lying in wait, searching for air.
Send Lori your questions at dear.therapist@theatlantic.com.