The Atlantic Daily: Crowd a Room
Trump's tariffs cause friction at the G7. Plus Robert Mueller's latest indictment, Obamacare's future, and more.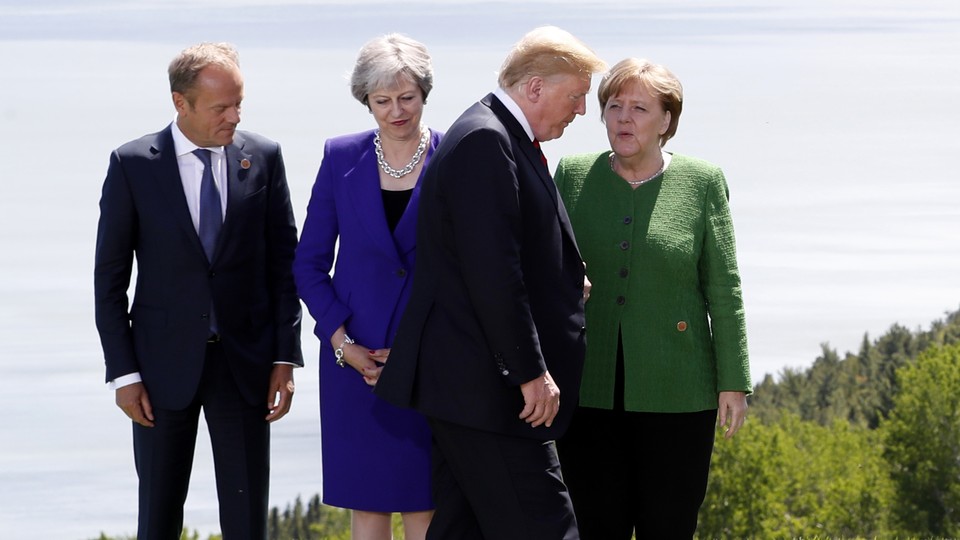 What We're Following
Rough Relations: On his way to the G7 Summit, President Trump said the forum "should let Russia come back in." Russia has been suspended from the group since 2014, and Trump's call for its reinstatement may add to the divisions between the U.S. and its fellow G7 members. Trump's tariffs on steel and aluminum imports from Europe and Canada are a key point of conflict, reportedly even causing friction between him and French President Emmanuel Macron, who had cultivated a friendly relationship with his U.S. counterpart. As for America's relations with Asian powers, Reihan Salam argues that normalizing trade relations with China was a mistake.
Public Health: The Justice Department announced that it won't defend the Affordable Care Act's guarantee of coverage for people who have preexisting conditions against a lawsuit from several states that hope to overturn the Obama-era law. And a new report from the Centers for Disease Control and Prevention describes a striking 30 percent increase in suicide rates since 1999, affecting Americans from a broad range of racial, gender, and geographic backgrounds.
Probing Questions: The Senate Judiciary Committee is considering interviewing Curt Weldon, a former congressman with ties to Russia and alleged ties to the Trump campaign, in its probe of Russian interference in the 2016 election. And Special Counsel Robert Mueller has indicted Konstantin Kilimnik, who's appeared in Mueller's previous court filings as "Person A." Read about Kilimnik's back story below, in tonight's Evening Read.
---
Snapshot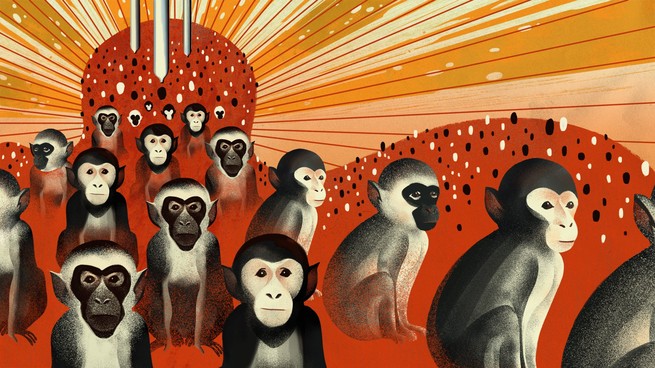 ---
Evening Read
Franklin Foer on the man Special Counsel Robert Mueller indicted on Friday for obstruction of justice:
In the early years of the century, as Paul Manafort made his way across Moscow and Kiev, he was followed by a diminutive man. With a generous slackening of the tape, the man measured just above 5 feet. This made for a striking contrast in physical frames, because Manafort and his expansive shoulders crowd a room. It also made the pair an almost slapstick spectacle. But over time, Manafort and the smaller man, his aide-de-camp, began to converge in appearance. The aide started to dress like his boss, buying expensive suits cut in a similar style. He would mimic his mentor's habits, using the same car service to shuttle through the cobblestone streets of the Ukrainian capital in the same model BMW. He would come to earn the title "Manafort's Manafort."
Keep reading, as Franklin tells the story of how that aide—Konstantin Kilimnik—came to be a suspected pawn of Russian intelligence.
---
What Do You Know … About Culture?
The world mourned the loss of three greats this week, in food, style, and music. The chef and writer Anthony Bourdain "unprettified reality and found a deeper truth in the lives of people who made food," Corby Kummer writes. The fashion designer Kate Spade created a brand that responded to the demands of daily life with imagination and whimsy, expressing a vision of adulthood that young girls could aspire to. And the singer Clarence Fountain, a founding member of the Blind Boys of Alabama, embodied the golden age of gospel music as he helped to spread the style around the world.
Can you remember the other key facts from this week's culture coverage? Test your knowledge below:
1. The Miss America pageant began as a marketing ploy to get people to visit the town of ____________, New Jersey.
Scroll down for the answer, or find it here.
2. The baseball player Bartolo Colón once threw ____________ consecutive strikes, the longest streak since 1988.
Scroll down for the answer, or find it here.
3. In one episode of Mister Rogers' Neighborhood, Rogers and the character ____________ challenged the concept of segregated swimming pools by sharing a tub to wash their feet.
Scroll down for the answer, or find it here.
---
Poem of the Week
From our May 1883 issue, "The Flaneur," by Oliver Wendell Holmes:
I love all sights of earth and skies,
From flowers that glow to stars that shine;
The comet and the penny show,
All curious things, above, below,
Hold each in turn my wandering eyes:
I claim the Christian Pagan's line,
Humani nihil, — even so, —
And is not human life divine?
---
Reader Response
Conor Friedersdorf recently argued that some liberal rhetoric about the far right runs the risk of fueling bigotry. One reader reflects:
It's not that calling someone an alt-righter for saying non-PC things will push someone to the alt-right. That might be a problem for a tiny minority, but I honestly don't think that is a real concern that will affect most people.

The real problem, IMHO, is that when you make expressing reasonable viewpoints so taboo that people are afraid to speak about them openly, it forces any discussion about those issues to move out into fringe circles, and those fringe circles are where people espouse viewpoints that are actually dangerous.
Read more discussion, and Conor's response, and write to us at letters@theatlantic.com.
---
Nouns
Drone cops, kid language, birth certificates, genre flick.
---
Time of Your Life
I (Abdallah) would like to wish a happy birthday to my best friend, Adam (one-sixth the age of The Atlantic).
Tomorrow, happy birthday from Carla to Ray (a year younger than human spaceflight); to Michael's significant other, Cynthia (twice the age of CD players); to Jan's best friend and daughter, Hayley (a year younger than graphical web browsers); Norris's first love (born around the time the Supreme Court ruled that state officials could not impose prayer in public schools); and Peggy's son Bryon (a year younger than hip-hop records).
---