The Atlantic Daily: A Long, Slow Slide
President Trump disinvited the Philadelphia Eagles from the White House. Plus Paul Manafort's alleged witness tampering, the future of higher education, and more.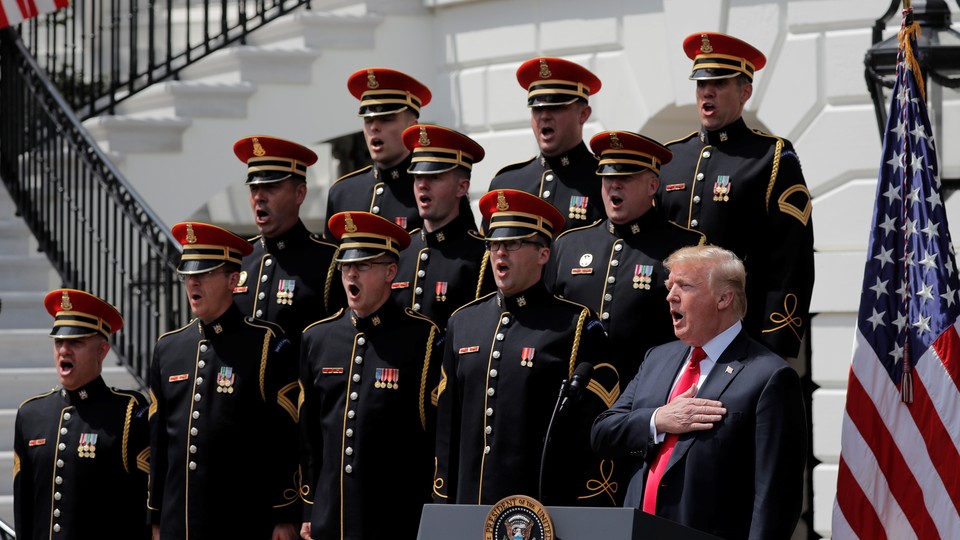 What We're Following
Manafort's Misstep: Federal prosecutors in Robert Mueller's investigation say that Paul Manafort, Donald Trump's former campaign manager, who's now awaiting trial for conspiracy and money-laundering charges, attempted to coach the testimony of one of his former associates. Legal experts say the alleged witness tampering is a puzzling move, as Manafort must have known that his communications were being monitored while he was under house arrest. Natasha Bertrand explains what he might have been thinking.
White House History: First Lady Melania Trump made her first official appearance in more than three weeks at a private White House ceremony for the families of fallen service members. Though her extended absence has drawn intense speculation, it isn't so remarkable in the context of the broader history of her role. Meanwhile, President Trump disinvited the Philadelphia Eagles from the White House, claiming that some of the Super Bowl champions had backed out over his support for the NFL's national-anthem policy. As Yoni Appelbaum writes, there's precedent for this decision, and it raises the question: Which America is Trump celebrating?
Campus Violence: A new school-safety commission chaired by Education Secretary Betsy DeVos will not focus on guns—the weapons used in several deadly school shootings this year—but on other sources of violence, according to DeVos's testimony to senators. And a video game that simulates a school shooting was removed from online stores ahead of its release, following a massive backlash that illustrates a shift in the public's perception of these events.
---
Snapshot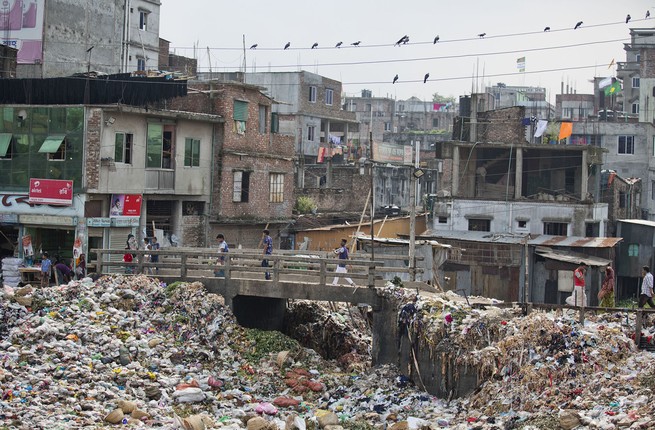 ---
Evening Read
Adam Harris on the future of higher education:
Maybe higher education has reached its peak. Not the Harvards and Yales of the world, but the institutions that make up the rest of the industry—the regional public schools who saw decades of growth and are now facing major budget cuts and the smaller, less-selective private colleges that have exorbitant sticker prices while the number of students enrolling in them declines.

Higher ed is often described as a bubble—and much like the housing market in 2008, the thought goes, it will ultimately burst. But what if it's less of a sudden pop and more of a long, slow slide, and we are already on the way down?
Keep reading, as Adam talks with an education futurist who's foreseen this decline.
---
What Do You Know … About Family?
Who cares for kids in the most difficult circumstances? Tragedies of all kinds—unemployment, incarceration, mental illness, and especially the opioid epidemic—have contributed to the growing number of children living with their grandparents, as their own parents become unable to raise them. Meanwhile, in a four-month investigation for ProPublica Illinois, Duaa Eldeib found that the state of Illinois holds hundreds of children in psychiatric hospitals for, in many cases, weeks or months longer than necessary. Doctors have deemed them ready to leave, but for those with serious mental-health issues, placing them elsewhere can be difficult.
Can you remember the other key facts from this week's family coverage? Test your knowledge below:
1. Nationwide, the average length of stay for children who are hospitalized for psychiatric reasons is roughly ____________ days.
Scroll down for the answer, or find it here.
2. According to Greek mythology, the titan ____________ threatened to swallow his infant son, the god Zeus, whole.
Scroll down for the answer, or find it here.
3. In a classic psychological study, researchers placed ____________ in front of young kids to test their capacity for "delayed gratification," which the scientists argued was linked to later life successes.
Scroll down for the answer, or find it here.
---
Urban Developments
Our partner site CityLab explores the cities of the future and investigates the biggest ideas and issues facing city dwellers around the world. Gracie McKenzie shares today's top stories:
For more updates like these from the urban world, subscribe to CityLab's daily newsletter.
---
Reader Response
When James Fallows expressed concern over the U.S.'s policy toward China, Mike Lofgren replied that potential damage to America's European alliances is the more pressing problem. Another reader, Joseph E. Britt, pushed back:
For me, the critical element is not what will happen, but what might happen. We cannot know the first; we can be aware of the second, of the possibilities in the future produced by decisions we make now. Trump is surely doing damage to American relations with countries that have been our traditional friends and supports to American policy around the world. The damage is serious, and it is being inflicted carelessly, frivolously—which makes it even worse.

It is not, however, likely to lead to war.

War is a real possibility in our future relations with China.
Read more of this discussion, and write to us at letters@theatlantic.com.
---
Verbs
Swimsuits eschewed, Dostoevsky quoted, cleaning products eaten, tiki bars revived.
---
Time of Your Life
Happy birthday to Kenyon's wife, Carly (twice the age of the International Space Station).
---