The Atlantic Daily: The Battlements of Ego
Trump's case for a presidential self-pardon. Plus: A threat from within North Korea, what it's like to trip on a magic mushroom, and more.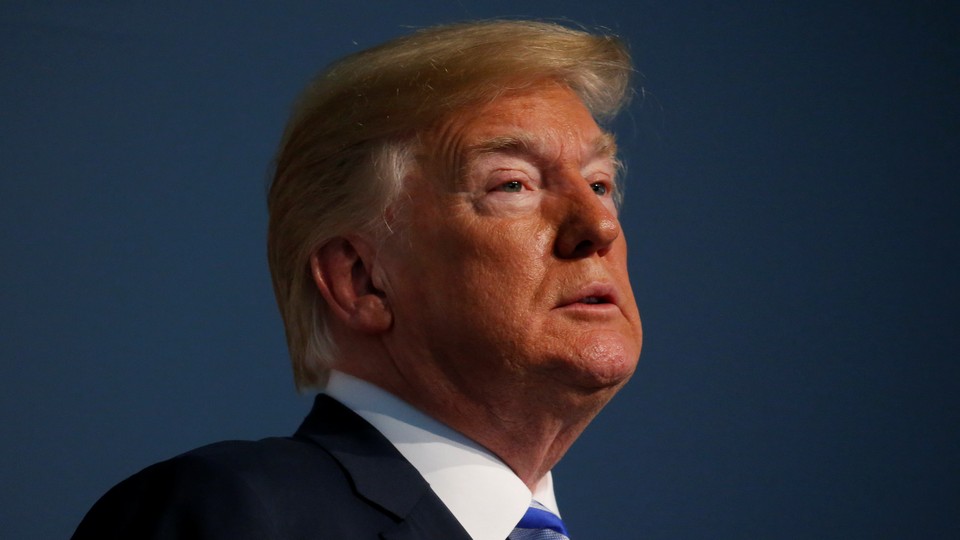 What We're Following
Pardon Power: President Trump asserted on Twitter that he could pardon himself if indicted in Special Counsel Robert Mueller's investigation, thus implying the executive branch has no power to check presidential misdeeds—and unwittingly making the case for impeachment. Over the weekend, a new report from The New York Times revealed that Trump's lawyers sent a letter to Mueller's team arguing that it's impossible for a president to obstruct justice. Benjamin Wittes explains the merits—and the flaws—of their case.
Civil Liberties: In Masterpiece Cakeshop v. Colorado Civil Rights Commission, the Supreme Court ruled in favor of a baker who refused to sell a wedding cake to a same-sex couple for religious reasons. Garrett Epps unpacks the ruling and what it means. And a proposed rule change from the Trump administration "could prohibit doctors who receive a type of federal funding called Title X from explicitly referring their patients to abortion providers," Olga Khazan writes. Kami Geoffray, the head of a family-planning organization in Texas, explains how the new rule would affect the patients she serves.
Security Threats:  Will North Korea give up its nuclear weapons? Kim Jong Un is said to be considering it—but he could face internal opposition from North Korean officials who see the nuclear program as the key to their country's security. Meanwhile in Germany, the country's pacifist philosophy is coming into conflict with a need to take a more aggressive approach to cyberwarfare.
---
Snapshot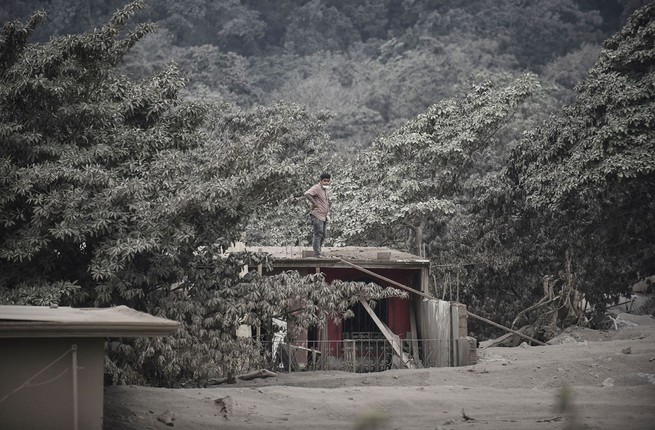 ---
Who We're Talking To
DeRay Mckesson, an activist known for his leadership in the Black Lives Matter movement, describes the hardest job he's ever had.
Jörg Matthias Determann, a history professor, discusses space science in the Middle East, from the medieval "Golden Age" of Islamic astronomy to the ambitious projects going on today.
---
Evening Read
Michael Pollan describes what it's like to trip on a magic mushroom:
I felt as though I were communing directly with a plant for the first time and that certain ideas I had long thought about and written about—having to do with the subjectivity of other species and the way they act upon us in ways we're too self-regarding to appreciate—had taken on the flesh of feeling and reality … The idea that there had ever been a disagreement between matter and spirit seemed risible, and I felt as though whatever it is that usually divides me from the world out there had begun to fall away. Not completely: The battlements of ego had not fallen; this was not what the researchers would deem a "complete" mystical experience, because I retained the sense of an observing "I." But the doors and windows of perception had opened wide, and they were admitting more of the world and its myriad nonhuman personalities than ever before.
Keep reading, as Pollan wonders: "Why in the world would a fungus go to the trouble of producing a chemical compound that has such a radical effect on the minds of the animals that eat it?"
---
What Do You Know … About Education?
Work and education have long been recognized as key steps on the socioeconomic ladder, and some institutions and corporations are trying to give struggling students an extra boost. A community-college president in Amarillo, Texas, has embraced the school's role in combating poverty by creating programs to help students with everything from child-care supplies to finding employment. And Walmart recently announced that it will help subsidize its workers' tuition—a move that helps not only the employees, but also the company in its attempts to retain them.
Can you remember the other key facts from this week's education coverage? Test your knowledge below:
1. On Thursday, Betsy DeVos approved a grant in the amount of $_________ million to help the Santa Fe school district recover from last month's shooting.
Scroll down for the answer, or find it here.
2. Three young black students—Tessie Prevost-Williams, Leona Tate, and Gail Etienne—integrated T.J. Semmes Elementary School in New Orleans when they were in the _________ grade.
Scroll down for the answer, or find it here.
3. ________ v. New Kent County, a landmark Supreme Court case that changed the way America thought about school segregation, had its 50-year anniversary last month.  
Scroll down for the answer, or find it here.
---
Look Back
In our June 1999 issue, Sasha Abramsky described how prison conditions can contribute to recidivism:
Robert Scully evolved into a murderer while housed in Pelican Bay. There he experienced some of the harshest confinement conditions known in the democratic world. Highly disturbed to start with, he was kept in a sensory-deprivation box for years on end. Psychologists and psychiatrists called in by his defense team believe that he simply lost the ability to think through the consequences of his actions. He became a creature of brutal and obsessive impulse ...

Pelican Bay Chief Deputy Warden Joe McGrath estimates that every month thirty-five inmates are, like Scully, released from isolation directly back into the community.
Read more, share this story, and find more articles from our archives.
---
Reader Response
James Fallows recently argued that America's most important diplomatic relationship—and one the Trump administration may be fumbling—is with China. Mike Lofgren disagrees:
The U.S. relationship with China is extremely important, and is being horribly fumbled—as is every other global relationship—but I think the relative novelty of China as a near peer … has led pundits to overstate its singularity.

The old, boring EU is still the most important relationship, for the same reason people don't recognize it as such: It's been there for so long, and has been so deeply embedded, that we've taken it for granted. The EU has a greater GDP than China and a greater aggregate military budget; and more to the point, the deep cultural, political, and military ties make it a close cousin.
Read more responses, and James's reply. And write to us at letters@theatlantic.com.
---
Verbs
Yearbooks signed, career salvaged, celebrities pardoned, guppies provoked.
---
Time of Your Life
Happy birthday from Daniel to Helen (twice the age of the International Space Station) and to Leigh's amazing son Micah (a year younger than Google).
From yesterday, happy birthday to Jim's mom, Estelle (a year younger than airmail), and from Deborah to David (twice the age of Harry Potter).
---