The Atlantic Daily: In a Faraway Country
The Supreme Court ruled that Trump's travel ban is not discriminatory. Plus a father's search for his son, the story of a bombing raid, and more.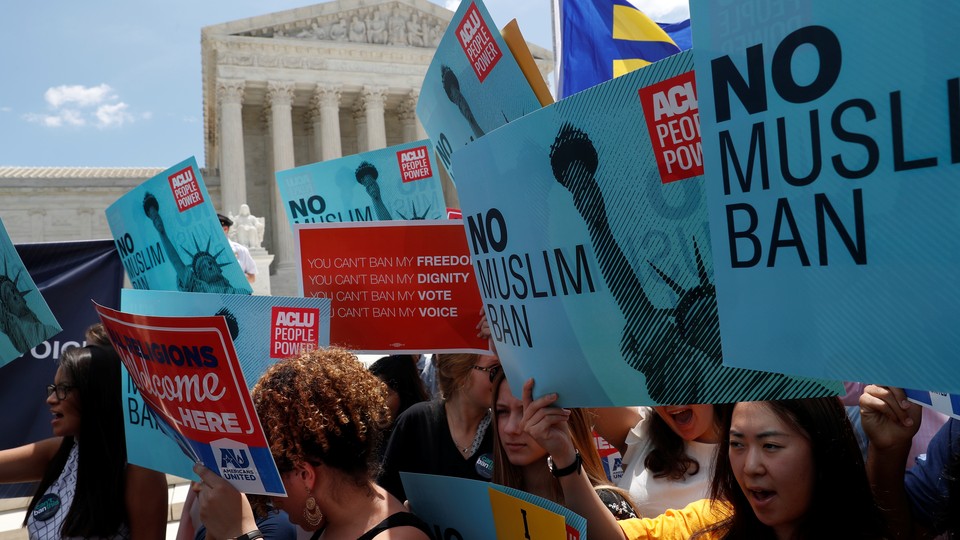 What We're Following
Orders From the Court: In a 5 to 4 decision, the Supreme Court upheld President Donald Trump's controversial travel ban, which bars travelers from several Muslim-majority countries as well as North Korea and Venezuela. The Court's opinion, written by Chief Justice John Roberts, argues that the anti-Muslim rhetoric Trump used to promote the policy during his campaign can be discounted because the ban does not explicitly mention religion. Here's how the ruling could change the balance of power between the executive and the judicial branches.
Family Separations: House Republican leaders are preparing to file a narrow immigration bill to address the separation of immigrant families, Elaina Plott reports. As one senior House Republican aide put it, "If we can swing that, maybe it will be a more contained dumpster fire." In the past few decades, migration patterns over the U.S.–Mexico border have changed, as immigrants seeking greater economic opportunity have given way to those fleeing gang violence. One detained father says he brought his 7-year-old son from Honduras to escape a death threat from corrupt police officers. They were separated at the border; now he doesn't know where the boy is.
Presidential Tweets: Trump attacked Harley-Davidson on Twitter after the motorcycle company announced that it may move some operations overseas to avoid being targeted by European Union tariffs. Here are some of the other forces driving its decision. The president also lashed out against the late-night talk-show host Jimmy Fallon, who recently expressed regret for a shallow 2016 interview with Trump—and faces the challenge of adapting his comedy style to the current political moment.
---
Snapshot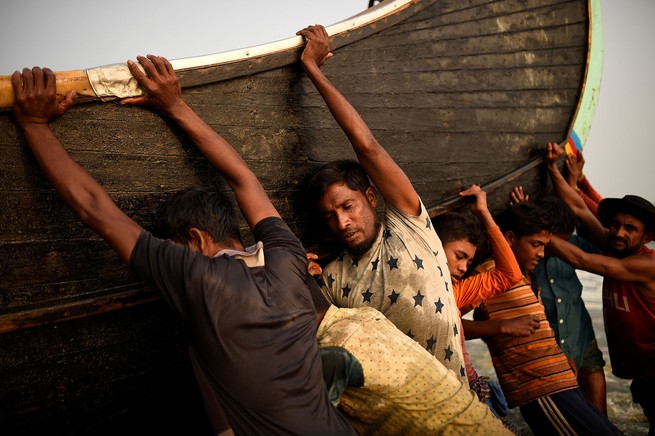 ---
Who We're Talking To … at the Aspen Ideas Festival
Christine Matthews, a Republican pollster, describes how the voters turning 18 years old this year could change American politics.
Eric Liu, who served as a speechwriter in Bill Clinton's administration, describes five steps for having more constructive arguments.
Lise Eliot, a neuroscience professor at the Chicago Medical School, argues that male and female brains aren't biologically different: "People say men are from Mars and women are from Venus, but the brain is a unisex organ."
---
Evening Read
William Langewiesche describes the scene at the Whiteman Air Force Base, in Missouri, in the early-morning hours of January 17, 2017:
Six years had passed since any B-2 had flown in combat. But now, in the privacy of their bespoke, climate-controlled, single-occupancy hangars, several of them had been loaded with 80 GPS-guided bombs for use against enemies who had been spotted on the ground in a faraway country. The preparations had been hushed: Relatively few people on the base, even among those assembling and loading the bombs, knew that this was something other than a training run.
Keep reading, as Langewiesche tells the story of a bombing raid in the Libyan desert.
---
What Do You Know … About Family?
Jesse Singal's cover story in the July/August issue of The Atlantic, "When Children Say They're Trans," has sparked a range of responses in the Family section. The writer Thomas Page McBee wonders why it's so rare for journalists to report from the perspective of transgender kids. Robyn Kanner, a writer and designer, argues that Singal's story irresponsibly "leaves enough doubt for you to consider gatekeeping your child's identity," and recalls her own experience detransitioning—not because she wasn't trans, but because "cisgender people physically and mentally beat me down until I gave in." And Ashley Fetters, a staff writer at The Atlantic, notes that pediatricians, who are often the first stop for families with gender-nonconforming kids, are undertrained to advise parents about gender dysphoria—and the pediatricians know it.
Subscribe to "The Family Weekly" to receive more on American family life in your inbox each Saturday morning.
Can you remember the other key facts from this week's Family coverage? Test your knowledge below:
1. In 2005, the ultrasuccessful entrepreneur ____________ told workers to "love what you do" in a now-famous commencement address at Stanford.
Scroll down for the answer, or find it here.
2. The eastern region of the state of ____________ is best known for its agricultural output—especially tobacco, its most iconic and lucrative crop.
Scroll down for the answer, or find it here.
3. High levels of the stress hormone ____________ are linked to many health issues, including anxiety, depression, digestive and sleep problems, and headaches.
Scroll down for the answer, or find it here.
---
Urban Developments
Our partner site CityLab explores the cities of the future and investigates the biggest ideas and issues facing city dwellers around the world. Gracie McKenzie shares today's top stories:
Many cities have long been resisting the Trump administration's immigration policies through a range of "sanctuary" policies. Now, in the midst of a national discussion, some localities are experimenting with new ways to exercise their powers.

What's the hardest thing about living in Songdo, South Korea's eco-friendly, master-planned, and much-hyped utopia? Meeting your neighbors.

Bikes, scooters, e-bikes, "velomobiles," motorized skateboards, unicycles, hoverboards—nearly all of them look silly, but if taken seriously, these little vehicles could be a big deal for urban transportation.
For more updates like these from the urban world, subscribe to CityLab's daily newsletter.
---
Reader Response
In our May cover story, John Dickerson argued that the U.S. presidency is too big a job for any single person. David So suggests a partial solution:
I would like to reduce the number of political appointees in favor of professional career positions. For example, we could make all sub-Cabinet positions part of the civil service. This would mean the president would appoint only the Cabinet secretaries.

The president would be relieved of much responsibility; policies would not be subject to so much partisan whim; and the entire bureaucracy would be more efficient and better trained.
Read more suggestions and reactions, and write to us at letters@theatlantic.com.
---
Adjectives
Queasy verdict, echo chamber, intelligent life, eloquent reflection.
---
Time of Your Life
Happy birthday from Maddy to Drew (a year younger than Toy Story); to Monique (twice the age of Harry Potter); to Wallace, a.k.a. "Woggy" (a year younger than NASA); and to Kimberly's daughter Sarah (a year younger than "Shark Week").
---