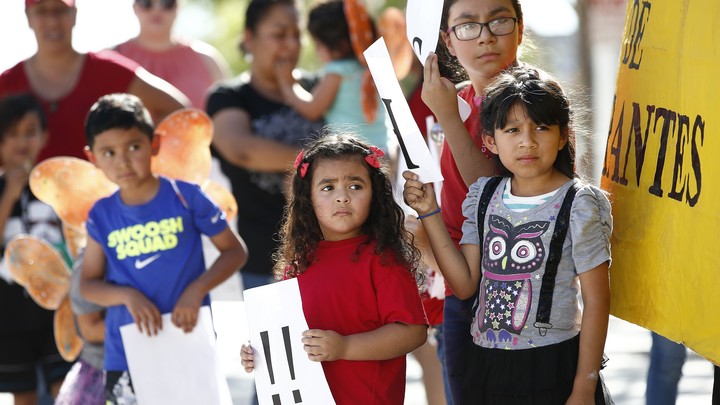 ---
Snapshot
---
Evening Read
Courtney Coffman on the changing retail industry:
Thanks to smartphones, apps, and social-media platforms like Instagram, a broader public has developed a visual vocabulary and aesthetic sensibility. Retailers, particularly in fashion, have overhauled marketing and branding strategies to promote their individual labels among broader audiences. But they also face a new challenge: how to adapt retail design to sell pictures on social-media profiles as much as, or more than, they sell garments for real bodies.
Keep reading, as Coffman describes how stores are reshaping themselves for experiences beyond shopping.
---
What Do You Know … About Family?
For Father's Day, The Atlantic's Julie Beck investigates the tired tropes of Father's and Mother's Day cards, from the moms hiding from "the endless demands of their mob of loin-fruit" to the dads "golfing. Or grilling. Or on the toilet." Greeting cards—a small cultural product, but a product nonetheless—often lag behind, and even resist, changes in parenthood and gender norms. Meanwhile, the writer David Giffels recalls the final woodworking project he shared with his late father: building Giffels's own coffin. "My proposal to build a casket was mainly an excuse to be in his dust, to learn from him, to spend time together."
Can you remember the other key facts from this week's family coverage? Test your knowledge below:
1. One public-health study from 1980 argued that greeting cards could reinforce the harmful habit of "____________."
Scroll down for the answer, or find it here.
2. The Brooklyn Bridge is ____________ feet long.
Scroll down for the answer, or find it here.
3. Today, the average preschooler spends more than ____________ hours a day looking at a screen.
Scroll down for the answer, or find it here.
Answers: getting drunk / 5,989 / four
---
Urban Developments
Our partner site CityLab explores the cities of the future and investigates the biggest ideas and issues facing city dwellers around the world. Gracie McKenzie shares today's top stories:
Whether any city should be encouraging Elon Musk's "transit" proposals is up for debate. But at least one aspect of the Loop concept he's proposed in Chicago would be incredibly valuable—and not just to locals—if the Boring Company actually pulled it off.

America should pay attention to what Washington, D.C., voters decide today on Initiative 77. Two national restaurant groups have turned the city's election into a proxy war over a wide-reaching and politically fraught norm: the tip.

Consider us guilty of piling on to recent coverage of Domino's Pizza's pothole-fixing PR campaign. We also, however, snagged a copy of the legal agreement that one of the pilot cities signed with the company—confidentiality clause be damned.
For more updates like these from the urban world, subscribe to CityLab's Daily newsletter.
---
Reader Response
Uri Friedman recently argued that the summit between President Trump and Kim Jong Un yielded few substantive achievements. Nathan King in Madison, Alabama, replies:
It is unreasonable to expect anything more than what Mr. Trump got, so I find it unfair to claim he got very little in return. President Trump (and the world) really want only one thing: the complete denuclearization of North Korea. That will likely take years (as you discussed in your article), so President Trump was essentially guaranteed to walk away with nothing of concrete value other than promises and a signature from Kim Jung Un. Expecting anything more wouldn't make sense because there was nothing else to want. Likewise, because President Trump did get a verbal promise and a signature, he got everything he wanted and therefore must consider this summit a complete success. Of course, none of this guarantees overall success. Only time will tell if Kim Jung Un will cooperate, and President Trump has structured his negotiations in a way that accounts for this possibility.
Read Uri's guide to evaluating the success of the summit, and write to us at letters@theatlantic.com.
---
Nouns
Chance encounters, rogue employees, fraught legacy, personality test.
---
Time of Your Life
Happy birthday to Meeta and Prashanth's daughter Ayesha (a year younger than the euro).
---
Meet The Atlantic Daily's team, and contact us.

Did you get this newsletter from a friend? Sign yourself up.
We want to hear what you think about this article. Submit a letter to the editor or write to letters@theatlantic.com.