The Atlantic Daily: Moral Reckoning
The Trump administration's family-separation policy provokes increasing outrage. Plus the attorney general's agenda, the challenge of parenting transgender children, and more.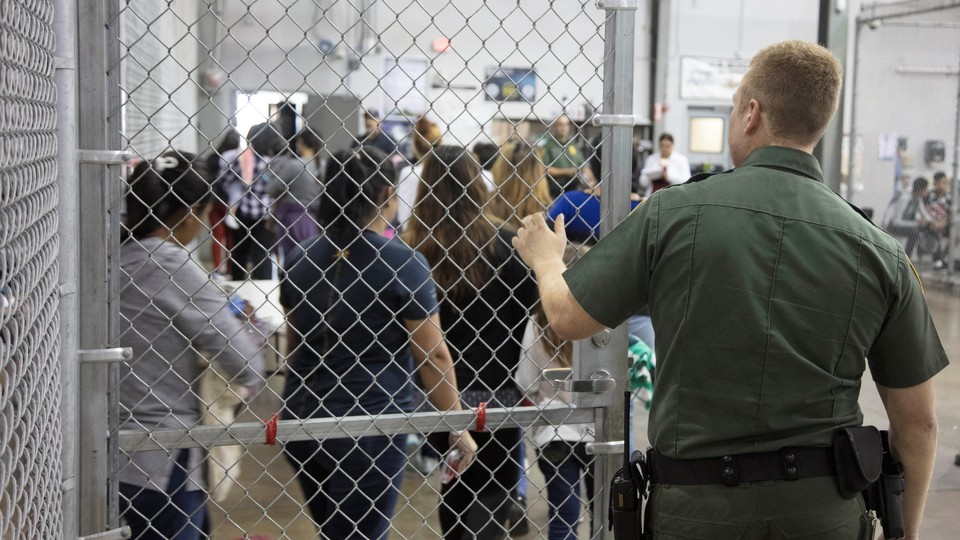 What We're Following
Immigration Policy: The Trump administration's policy of separating migrant children from their parents at the U.S–Mexico border continued to provoke outrage over the weekend. Evangelical leaders, members of Congress, and former First Lady Laura Bush added their voices to what Krishnadev Calamur calls a "national moral reckoning." The children are being detained in chain-link pens that the Associated Press recently described as "cages," provoking a semantic controversy. Yet that debate, David Graham writes, distracts from pressing moral questions about the policy. A disturbing recording captures the sobs of children detained at the border.
Back to the Drawing Board: The Supreme Court remanded Gill v. Whitford, a highly anticipated case on partisan gerrymandering, to a lower court, agreeing that the plaintiffs had not proved that individual voters' constitutional rights had been violated. Though voting-rights groups had hoped for a more definitive ruling, it's not the end of the road for gerrymandering. It's also not the first time the current court has ducked a decision.
Combined Star Power: Beyoncé and Jay-Z released a surprise joint album, Everything is Love, on Saturday. Spencer Kornhaber reviewed it for The Atlantic. The album celebrates the strength of the musicians' marriage—and might call on Beyoncé's fans to forgive Jay-Z for cheating on her.
---
Snapshot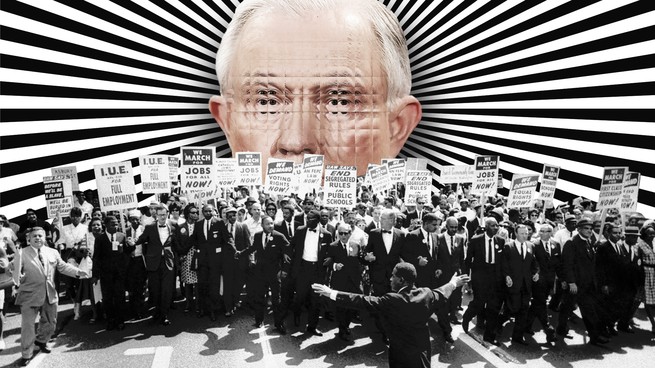 ---
Evening Read
Jesse Singal on the complex challenges faced by parents whose children experience gender dysphoria:
The current era of gender-identity awareness has undoubtedly made life easier for many young people who feel constricted by the sometimes-oppressive nature of gender expectations ...

But when it comes to the question of physical interventions, this era has also brought fraught new challenges to many parents. Where is the line between not "feeling like" a girl because society makes it difficult to be a girl and needing hormones to alleviate dysphoria that otherwise won't go away? How can parents tell? How can they help their children gain access to the support and medical help they might need, while also keeping in mind that adolescence is, by definition, a time of fevered identity exploration?
Keep reading, as Singal tells the stories of people whose gender identity has shifted over the years.
---
What Do You Know … About Education?
New York City's specialized public high schools have long relied on a standardized test to determine who gets accepted. Mayor Bill de Blasio has recently proposed getting rid of the test to increase schools' diversity, provoking heated controversy among parents and students. Two sociologists who have studied New York's high schools explain the high stakes of the debate. And conversations about access don't stop at the high-school level: A recent report found that in every state across the country, black and Latino adults are less likely than white adults to graduate from college.
Can you remember the other key facts from this week's education coverage? Test your knowledge below:
1. A recent study failed to replicate the central finding of the controversial "____________" study, which pointed to a correlation between parents' socioeconomic status and the amount of spoken words their kids hear.
Scroll down for the answer, or find it here.
2. The College Board recently announced that it will significantly narrow the scope of its Advanced Placement World History curriculum, and test students on content from the year a.d. ________ and on.
Scroll down for the answer, or find it here.
3. About ________ percent of the seats in New York City's public high schools are at specialized schools.
Scroll down for the answer, or find it here.
---
Look Back
In our July/August 2008 issue, Nicholas Carr wondered what the internet would do to the human brain:
The idea that our minds should operate as high-speed data-processing machines is not only built into the workings of the Internet, it is the network's reigning business model as well. The faster we surf across the Web—the more links we click and pages we view—the more opportunities Google and other companies gain to collect information about us and to feed us advertisements. Most of the proprietors of the commercial Internet have a financial stake in collecting the crumbs of data we leave behind as we flit from link to link—the more crumbs, the better. The last thing these companies want is to encourage leisurely reading or slow, concentrated thought. It's in their economic interest to drive us to distraction.
Read more, share this story, and find more articles from our archives.
---
Reader Response
David Giffels wrote about the last project he completed with his father—building his own coffin—and the questions about mortality and fatherhood that he might not have asked otherwise. Paisley responded:
I am an older mom. My daughter is 14. I talk about death with her all the time, not in a morbid way, but in a realistic way. I tell her she will have old parents someday and someday none ... that her friends and cousins and mate and children are her future and that it is our job to launch her into that future. Death isn't some big surprise and it's not unexpected. It's part of living and darn near the only thing that is guaranteed. I want my daughter to feel satisfied that when I go, whether it's tomorrow or decades from now, that we had a full and loving life together and did it as right as we could all the way through. Then I promise to haunt her forever.
Join the discussion on Facebook, or write to us at letters@theatlantic.com.
---
Nouns
Presidential fantasy, fatherhood credentials, imaginary cities, outlandish style.
---
Time of Your Life
Happy birthday to Tobey (a year younger than VCRs).
---