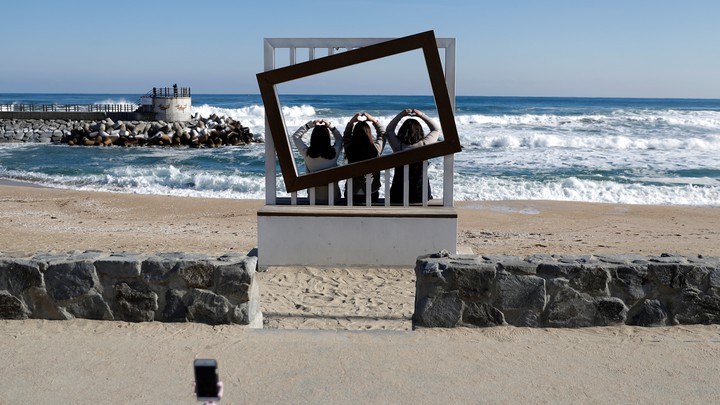 ---
Snapshot
---
Evening Read
Carolina A. Miranda on the changes that automation makes to the urban landscape:
The ATM is one of the most visible and familiar symbols of automation, its 24-hour service demanding neither coffee breaks nor health insurance. Two years after the first one appeared in England, a similar machine debuted at a branch of Chemical Bank (now Chase) on Long Island. Today there are more than 3 million globally, according to the ATM Industry Association. They have reshaped how people bank: anytime and anywhere, and mostly in locations that aren't even banks.

It's not just banks. Automation has also changed how people shop, park, fly, and more. In the process, it has reshaped the architecture that contains those experiences—making them more efficient, often, but also putting machines above people.
Keep reading, as Miranda describes how automation can make the world less hospitable for humans.
---
What Do You Know … About Science, Technology, and Health?
In an effort to better understand autism in humans, researchers in China have been editing monkeys' genes to give them brain disorders. This practice might concern ethicists and animal-rights advocates, who argue that both the efficacy of animal testing and the suffering it may cause are so difficult to measure that such testing may not be justified. While the use of CRISPR and other gene-editing tools is on the rise, experts say the technology is still too flawed to be used on humans, making it likely for animal testing—at least in this field—to continue.
Can you remember the other key facts from this week's science, technology, and health coverage? Test your knowledge below:
1. In the past decade, 2,000-year-old baobab trees have been prematurely collapsing, likely because of ____________.
Scroll down for the answer, or find it here.
2. A new paper argues that language developed out of early humans' ability to produce and use ____________ in sequence-dependent ways.
Scroll down for the answer, or find it here.
3. ____________ have become a symbol of gentrification in the Netherlands.
Scroll down for the answer, or find it here.
Answers: Climate change / Tools / Cargo bikes
---
Look Back
In our September 2007 issue, Joshua Green examined the still-developing legacy of Karl Rove, President George W. Bush's former deputy chief of staff:
The story of why an ambitious Republican president working with a Republican Congress failed to achieve most of what he set out to do finds Rove at center stage. A big paradox of Bush's presidency is that Rove, who had maybe the best purely political mind in a generation and almost limitless opportunities to apply it from the very outset, managed to steer the administration toward disaster.
Read more, share this story, and find more articles from our archives.
---
Reader Response
Every Wednesday, Lori Gottlieb answers reader questions in the Dear Therapist column. Angela in Chicago has had a volatile relationship with her younger sister ever since they were kids:
A lot of her animosity towards me (I think) stems from my success in academics and athletics—I was outstanding in both, and while she was very good, I cast a very long shadow …

She … constantly throws little jabs at me … The more she communicates in a mean, vicious manner, the less I want to talk to her or involve her in my life. I don't like how she talks to me and treats me, and after a few years of dealing with this, I'm done. But my extended family is close, so cutting her out of my life isn't possible, and I really don't want to do that either. How can I navigate this?
Read Lori's advice, and write to her at dear.therapist@theatlantic.com.
---
Nouns
DNA depot, moderate flameout, doomed balloon-fest, good gossip.
---
Time of Your Life
Happy birthday to Loremi's friend Glenn (a year younger than The Simpsons); to Darrell's husband (18 years older than the state of Hawaii); to Donald's wife, Roxanne (twice the age of Macintosh computers); and to Lois's husband, Paul (a year younger than The Cat in the Hat).
---
Meet The Atlantic Daily's team, and contact us.

Did you get this newsletter from a friend? Sign yourself up.
We want to hear what you think about this article. Submit a letter to the editor or write to letters@theatlantic.com.