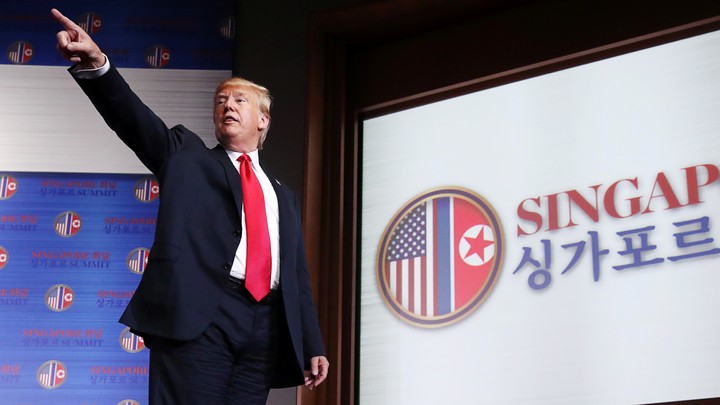 ---
Snapshot
---
Evening Read
Uri Friedman tells the story of a long-ago attack that almost changed the course of history:
Meters from where the leaders of North and South Korea recently planted a pine tree to memorialize their blossoming bid for peace, North Korean soldiers once crushed the skulls of two U.S. soldiers with the blunt end of their axe heads. The attack came after the Americans tried to trim a poplar tree. The men's disfigured bodies were left beside the tree …

When the axe attack occurred, in 1976, Kim Jong Un hadn't yet been born. The New York Times was, at the time, describing Donald Trump as a rising, Robert Redford–esque real-estate promoter with "flair" and "dazzling white teeth." As for Moon Jae-in, the current president of South Korea, he was serving as a corporal in a special-forces brigade that would later help avenge the murders by carrying out the most elaborate and dangerous tree-cutting operation in history—an act that brought the United States and North Korea closer to all-out conflict than they have been at any other time since the end of the Korean War.
Keep reading, as Uri reports from Panmunjom on the legacy of the incident.
---
What Do You Know … About Family?
When the author Sarah Rich's son started insisting on wearing dresses to school, she saw how little the stifling limits of American masculinity have changed. "There are so few positive variations on what a 'real man' can look like," she writes, "that when the youngest generations show signs of reshaping masculinity, the only word that exists for them is nonconforming." Another writer, Sarah Prager, faced the challenge of raising a daughter with her wife in the wake of the 2016 U.S. presidential election, when adoption rights for same-sex couples fell into legal uncertainty and reports of harassment toward LGBTQ people increased. "For us," Prager writes, "the tone of life a year ago was terrifying."
Can you remember the other key facts from this week's family coverage? Test your knowledge below:
1. The TV icon Fred Rogers took such pains to understand how children communicate that his team of writers jokingly referred to his on-air language as "___________."
Scroll down for the answer, or find it here.
2. The classic pleated, collared button-down worn by men and boys in Cuba and other countries is known as the ____________.
Scroll down for the answer, or find it here.
3. The legal mechanism that allows same-sex partners to share parental rights is called a ____________.
Scroll down for the answer, or find it here.
Answers: freddish / guayabera / second-parent adoption
---
Urban Developments
Our partner site CityLab explores the cities of the future and investigates the biggest ideas and issues facing city dwellers around the world. Gracie McKenzie shares today's top stories:
Most people saw Anthony Bourdain as a chronicler of food and culture. But, Richard Florida writes, "I always saw him as a chronicler of cities, and a truly great urbanist." Here's what Florida learned from the chef and writer.

Unless the golf industry can change its ways, its impending decline will mean a lot of empty greens across the country. How that land is—or isn't—used could reshape America's suburbs for decades to come.

The tech industry's big ideas to fix transit tend to focus on making more space for fewer people. That's not the way to solve the problem.
For more updates like these from the urban world, subscribe to CityLab's daily newsletter.
---
Reader Response
After Anthony Bourdain died last week, at 61, Khanishk Tharoor memorialized the chef and writer's deeply empathetic approach to the people and places portrayed on his TV shows. Elmer comments:
His is the first celebrity death which has impacted me. I was trying to think why for the last couple of days. I came to the conclusion that I was a partner in each of his shows. He was always talking with me, not talking at me. He was always empathetic. He treated his guests as friends, and his wonderment and his questions were the same as mine.

I am saddened by a friend I never met.
Join the discussion on Facebook, or write to us at letters@theatlantic.com.
---
Verbs
Gossip vindicated, hair collaged, brains hijacked, emails deleted.
---
Time of Your Life
Happy birthday to Bob (born around the time Queen Elizabeth II was crowned at Westminster Abbey).
---
Meet The Atlantic Daily's team, and contact us.

Did you get this newsletter from a friend? Sign yourself up.
We want to hear what you think about this article. Submit a letter to the editor or write to letters@theatlantic.com.