The Atlantic Daily: Vastly More Difficult
A White House official defines the Trump Doctrine. Plus: what to expect at the summit with North Korea, America's racial health disparity, and more.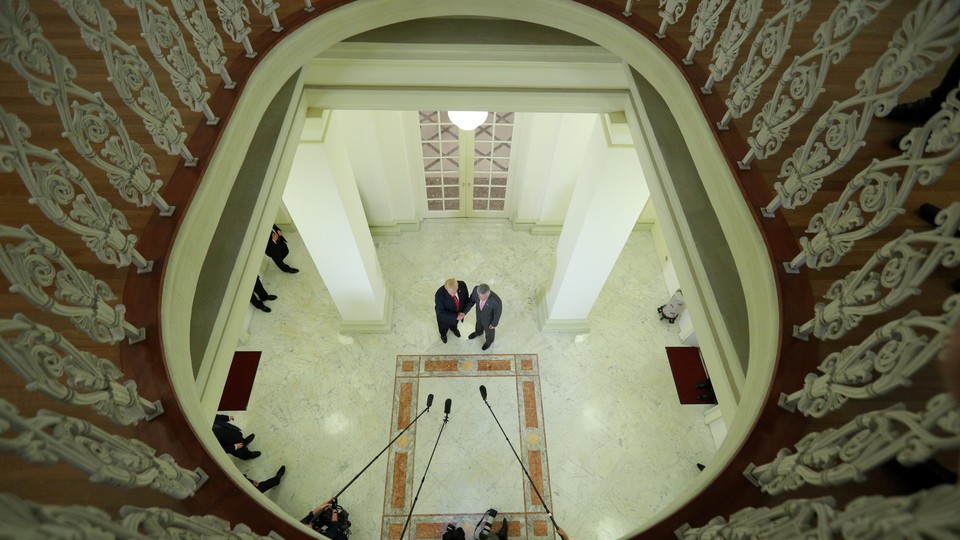 What We're Following
G7 Gripes: Hours after the G7 summit, President Trump lashed out on Twitter at Canadian Prime Minister Justin Trudeau and retracted his endorsement of the joint communique on trade and other issues signed at the meeting. Trump's conflict with Canada is rooted in a long-standing trade dispute over dairy. More broadly, it fits a diplomatic pattern in the Trump administration of bullying allies. As one senior White House official put it: "The Trump Doctrine is 'We're America, Bitch.'"
North Korea: The long-anticipated summit between Trump and North Korean leader Kim Jong Un is taking place on Tuesday. While many observers have worried that Trump lacks the expertise to make much progress toward ending North Korea's nuclear-weapons program, he may have a valuable opportunity to transform the U.S.'s relationship with the country. Yet his track record at the G7 represents a warning for Kim Jong Un, David Graham writes.
Cable TV: A federal judge is expected to rule in the Justice Department's lawsuit to block the acquisition of Time Warner by AT&T—and if the Trump administration wins the case, it could cripple the cable-TV industry. Regardless of the ruling, viewers' shifting habits may mean that the future of TV lies in choosing the show you want to watch based on length.
---
Snapshot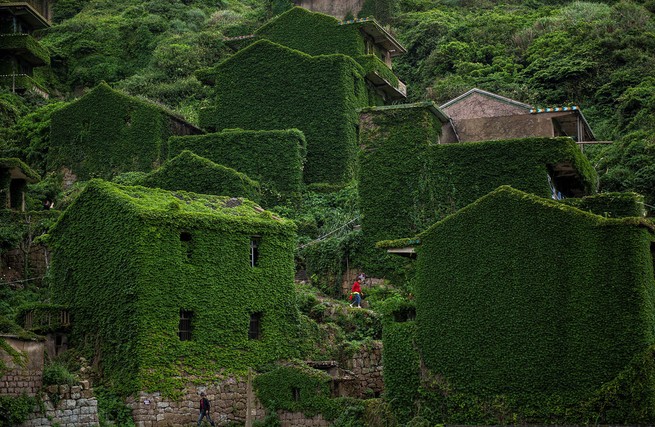 ---
Evening Read
To understand the forces that shape America's racial health disparity, Olga Khazan spent almost a year getting to know one young woman in Baltimore, where life expectancy for African Americans is as many as 20 years shorter than it is for whites:
What I found in Kiarra's struggle was the story of how one person's efforts to get better—imperfect as they may have been—were made vastly more difficult by a daunting series of obstacles. But it is also a bigger story, of how African Americans became stuck in profoundly unhealthy neighborhoods, and of how the legacy of racism can literally take years off their lives. Far from being a relic of the past, America's racist and segregationist history continues to harm black people in the most intimate of ways—seeping into their lungs, their blood, even their DNA.
Keep reading as Olga tells Kiarra's story, and describes how being black in America can be hazardous to your health.
---
What Do You Know … About Education?
Is higher education on the brink of collapse? The Atlantic's Adam Harris spoke with a self-identified higher-education futurist who argues that the industry has likely gotten as big as it can get—and that it will only decline from here, as enrollment rates continue to drop. In the meantime, would-be students face other challenges. For example, colleges' financial-aid letters leave many students confused about the support available to them.
Can you remember the other key facts from this week's education coverage? Test your knowledge below:
1. Opponents of a video game called _________, which was set in a school, recently succeeded in shutting down its planned release.
Scroll down for the answer, or find it here.
2. At a Senate hearing, Education Secretary Betsy DeVos suggested that studying the role of ____________ in school violence would be outside of her school-safety commission's purview.
Scroll down for the answer, or find it here.
3. A recent report found that college students who receive Pell grants are left to come up with an average of $________ on their own.
Scroll down for the answer, or find it here.
---
Look Back
In our November 2004 issue, William Langewiesche described how American troops created a fortified "Bubble" in Baghdad's Green Zone:
With every pinprick of Iraqi resistance—with every killing of a collaborator, and every wildly aimed rocket or mortar round that arched in from the city and exploded harmlessly in the Green Zone's interior—controls at the gates grew stricter, and the boundary hardened into a heavily guarded perimeter of high concrete blast walls, about eight miles around ...

Slowly the American engagement diminished, and with it the effectiveness of American initiatives. The Americans knew it, too. Even within the Green Zone they derided their home as "The Bubble." But they could not stop themselves from their retreat to its insides. Much has been made of the lack of planning that preceded the invasion, but it was this isolation afterward that turned out to be as great a problem. It is a famous paradox that walls that protect you also hem you in.
Read more, share this story, and find more articles from our archives.
---
Reader Response
Sarah Rich drew on her experience as a mother to write about how traditional notions of masculinity can stifle young boys' individuality, as well as discourage them from building strengths like empathy and emotional intelligence. Ryan reflects:
That fact we don't even have a male equivalent of "tomboy" says it all. I would not say I am a feminine man, but I have never been very macho … My hesitation over this has led me to not want sons and I was very relieved when I found out my wife was pregnant with a girl for our first child. I always question my ability to be a father of boys because I am not a guy's guy myself.
Join the discussion on Facebook, or write to us at letters@theatlantic.com.
---
Adjectives
Infamous fungus, gentrified bikes, unheralded hero, toothless protest.
---
Time of Your Life
Happy birthday from Mary to Martha (a year younger than the 24-hour news cycle) and to Aishah's boyfriend, Brodie (a year younger than the euro).
From yesterday, happy birthday to Greg's wife, Lisa (the same age as the Ford Mustang).
---