The Atlantic Daily: Revelations and Relationships
Shooting in Texas, Republicans push for new immigration policy, children of sperm donors, and more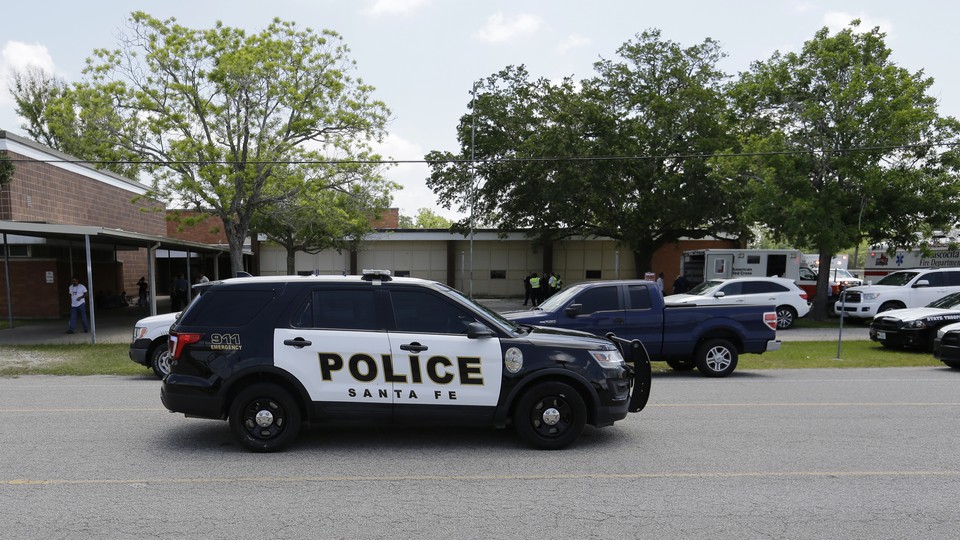 What We're Following
Tragedy in Texas: On Friday morning, 10 students were killed and several more were wounded at a high school in Santa Fe, Texas, after a 17-year-old male student open fired on campus, according to Texas Governor Greg Abbott. In a video clip that went viral following the incident, a female student told a reporter that the shooting felt inevitable: "It's been happening everywhere. I've always kind of felt like eventually it was going to happen here, too." A suspect has been taken into custody, and another person of interest has been detained.
It's Immigration or Nothing: About a week ago, a group of Republican lawmakers spearheaded a discharge petition that would force a House debate and vote on four competing immigration bills relating to the Deferred Action for Childhood Arrivals (DACA) program. Today, in retaliation for the party leadership not acting quickly enough to quash this effort, members of the House Freedom Caucus joined moderate Republicans and Democrats to vote down the farm bill, which addressed everything from food stamps to subsidies for school lunches.
What's New in the Trump Administration?: President Trump and his new lawyer, Rudy Giuliani, are shifting their strategy in the Mueller investigation; rather than deny allegations and affirm Trump's innocence, they're focused on undermining the probe itself. Meanwhile, in a surprise announcement at a prison-reform summit today, President Trump nominated Robert Wilkie, who has been serving as interim secretary since March, to head the Department of Veterans Affairs. The nomination came one day after the Senate confirmed Gina Haspel as the next CIA director.
---
Snapshot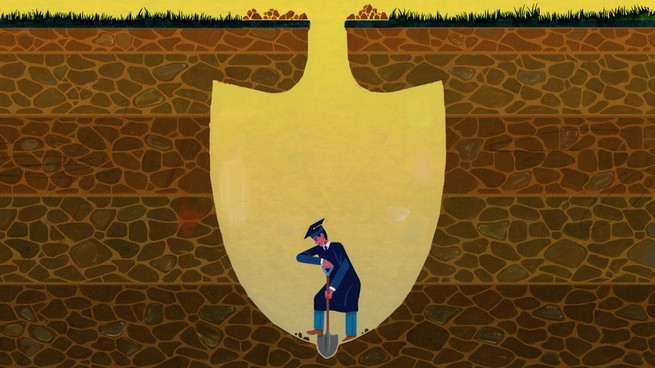 This illustration was created by Pete Ryan for an article by Amy Merrick, who wrote about businesses offering student-loan repayment as a benefit for their employees.
---
Evening Read
Ashley Fetters writes about a generation of children conceived through sperm donation who now have an opportunity to find their biological fathers—fathers who never expected to be found:
McKinney, Sanchez, and tens of thousands of others are a distinct group: Younger than the many who never knew their donors (or never knew they had one), but older than those whose donors understand they might someday hear from their offspring. The revelations and relationships that result from the new knowledge they're gaining as adults—of donors, of half-siblings—can change who they believe themselves to be and, in some sense, who they are.
Keep reading, as Fetters describes how the rise of consumer DNA testing is changing the landscape of sperm donation.
---
What Do You Know … About Culture?
Tom Wolfe, one of the literary world's most unique voices, died earlier this week at the age of 88. The author helped pioneer the style of writing known as New Journalism, and also popularized phrases such as radical chic and the Me decade via his writings in the 1970s. In more recent works, several authors are exploring the theme of parenthood: A new novel by Rumaan Alam tells the complex story of a transracial adoption, while Sheila Heti and Michael Chabon look at what it means to have children—or not to have them—through a personal lens. And a new TV adaptation of Little Women attempts to bring together the past and the present, with an updated, social media–friendly version of Louisa May Alcott's classic.
Can you remember the other key facts from this week's culture coverage? Test your knowledge below:
1. The fashion designer Jeanne Lanvin created a line of high-end children's wear in the year ____________.
Scroll down for the answer, or find it here.
2. In 2008, the movie Speed Racer was overshadowed at the box office by ____________, the first film in Marvel's cinematic universe.
Scroll down for the answer, or find it here.
3. The most recent episode of Westworld and the Season 2 premiere of Lost both opened with characters riding an ____________.
Scroll down for the answer, or find it here.
---
Poem of the Week
From our May 1979 issue, "The Little Aircraft," by Howard Nemerov:
The little aircraft trudging through night, cloud, rain,
Is neither alone nor lost amid the great
Inverted ocean of the air
---
Reader Response
Caroline Kitchener reported earlier this month that a female "confidence gap" and other ingrained gender norms may explain why women write fewer letters to the editor than their male peers. Jen deRose offered another theory:
Women are busy. Busy with all kinds of work that has tangible consequences—screw up an online order for a woman and she'll give a bad review and school a customer service rep—no confidence gap there. We are confident in the kitchen, we are confident with the kids, with the chores, we are confident putting out fires; not solely because we have confidence in our abilities in those areas but because this is real shit that needs to get done, that others may be more likely to neglect (not always, but still the trend, sorry guys).

I think the tendency for women to be juggling a lot of roles, many with immediately tangible consequences, leads to women being less likely to spend time on opinion/feedback—it's like indulging in some online shopping but with no package arriving in the mail for your effort.
Read Caroline's response, as well as other comments from readers, and share your own thoughts with us at letters@theatlantic.com.
---
Nouns
Fairy-tale weddings, political pop songs, viral illusions, volcanic ash.
---
Time of Your Life
Happy birthday to Alan's daughter (a year younger than websites); to Barbara's little sister, Kathy (13 years older than the moon landing); to Joe's wife, Janice (a year younger than microwave ovens); to Judy's husband, Phil (twice the age of the Disney Channel); and from me, Abdallah, to my sister and role model, Iman (one-sixth the age of The Atlantic).
Tomorrow, happy birthday to Jan's daughter Hannah (a year younger than Microsoft); to Donna (born around the time Minnie Minoso became the first African American to play for the White Sox); to Lori's son Greg (a year younger than Game Boys); to Sarah's daughter Anna (a year younger than Google); and to Christine's son Marco (twice the age of Instagram).
---