The Atlantic Daily: Realistic Solutions
A Russian journalist revealed why he faked his own death. Plus a candidate for the next House speaker, how colleges could help students in poverty, and more.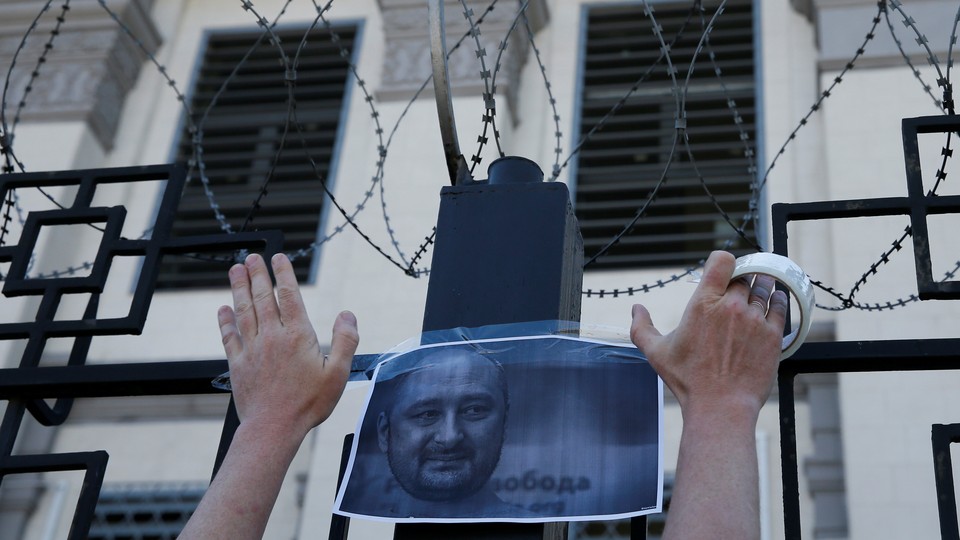 What We're Following
Political Partners: President Trump's speech at a rally for Marsha Blackburn didn't focus very closely on the current congresswoman's Senate campaign. But that might not matter to Blackburn, who appeared to see the event as an opportunity to show she stands with the president. Another one of Trump's allies in Congress is House Majority Whip Steve Scalise, who was shot at a congressional baseball practice last summer. Now he's a contender for speaker of the House. As Elaina Plott writes, he could "enshrine Trumpism as the future of the GOP."
Plot Twists: The Russian journalist and dissident Arkady Babchenko, who had been reported murdered on Tuesday, appeared alive at a press conference to explain that his death had been faked as part of a Ukrainian intelligence operation. Natasha Bertrand explains the complicated saga. And Bill Browder, an outspoken critic of Russian President Vladimir Putin, was arrested and released in Spain after Russia abused the Interpol system to prevent his anti-corruption testimony.
Broader Implications: The racist tweet in which the comedian Roseanne Barr compared a former Obama-administration official to an ape didn't just prompt the cancellation of her show; it also gave the lie to hopes that America could easily be unified, Spencer Kornhaber writes. What's more, Conor Friedersdorf says, it should be a wake-up call for the populist right—if the movement's leaders will heed it.
---
Snapshot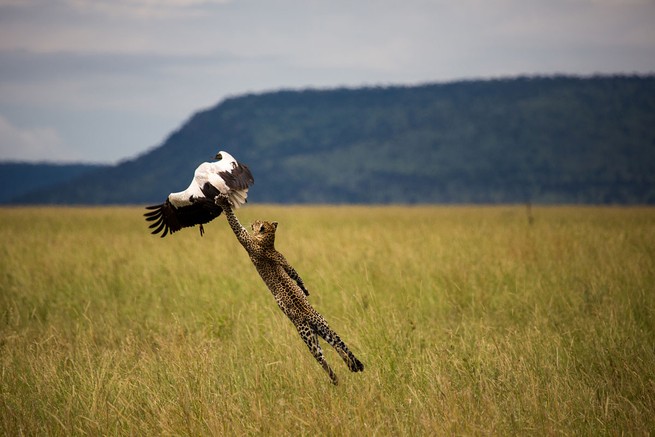 ---
Who We're Talking To
Tom Laffay, Daniel Bustos, and Emily Wright describe the violence against community organizers in Colombia, which they've documented in their new film.
Rachel Devlin, a history professor, discusses the black girls and young women who led the fight to desegregate schools before Brown v. Board of Education.
Parker Pennington, a reproductive scientist at the San Diego Zoo, explains how to artificially inseminate an endangered rhino: "I just made it sound way easier than it is."
---
Evening Read
Marcella Bombardieri on Amarillo College, a Texas community college that works to accommodate students living in poverty:
The school of 10,000 students has an emergency fund that can cut a check within hours to cover the car-repair or water bill that could push a student to drop a class—or quit school for good … Last fall it debuted a low-cost day-care center that keeps its doors open 14 hours a day to serve student parents with jobs in the early morning or evening; students who qualify for a state subsidy only pay $5 a week. Tutoring is available evenings and weekends …

What separates Amarillo College from most of its peers is not any particular program, but how much it focuses on addressing the effects of poverty. The school and [its president, Russell] Lowery-Hart are being watched by college leaders all over the country, because finding realistic solutions for student poverty could be transformative for the U.S. higher-education system.
Keep reading, as Bombardieri describes how colleges can help impoverished students—and the limits of what they can do.
---
What Do You Know … About Science, Technology, and Health?
The racist tweet that the comedian Roseanne Barr blamed on a sleeping drug wasn't the only bad online behavior to cause a stir this week. Elon Musk launched a Twitter tirade against the media and described a plan to create a media-trustworthiness-ranking platform, which wouldn't be the first time Musk has gotten involved in the news business. The 9-year-old Instagram star Lil Tay saw her facade of wealth and control begin to crumble. And reporting by Taylor Lorenz revealed that a YouTuber known as MrBeast, who gained fame by giving money away to fans and strangers, has a history of homophobia in both his videos and his tweets.
Can you remember the other key facts from this week's science, technology, and health coverage? Test your knowledge below:
1. To give a rhino an ultrasound, a zookeeper must insert a probe through the animal's ____________.
Scroll down for the answer, or find it here.
2. The average American household watches about ____________ hours of television a day.
Scroll down for the answer, or find it here.
3. In the mid-20th century, the ____________ provided schools with anti-alcohol handouts, including a riff on "Mary Had a Little Lamb" that cautions against the ills of drinking.
Scroll down for the answer, or find it here.
---
Look Back
In our February 1996 issue, James Fallows gave his hypothesis for why Americans hate the media:
When ordinary citizens have a chance to pose questions to political leaders, they rarely ask about the game of politics. They want to know how the reality of politics will affect them—through taxes, programs, scholarship funds, wars. Journalists justify their intrusiveness and excesses by claiming that they are the public's representatives, asking the questions their fellow citizens would ask if they had the privilege of meeting with Presidents and senators. In fact they ask questions that only their fellow political professionals care about. And they often do so—as at the typical White House news conference—with a discourtesy and rancor that represent the public's views much less than they reflect the modern journalist's belief that being independent boils down to acting hostile.
Read more, share this story, and find more articles from our archives.
---
Reader Response
Every Wednesday, Lori Gottlieb answers reader questions in the Dear Therapist column. This grandmother says she's concerned because her 5-year-old grandson is still nursing at night:
Problem is, he has been having trouble at preschool, kicking and hitting and biting his classmates. He had to leave school for a short time, but is back without issues. At home, though, now he will literally screech, throw tantrums, or bolt away at a high rate of speed when he doesn't get his way. He regularly picks fights with his big sister and she does the same to him. He also rubs up against female strangers and children, acting like he wants them to snuggle him.

His mom [my daughter-in-law] and I don't communicate well, but I think … there are some issues about attachment and that he needs some help. Any suggestions?
Read Lori's advice, and write to her at dear.therapist@theatlantic.com.
---
Verbs
Alien science simulated, TV apex identified, sweet tastes traced, electric scooters raced.
---
Time of Your Life
Happy birthday to Bonnie (a year younger than It's a Wonderful Life).
---