The Atlantic Daily: Fired Up
The U.S. is withdrawing from the Iran nuclear deal. Plus the resignation of New York's attorney general, black voters' concerns, and more.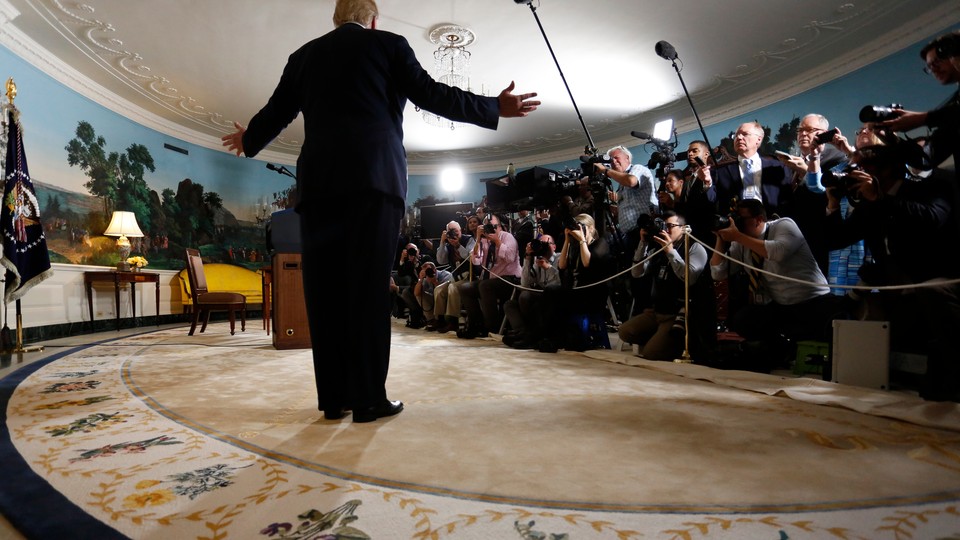 What We're Following
What's Next for the Iran Deal? President Trump announced his decision to withdraw the U.S. from the multilateral agreement to lift sanctions on Iran in exchange for the country curtailing its nuclear program. Here's the full text of his speech. While the deal's European signatories could still try to save it, the United States' withdrawal may spell its ultimate collapse. David Frum outlines three crises that the president's abrupt exit from the deal could provoke.
Justice and Delay: Eric Schneiderman resigned as the attorney general of New York just hours after The New Yorker published the accounts of four of his former romantic partners, who alleged that Schneiderman had repeatedly hit and verbally abused them. Even in light of the severity of the accusations, Schneiderman resigned surprisingly quickly compared with other politicians who have sometimes stayed in office for weeks after reports of sexual misconduct. Why?
Race and Politics: A new poll of black voters indicates that they're deeply dissatisfied with American politics: Majorities of respondents said that racism in the U.S. has gotten worse since 2016, that the country is heading in the wrong direction, and that recent political trends have represented a renewed attack on black Americans. Shootings by police have been a key issue in American race relations: A new study found that in 2015, such shootings have cut a total of 57,375 combined years off the lives of the people killed.
---
Snapshot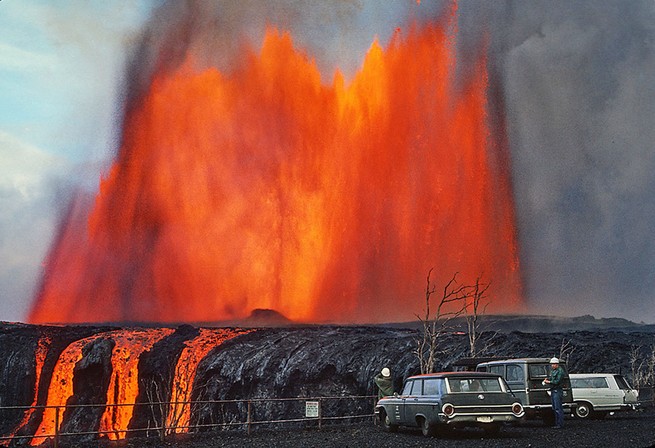 ---
Evening Read
Spencer Kornhaber on the state of American protest art:
No one could argue that American musicians and other artists have been indifferent to Trump … Yet while the self-proclaimed Resistance debuted with vibrant-pink mass action, the most-distinctive cultural creations that have accompanied it so far—at least in the rapid-response popular mediums of music and TV—haven't been so fired up. Nor have they been, to use the clichéd dismissals that plenty of political art readily invites, shrill or didactic. Instead, the general drift has been in the spirit of [Post-, Jeff] Rosenstock's album: self-questioning, tentative, conciliatory, emotional. It is, for better or worse, the art not of a revolution but of a failed revolution.
Keep reading as Spencer considers what could be next for pop-culture protest. And read his review of the viral music video for "This Is America," which interrogates race, racism, entertainment, and national identity.
---
What Do You Know … About Family?
Which is more divisive: politics or family drama? This week, we're covering stories that combine the two. The National Rifle Association's national convention last week showed that despite the organization's polarizing platforms, its youth programs remain a staple of daily American life. And in revealing her Be Best platform yesterday, Melania Trump finally assumed the political mantle of her role, whose gendered stereotypes both ensure popularity and limit the policy goals a first lady can pursue.
Subscribe to "The Family Weekly" to receive more on American family life in your inbox each Saturday morning.
Can you remember the other key facts from this week's family coverage? Test your knowledge below:
1. No more than ____________ U.S. states guarantee some form of paid family leave.
Scroll down for the answer, or find it here.
2. The NRA has been holding its annual convention for ____________ years, ever since the organization was founded.
Scroll down for the answer, or find it here.
3. In the late 20th century, the historically high approval ratings of First Lady ____________ helped usher in a more public-facing role for the women who came after her.
Scroll down for the answer, or find it here.
---
Urban Developments
Our partner site CityLab explores the cities of the future and investigates the biggest ideas and issues facing city dwellers around the world. Adam Sneed shares today's top stories:
For more updates like these from the urban world, subscribe to CityLab's Daily newsletter.
---
Reader Response
For the Big Question in our May issue, we asked readers: What item would you put in a time capsule to help the next century understand our current moment? Hillary Raphael of Montreal, Quebec, writes:
A fidget spinner. The emblem of our distracted minds and sedentary bodies will likely appear uncommonly tactile to our screen-integrated descendants.
Howard Gardner of Cambridge, Massachusetts, also anticipates big changes to humanity:
I'd insert an illustration of CRISPR, which allows the editing of stretches of DNA. This confluence of biological and computer code could usher in a new chapter of Homo sapiens.
Read more responses. To share your own, email bigquestion@theatlantic.com with your answer to the question for our July/August issue: What book or article would you make required reading for everyone on Earth?
---
Adjectives
Intercellular chatter, kinesthetic empathy, digital jukeboxes, peak avocado.
---
Time of Your Life
Happy birthday to Lori and her twin, Lisa (both are a year younger than Sesame Street).
---