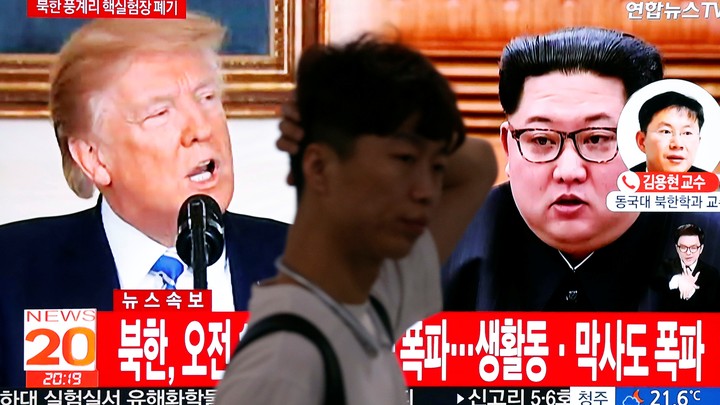 Crash Course: Though it's been about 66 million years since the extinction of the dinosaurs, scientists are still making new discoveries about the asteroid that killed them. One new study shows that the species of birds that survived the asteroid's impact lived mostly on the ground, while their tree-dwelling counterparts likely perished in forest fires. According to another study, the asteroid may have also caused a period of global warming, from which it took the planet 100,000 years to recover.
---
Snapshot
---
Evening Read
Joshua Sokol recounts a trip to visit the mysterious fairy circles of the Namib Desert:
One evening earlier this spring, German naturalist Norbert Jürgens strayed from his expedition in the Namib Desert. He walked away from his campsite beside Leopard Rock, a huge pile of schist slabs stacked like leftover roofing tiles, and into a vast plain ringed with red-burnished hills. He had 20 minutes of light left before sunset, and he intended to use them.

This next part may sound like a reenactment from a nature documentary, but trust me: This is how it went down.
Keep reading, as Sokol describes how the naturalist came to a realization about the circles' origin.
---
What Do You Know … About Global Affairs?
President Trump's order to reimpose sanctions on Iran has raised numerous questions about the aims of his administration's new strategy. On Monday, Secretary of State Mike Pompeo provided an answer: The goal of the sanctions will be to stifle Iran's economy until it's forced to give up its military actions and weapons-development programs. This plan could drive a wedge into America's trans-Atlantic partnership, since European companies will not be allowed to get around the sanctions. Yet Iranian companies may still try to do so.
Can you remember the other key facts from this week's global coverage? Test your knowledge below:
1. Women activists in Saudi Arabia who campaigned for the right to ____________ were arrested on Friday.
Scroll down for the answer, or find it here.
2. In Germany, a recently promulgated law requires social media companies to delete "manifestly unlawful" language within ____________.
Scroll down for the answer, or find it here.
3. The case of a ________ year-old alleged spy is escalating tensions in the relationship between Russia and Norway.
Scroll down for the answer, or find it here.
---
Urban Developments
Our partner site CityLab explores the cities of the future and investigates the biggest ideas and issues facing city dwellers around the world. Gracie McKenzie shares today's top stories:
CityLab's Linda Poon is currently in South Korea with a team of student journalists. We'll be featuring their work in the coming weeks. First: What's up with Seoul's pink parking spaces for women?

The consequences of racial segregation are broader than you may think, as these amenity maps from Atlanta show. But what does it take to desegregate a city?

A new open-source mapping project shows the Palestinian landscape as it looked before Israel's establishment in 1948—and whether villages and towns from that era remain, were depopulated, or were built over.
For more updates from the urban world, subscribe to one of CityLab's newsletters.
---
Reader Response
The celebrated, polarizing novelist Philip Roth died this week at the age of 85. This reader, whose letter to the editor was published in our June 1969 issue, was less than impressed by his work:
In all of Roth there is more style than content. There is no development, there is no maturity. I can only think of him as a highly stylized sophomore of the 1950s. Until he can show development and growth, manhood and meaning, his writing is equivalent to clinical case histories waiting for the Grand Therapist in the Sky to make it all better.
Other readers of Roth, however, described his novels in The Atlantic's pages as "masterly" and "marvelously entertaining." Annika Neklason compiles the coverage of Roth in our archives.
---
Nouns
Unconscious dance, 9-year-old star, cinematic poem, tired defense.
---
Meet The Atlantic Daily's team, and contact us.

Did you get this newsletter from a friend? Sign yourself up.
We want to hear what you think about this article. Submit a letter to the editor or write to letters@theatlantic.com.