The Atlantic Daily: What's the Right Course of Action?
Diplomatic talks with North Korea hit a snag. Plus Trump's reimbursement to Michael Cohen, the new American aristocracy, and more.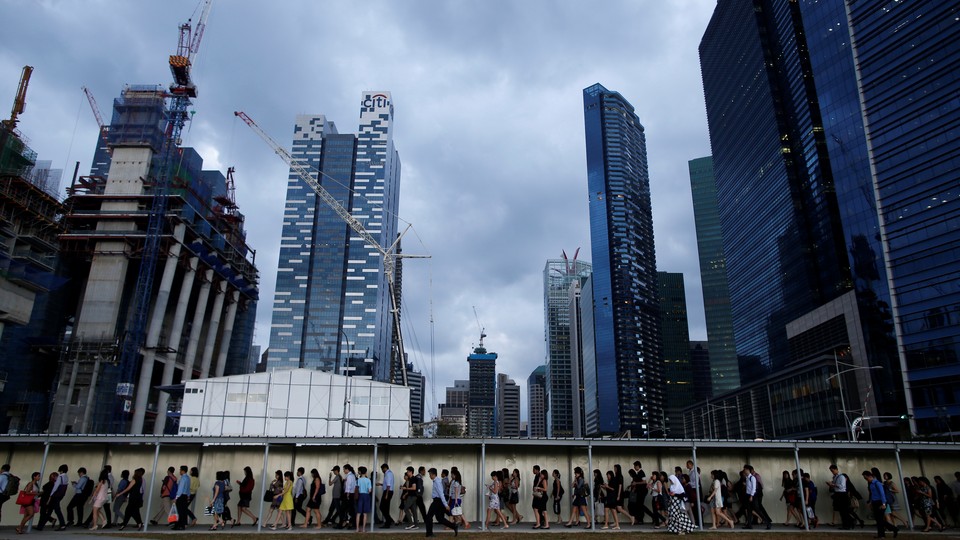 What We're Following
Diplomatic Setbacks:  North Korea suspended talks with South Korea and threatened to cancel Kim Jong Un's upcoming meeting with President Trump over an annual air-force drill by the U.S. and South Korean militaries. These developments call the recent progress toward denuclearizing North Korea into question—and illustrate the danger of what Uri Friedman calls "the international game of telephone" around Kim's goals.
Payment Confirmed: A financial disclosure form released on Wednesday by the Office of Government Ethics confirms that Trump made a six-figure payment to Michael Cohen, his personal lawyer and fixer, in 2016—apparently to reimburse Cohen for his $130,000 payment to the adult-film star Stormy Daniels. David Graham breaks down what the disclosure reveals, and the new questions it raises.
America's New Aristocracy: The group at the top of the U.S. food chain might not be just the wealthiest 1 percent—as Matthew Stewart argues in our June cover story, it's actually more like 9.9 percent of the population. But members of that group, which Stewart calls a meritocratic aristocracy, "are the principal accomplices in a process that is slowly strangling the economy, destabilizing American politics, and eroding democracy." Here's how.
---
Snapshot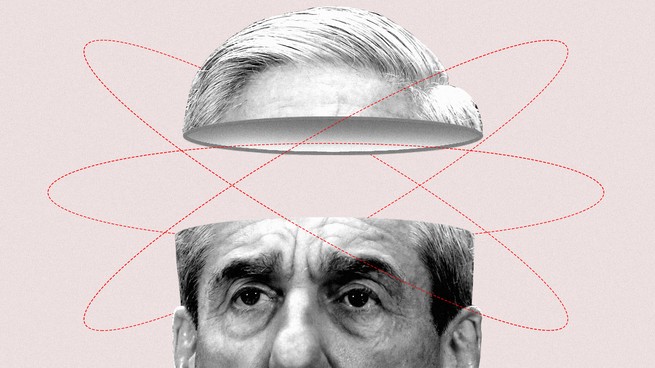 ---
Evening Read
Rossalyn Warren tells the story of Maria Teresa Giglio's fight to rid the internet of the viral sex tape that led her daughter, Tiziana, to kill herself:
Maria's continued battle brings Tiziana's case into the grayest and most challenging forefront of the ongoing discussion about the right to be forgotten. Is it possible to demand that something's erased from the internet when it has been reimagined, remixed, and flipped into memes across thousands of web pages? What's the right course of action when the source of a family's trauma becomes part of culture itself?
Keep reading, as Warren unpacks the meaning of the right to be forgotten.
---
What Do You Know … About Science, Technology, and Health?
Generally, we think we're living in a shared reality, but sometimes it crumbles apart with no warning. Recently, an ambiguous audio clip divided the internet between those who heard yanny and those who heard laurel; linguistically speaking, the actual recording is somewhere in the middle. Equally heated was the debate that arose when a new study found that using two spaces in between sentences increases reading speed, to the dismay of single-space stylists. Etymology came to bear in the split over the proper meaning of the h in IMHO: Does it stand for humble, honest, or something else entirely? Nothing, though, could compare to the ontological bloodbath that erupted earlier this year over the color of a tennis ball: Is it green or yellow?
Can you find the secret answer to the tennis-ball debate in the paragraph above? And can you remember the other key facts from this week's science, tech, and health coverage? Test your knowledge below:
1. In 2020, NASA will send a ____________-pound helicopter to Mars.
Scroll down for the answer, or find it here.
2. Scientists can now estimate the timeline of the fall of Rome by measuring lead levels in ancient Arctic ice as a proxy for ____________.
Scroll down for the answer, or find it here.
3. Massive die-offs of fish along the border between Kenya and Tanzania have been linked to an overabundance of ____________.
Scroll down for the answer, or find it here.
---
Look Back
In our August 1991 issue, Witold Rybczynski described the tyranny of the weekend:
We call people who become obsessed by their jobs workaholics, but we don't have a word for someone who is possessed by recreation. Maybe we should ...

People used to "play" tennis; now they "work" on their backhand. It is not hard to imagine what [G.K.] Chesterton would have thought of such dedication; this is just the sort of laborious pursuit of play that he so often derided. "If a thing is worth doing," he once wrote, "it is worth doing badly."
Read more, share this story, and find more articles from our archives.
---
Reader Response
Every Wednesday, Lori Gottlieb answers reader questions in the Dear Therapist column. This reader's adult daughter thinks she was a bad parent:
My 32-year-old daughter has developed the idea that I am responsible for all her failures—not having the job she wanted, not being a sociable person, not being capable to love and to be loved … I would like to know how to deal with this, and how I can help her to help herself.
Read Lori's response, and write to her at dear.therapist@theatlantic.com.
---
Verbs
Emojis decoded, tech ethics taught, democracy demonstrated, lizard blood explained.
---
Time of Your Life
Happy birthday to Nicole's mom (a year younger than The Cat in the Hat); to Edh (twice the age of the Disney Channel); to Mary (a year younger than Sesame Street) from her dad; to Leigh's "amazing daughter" Lulu (a year younger than Wikipedia); and to Tori (the same age as the first Star Wars movie).
---