The Atlantic Daily: Until They Lose
The new U.S. embassy opens in Jerusalem while protesters are killed in Gaza. Plus, where Silicon Valley's money goes, the history of the world's largest pearl, and more.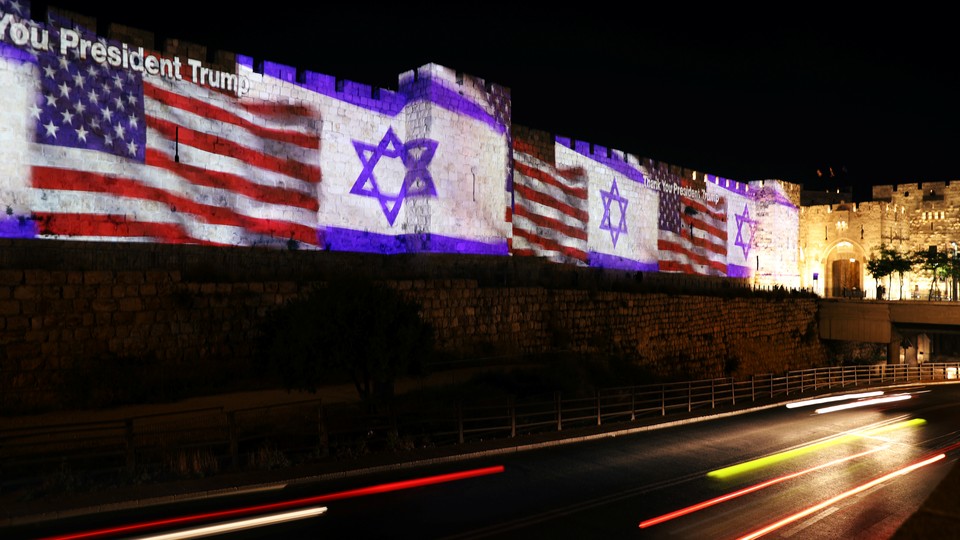 What We're Following
Jerusalem and Gaza: Israeli and American officials celebrated the opening of the new U.S. embassy in Jerusalem, even as Israeli forces opened fire on Palestinian demonstrators in Gaza, killing dozens. Here are photos of the scene in Gaza. While President Trump has expressed hope that his decision to move the embassy from Tel Aviv to Jerusalem will bring peace in the Middle East, it's already inflamed long-standing tensions between Israel and Palestine.
Law and Order: As Garrett Epps explains, a new ruling from the Supreme Court on sports betting could have important implications for so-called sanctuary cities. Ibram X. Kendi argues that an "anti-snitching" culture among police hampers investigations of officer misconduct. And Natasha Bertrand reports that the low-profile figures in Special Counsel Robert Mueller's investigation indicate that his probe is even more far-reaching than it seems.
Tech Futures: The growing start-up scene in Beijing could soon give Silicon Valley a run for its money. And philanthropists in the tech world make significant donations to charity, but not much of their money makes it to California's communities. Here's why.
---
Snapshot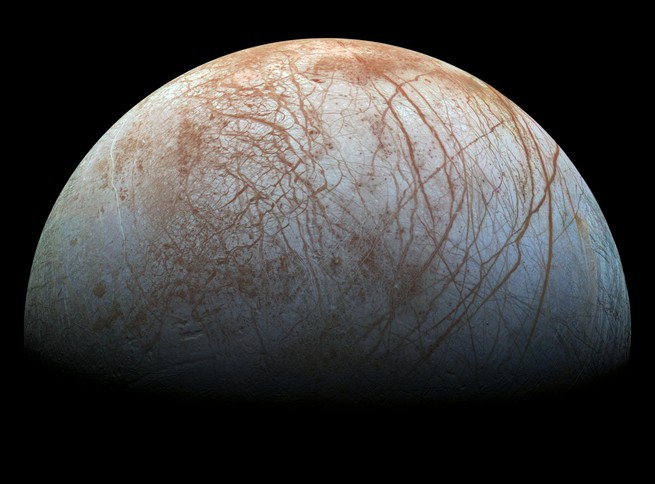 ---
Evening Read
Michael LaPointe on the complex legend and tragic history of the world's largest pearl:
When I began looking into the Pearl of Lao Tzu, I heard about a woman in Florida who knew more than anyone else about Victor Barbish's 25-year ownership … Laura became an unknowing accessory to Barbish's schemes, all the while believing equally in the legends of the pearl and the man. By the time she learned she'd been living a lie, she'd endured unimaginable tragedy, and had nothing left. "Everybody ends up defending the pearl until they lose," she said. "And they lose big."

The story she told, and what I discovered during my own yearlong pursuit of the pearl, braided fact and fiction into a theater of the American absurd. From contract killings to alien abductions, Chinese emperors to Osama bin Laden, the Pearl of Lao Tzu's story kept getting weirder with every detail I uncovered. And, as I'd learn, this artifact has come back on the market, and is only waiting for the next set of hands to pry it loose.
Keep reading, as LaPointe tells the story of how the Pearl of Lao Tzu became the center of a hoax "that has left a trail of wreckage across the United States."
---
What Do You Know … About Education?
In the past decade, many American schools have sought to move away from harsh punishments for misbehaving students. But top-down approaches to implementing reforms have yielded mixed results. One school in Columbus, Ohio, is trying a different, promising method: After helping staff members understand factors such as trauma that affect students' behavior, the school lets them work with the students to find techniques that help calm and motivate each individual child. This photo essay shows some of the ideas they've put into action, including glitter jars, trampolines, and positive feedback.
Can you remember the other key facts from this week's education coverage? Test your knowledge below:
1. In Oprah Winfrey's commencement address at the USC's Annenberg School for Communication and Journalism, she urged graduates to "____________"
Scroll down for the answer, or find it here.
2. A new report finds that single mothers enrolled in college full-time spend more than ___________ hours a day on child care and housework.
Scroll down for the answer, or find it here.
3. Education Secretary Betsy Devos's recent commencement address at _________ University, in Florida, reignited debate about the role of Catholic universities in a polarized political climate.
Scroll down for the answer, or find it here.
---
Look Back
In our January 1987 issue, Mary Jo Salter, who was living in Rome at the time of the Chernobyl disaster in Ukraine, described living under the cloud of radioactive fallout that drifted over Europe:
Although we were living in an increasingly nuclear-powered world, we had also been living in ignorance of the nature of radiation. I did not know that the estimates of the tolerance of humans to radiation exposure, originally based on the effects of Hiroshima, are now thought by many radiologists to be at least twice as high as they should be. I did not know that one person might be two or three times as sensitive to the same dose of radiation as another person, or that radioactive elements have different effects, depending on what part of the body absorbs them and how quickly they are excreted ...

Almost everyone I knew in Rome had learned at least some of these facts within a few days—a few days not after we learned of the Chernobyl disaster but after we learned that la nube [the Chernobyl cloud] had passed over us.
Read more, share this story, and find more stories from our archives.
---
Reader Response
Lyman Stone wrote about how the percentage of Americans who are mothers has declined to its lowest point in the past 25 years. To Heather, that's not a bad thing:
I would argue that people waiting until they are financially stable to have children is a good thing, as well as advancements in fertility treatments and fewer teen pregnancies, not to mention women making the decisive choice that they do not want to be mothers, a choice that was suspect and disapproved of in the past. To speak of "decline" seems to suggest that the above mentioned situations are negative rather than the mark of a freer, more equal, more responsible society.
Sonja is concerned about what it takes to achieve financial stability:
Young people can't live and support families on wages with the jobs available to them today. Both must work to equal the buying power of what a family in the past with one wage-earner would make ... No wonder they don't start families.
Join the discussion on Facebook, or write to us at letters@theatlantic.com.
---
Verbs
Owls stolen, executives tested, Alcott Instagrammed, movie mourned.
---
Time of Your Life
Happy birthday to Luann's daughter Robin (a year younger than The Simpsons) and to Andrew's son Brian (twice the age of Toy Story).
From yesterday, happy birthday to Claire (a year younger than Shark Week) and to Helen's co-worker Tara (twice the age of Facebook).
Do you or does a loved one have a birthday coming up? Sign up for a birthday shout-out, and explore the Timeline feature for yourself.
---