The Atlantic Daily: Here to Report
Israel is facing a dangerous confluence of events. Plus a new Ebola outbreak, what Trump voters need to know, and more.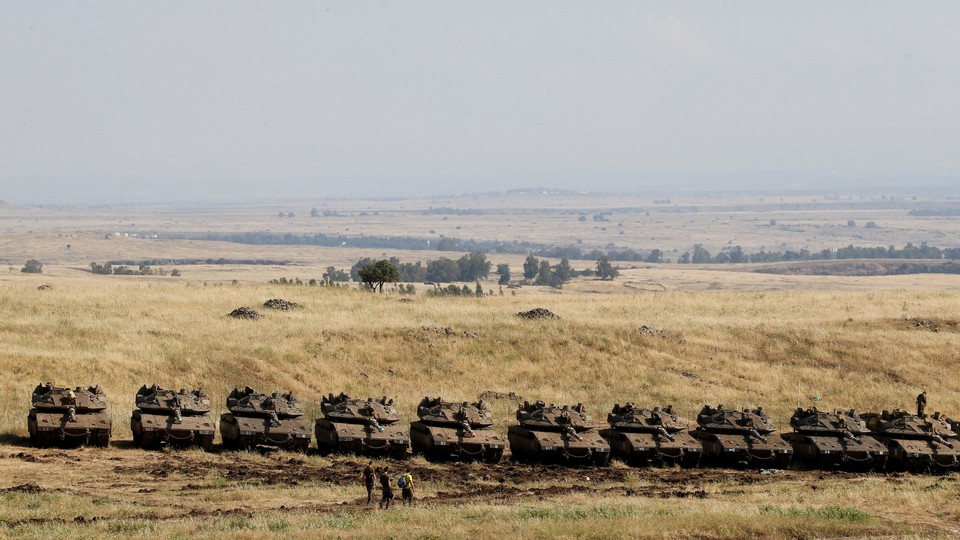 What We're Following
Rising Tensions: After months of escalating clashes with Iran in Syria, Israel is facing a confluence of events—including President Trump's withdrawal from the Iran nuclear agreement, a fraught anniversary in Jerusalem, the relocation of the U.S. embassy, and protests on the Israeli border with the Gaza Strip. Some experts fear that this is a recipe for violence. Avi Issacharoff asks: "Is a major war ahead?"
Ebola Returns: The Democratic Republic of the Congo is suffering its ninth outbreak of the deadly virus. On Friday there were 32 suspected cases, and while the country is well prepared to fight the outbreak, scientists expect that it could take as long as four months to control it. The outbreak comes just as Tim Ziemer, the highly respected senior director for global health security and biodefense on the U.S. National Security Council, announced that he's departing the White House. Here's who will take his place.
Shaky Platforms: At a Thursday-night rally in Indiana, President Trump unveiled what he said was a new slogan for his 2020 campaign. But he'd actually "revealed" it more than once before—a small untruth that illustrates "Trump's tendency to repeat a lie until his audience is numb to it," David A. Graham writes. One of Trump's catchphrases in 2016 was a promise to "drain the swamp," yet revelations of the ways his close associates traded on their access to the president suggest that he's done the opposite. From Conor Friedersdorf, here's what Trump voters should know.
---
Snapshot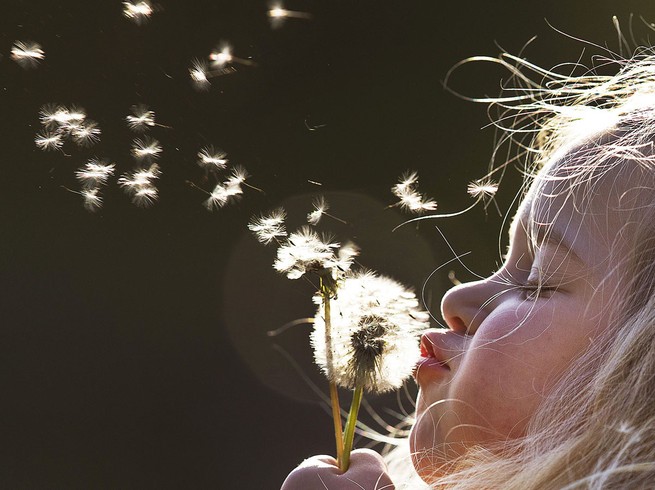 ---
Evening Read
Wajahat Ali, a Pakistani American writer, travels to the West Bank:
I was here to report on Jewish settlers, the 600,000 citizens of Israel living beyond its pre-1967 borders. My main concern was whether the normally guarded and cautious settler community would open up and talk to me: a brown-skinned, practicing Muslim from the United States.
Keep reading as Ali describes the surprises and challenges of his trip, and watch a documentary of his interviews with Israeli settlers and some of the Palestinians who oppose them.
---
What Do You Know … About Culture?
Genius has its dark sides. Ta-Nehisi Coates argues that Kanye West's recent tweets in support of Donald Trump are both a reaction to and a misuse of his status as a rap "god." As Megan Garber explains, the label genius can be used to excuse the bad deeds and missteps of the men to whom it's applied. In some ways, the prestige of major prizes has also turned genius into a title bestowed by committees. But the recent cancellation of one such award, the Nobel Prize in Literature, helps serve as a reminder that authors and their works don't need gatekeepers to deem them great.
Can you remember the other key facts from this week's culture coverage? Test your knowledge below:
1. As a result of its new Hate Content and Hateful Conduct policy, the streaming service Spotify stopped promoting music by R. Kelly and ____________.
Scroll down for the answer, or find it here.
2. Donald Glover's viral "This Is America" music video was directed by his frequent collaborator ____________.
Scroll down for the answer, or find it here.
3. Anne V. Coates, the film editor who died this week at the age of 92, was best known for creating the famous "match cut" in the movie ____________.
Scroll down for the answer, or find it here.
---
Poem of the Week
From our January 1867 issue, "Terminus," by Ralph Waldo Emerson:
There's not enough for this and that,
Make thy option which of two;
Economize the failing river,
Not the less adore the Giver,
Leave the many and hold the few.
---
Reader Response
Rena Xu wrote about how an increasing administrative burden on doctors may be leading some to burn out and leave the profession. To Michelle, the problem isn't limited to a single industry:
[The Burnout Crisis in American Medicine] meets the Burnout Crisis in American Education, American Nursing, American Social Workers, etc, etc. We cannot keep exploding the responsibilities, quickening the pace, and removing any real control over our professions that do critical work with actual people. Most of us feel fairly helpless about the chronic shoveling of new work on us by people who do not work directly with people. Doctors are only the latest and the best paid. This is a more generalized crisis.
Join the discussion on Facebook, or write to us at letters@theatlantic.com.
---
Verbs
Spelling bees spotlit, writing process professed, spacing debated, vowels embraced.
---
Time of Your Life
Happy birthday to Susan's son (a year younger than MTV).
And tomorrow, happy birthday to Margaret (twice the age of The Oprah Winfrey Show) and to Devan (a year younger than "test-tube babies").
---