The Atlantic Daily: Important for All of Us
Breitbart reaches a turning point. Plus Philip Roth's life and legacy, artificial-intelligence camps for high-schoolers, and more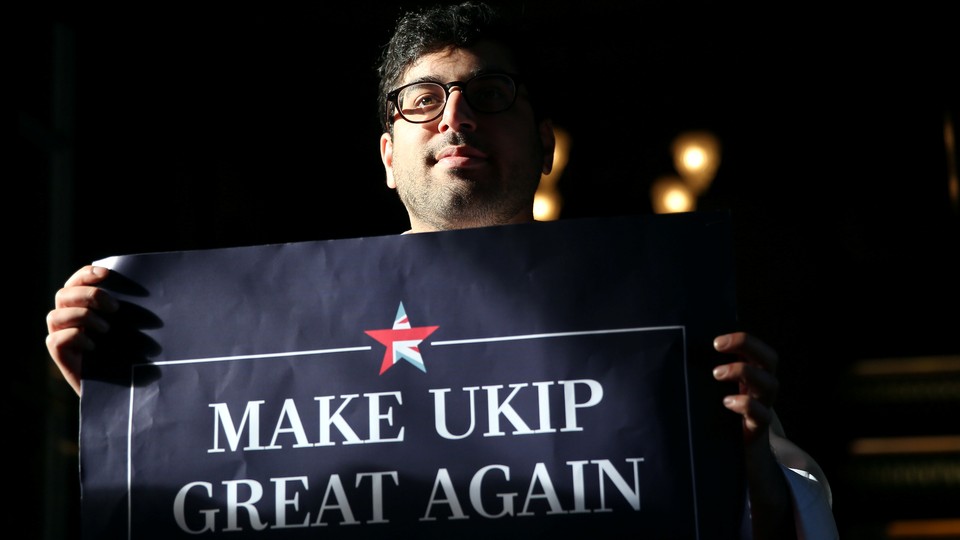 What We're Following
Breitbart Without Bannon: Raheem Kassam, the London editor brought on by Steve Bannon in 2014, has left Breitbart. His departure marks a turning point for Bannon and the news network; Kassam, who is heavily involved in far-right organizations such as the anti-European Union and anti-immigration United Kingdom Independence Party, was one of the few allies Bannon had left at the company after departing in January. Kassam's exit comes after reports that the website's readership has dropped by half since last year.
Remembering a Celebrated Novelist: On Tuesday evening, the novelist Philip Roth died at the age of 85. Though he retired from writing six years ago, his work—produced over a career spanning almost 60 years—remains some of the most complex literature in the mid-20th century canon. Adam Kirsch believes he was "a dangerous writer, one to wrestle with and argue about, not to calmly praise" and Megan Garber writes that he now represents a "bygone model of literary celebrity."
Intraparty Debates: In the wake of the Santa Fe school massacre that killed 10 people, some Republicans remain resolute in their belief that stronger gun control will not solve mass shootings. Non-fringe members of the GOP are finding new causes to blame—including trench coats, ADHD medication, and an excess of doors—which, Elaina Plott writes, may create rifts within the party. Meanwhile, prison reform is dividing Democrats. Now that President Trump is backing legislation on the issue, party members are split on whether to use the momentum to pass any bit of reform they can or to hold out for a more comprehensive solution that tackles the entire federal criminal-justice system.
---
Snapshot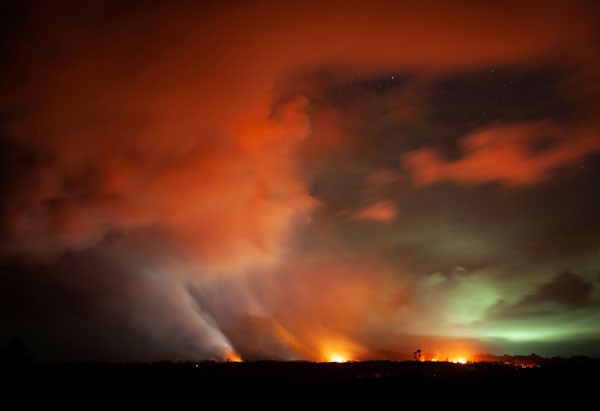 In this U.S. Air National Guard photograph from Reuters, erupting fissures in Hawaii's Kilauea volcano light up the sky above Pahoa. See more photos from Kilauea's eruptions.
---
Evening Read
Lauren Smiley writes about a summer camp where teenage girls are studying artificial intelligence:
While some high-profile technologists, such as Elon Musk, have expressed fears that AI could become an existential threat to humanity, others in the field have identified a more immediate concern: far from some God-like omniscience, AI can be as biased and fallible as the humans who build it. AI has already made embarrassing mistakes, like when Google Photos auto-tagged pictures of two black people as gorillas earlier this year because the algorithm, it seems, wasn't good at correctly labeling some non-white faces. An Uber self-driving car killed a pedestrian in Arizona. While women were fighting for full sexual agency in the real world, mostly male roboticists were creating AI-enhanced mostly female sexbots. Bringing people like Stephanie Tena into artificial intelligence is not simply important for the tech industry; in a world increasingly driven by algorithms, it's important for all of us.
Keep reading, as Smiley describes efforts to create a more female-friendly technological future.
---
What Do You Know … About Science, Technology, and Health?
On Tuesday, Mark Zuckerberg appeared before the European Parliament to answer questions about the Cambridge Analytica scandal and how Facebook plans to navigate the General Data Protection Regulation. He was thoroughly grilled by one Belgian legislator. Meanwhile, Facebook support groups were found to be rife with marketers trying to profit off of fellow members. Elsewhere, social media may be encouraging risky lifestyle choices: In Colorado, a sharp increase in hiker deaths has accompanied the rise of an outdoor culture that promotes posting triumphant photos on Instagram and hides the danger of the most extreme peaks.
Can you remember the other key facts from this week's science, tech, and health coverage? Test your knowledge below:
1. Locals call the Chinese giant salamander "____________ fish" because of its distinctive cries.
Scroll down for the answer, or find it here.
2. In the early 20th century, most tape products were made from ____________.
Scroll down for the answer, or find it here.
3. Along the Atlantic edge of southern Africa, round, bare patches in the grass, called fairy circles, can be as large as ____________ feet across.
Scroll down for the answer, or find it here.
---
Look Back
In our July 1992 issue, Wendy Kaminer described how the Clarence Thomas-Anita Hill hearings impacted the perception of a male-dominated Senate and prompted a record number of women to run for office in that year's elections:
Someday Clarence Thomas's most fervent opponents may thank him for his help in electing women to the Senate. As an organizing tool, the Thomas-Hill hearings may do for women politicians in the 1990s what Roe v. Wade did for the New Right in the seventies. The dramatic upset primary victories of the senatorial candidates Carol Moseley Braun, in Illinois, and Lynn Yeakel, in Pennsylvania; the record number of women running for the Senate and the House; and record amounts of money pouring into women's campaigns have been among the biggest political stories of the year. Both Braun and Yeakel attribute their candidacies to the Senate hearings. Not only did the hearings make a lot of women angry but they "demystified the Senate," Braun says. "Instead of dignified men debating lofty issues, the public saw garden-variety politicians making bad speeches."
Read more, share this story, and find more articles from our archives.
---
Reader Response
Every Wednesday, Lori Gottlieb answers reader questions in the Dear Therapist column. This reader has been struggling to get over her ex for a decade:
Although my ex and I have occasionally stayed in touch, been intimate, and reconnected after a few years of separation, we have not been able to have a healthy relationship. I've tried to be honest about my wanting a different type of relationship with him, but he doesn't seem to want that. I have tried moving on by ignoring my feelings for him, ignoring him when he has reached out to me, and repeatedly reminding myself that ours is not the kind of relationship that I want. But it all feels like a lie …

I need some practical help to get him out of my mind.
Read Lori's response, and write to her at dear.therapist@theatlantic.com.
---
Compound Adjectives
Facial-recognition technology, college-admissions reforms, comic-book anti-heroes, glass-cliff hires.
---