The Family Weekly: Women of the Past and Future
Highlights from this week's coverage on relationships and family life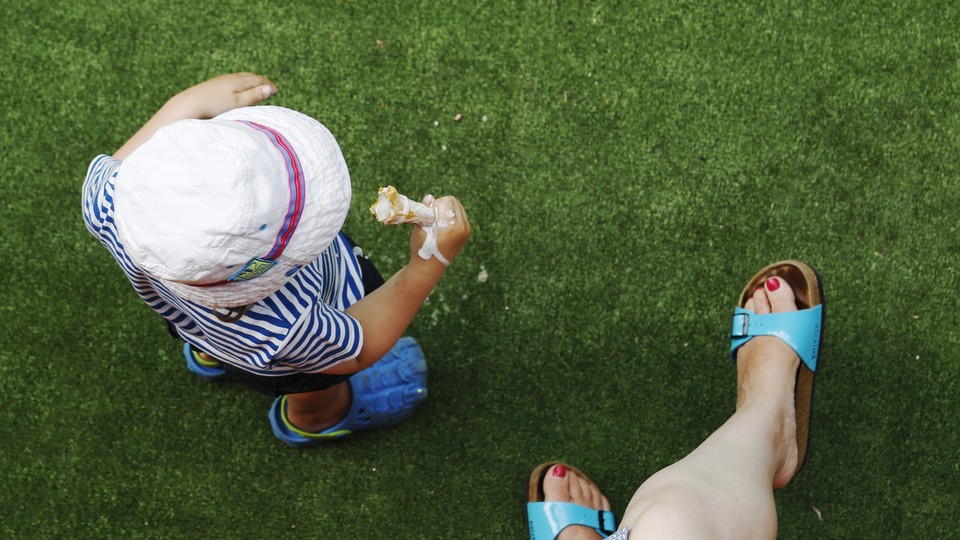 This Week in Family
Caroline Kitchener, an associate editor at The Atlantic, wrote about how Millennial married couples are more likely than previous generations to split their finances. Joint bank accounts were once considered a mark of happy commitment, but now, as young couples get married later and establish careers of their own, they often keep their separate accounts. The couples Kitchener spoke with cited one reason more than any other: A joint account could paper over a woman's financial contributions to the relationship, at a time when more women are working than were in previous generations.
---
Other Highlights
As Annika Neklason, The Atlantic's archives editor, noted this week, a writer named Della D. Cyrus argued in the November 1946 issue of the magazine that the American family was in crisis. "The woman herself knows that she is the unhired help doing the hack work of the world," Cyrus wrote. "Men suffer because women suffer, and, suffering, cannot give them what they need and expect to find in the family." Read Cyrus's piece in full here, and for more commentary on the piece, as well as behind-the-scenes interviews, essays, and conversations, subscribe to The Masthead.
---
Dear Therapist
Every Wednesday, the psychotherapist Lori Gottlieb answers readers' questions about life's trials and tribulations, big or small, in The Atlantic's "Dear Therapist" column.
This week, it was a question from Matt, a 34-year-old man adopted at birth who used to have no interest in finding his birth family. That changed when he stumbled upon papers identifying his birth mother. "Having a daughter has given me an even keener appreciation for the pain my birth mother must have felt at surrendering her child, and I want desperately to reach out," he writes, but he worries about how to broach the issue with his adoptive parents. Lori responds:
Your empathy and generosity toward your family is palpable, but maybe some of that generosity can be directed toward yourself now. You say that you're "very disciplined mentally," which is sometimes a way that people manage anxiety or even early trauma that they aren't aware of. As they repress their own feelings, they become overly accommodating, always trying to take care of everyone else's feelings. But I'd like you consider this: You get to have your feelings, too.
Send Lori your questions at dear.therapist@theatlantic.com.
---