The Atlantic Daily: Modern-Day Legend
Facebook's data-access loophole, Oklahoma teachers' goals, Martin Luther King Jr.'s legacy, and more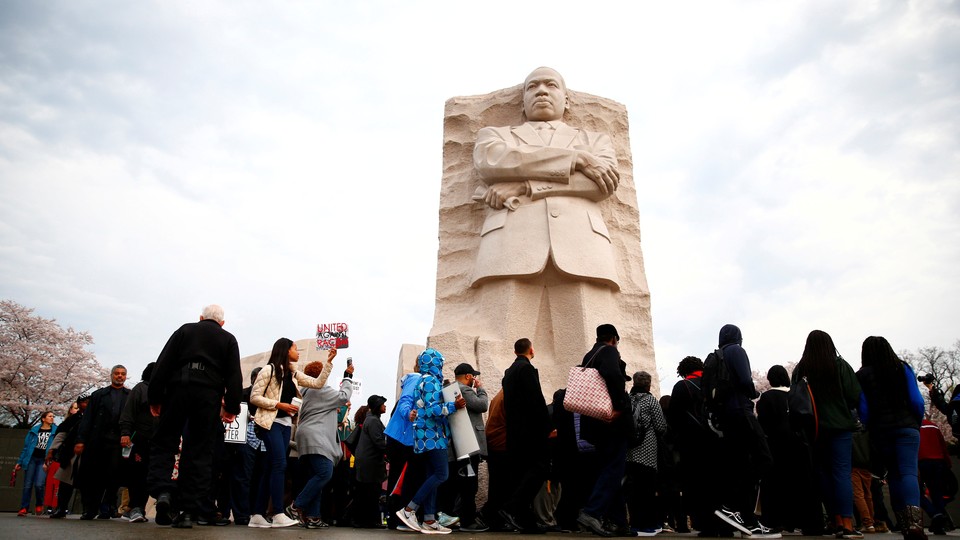 What We're Following
News From the Tech World: Facebook announced that "most" of its users could have had their profile information scraped by "malicious actors" through a data-access loophole—the latest in a series of scandals that have raised questions about the company's ability to balance business goals against users' best interests. And authorities are investigating what might have motivated a shooter to injure three people and take her own life at YouTube's headquarters on Tuesday. Rachel Gutman has the key details in the Science, Technology, and Health spotlight, below.
Problems With Probes: President Trump is a "subject"—but not a "target"—of Special Counsel Robert Mueller's investigation of Russian interference in the 2016 presidential election, according to a new Washington Post report. Here's what legal experts say that distinction could mean. The House Intelligence Committee recently ended its own investigation into the interference—a probe marred by intense partisan infighting. Natasha Bertrand tells the story of how things fell apart.
Class Demonstrations: Teachers in Oklahoma are on strike this week, calling for higher salaries and improvements to classroom supplies and facilities. And students at Howard University have been occupying their campus's administrative building for an unprecedented seven days over a scandal related to the apparent misuse of financial-aid funds. This could foreshadow even more tenacious campus protests to come.
---
Snapshot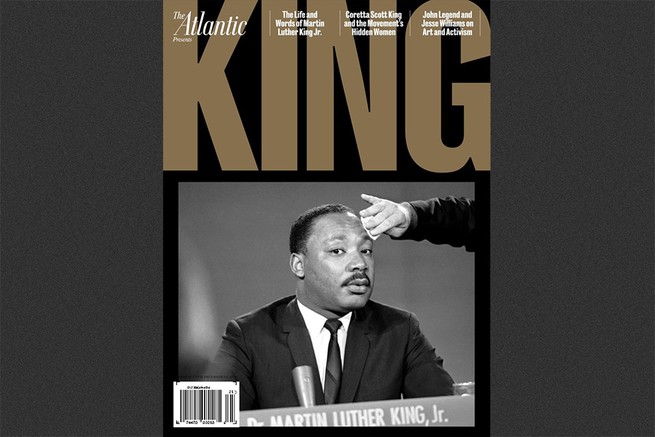 ---
Who We're Talking To … About Martin Luther King Jr.
John Lewis, the congressman from Georgia, shares what it was like to know and work with King: "When you would listen to him ... you were ready to go out there and put your life on the line, because he made it so plain and so clear that it was the right thing to do."
Benjamin Mays, whom King considered his  "spiritual mentor," delivered a eulogy after the civil-rights leader's death: "I make bold to assert that it took more courage for King to practice non-violence than it took for his assassin to fire the fatal shot."
Bree Newsome, an artist and activist, discusses the ongoing movement for civil rights: "The younger generation needs to understand how the modern movement is built upon every black-freedom effort that preceded it."
---
Evening Read
Vann R. Newkirk II on the assassination of Martin Luther King Jr., 50 years ago today:
"Woe to you, because you build tombs for the prophets, and it was your ancestors who killed them." … As sure as Jesus's words [to the Pharisees] proved prescient about the adoption of Christianity in the empire that killed him, so too the modern-day legend of King writes itself in real time. In the official story told to children, King's assassination is the transformational tragedy in a victorious struggle to overcome. But in the true accounting, his assassination was one of a host of reactionary assaults by a country against a revolution. And those assaults were astonishingly successful.
Keep reading, as Vann breaks down the events of King's final years and what's happened since.
---
What Do You Know … About Science, Technology, and Health?
On April 3, a 39-year-old woman fired shots at YouTube's headquarters, in San Bruno, California, injuring three people before killing herself. The attack comes only shortly after the site placed new restrictions on gun-related videos, but a website bearing the suspect's name suggests that she may have been motivated by other objections to YouTube's rules, including a belief that the site suppressed her videos. In the wake of the tragedy, tech-industry leaders have expressed support for the victims, declaring that "there are no words" to describe Tuesday's events. This response, Ian Bogost argues, falls short of what their position demands.
Can you remember the other key facts from this week's science, technology, and health coverage? Test your knowledge below:
1. Mantis shrimp, honeybees, and dung beetles—unlike humans—are able to see the ____________ of light.
Scroll down for the answer, or find it here.
2. Most fatal shark attacks involve tiger sharks, great white sharks, or ____________ sharks.
Scroll down for the answer, or find it here.
3. On average, marine mammals weigh ____________ pounds.
Scroll down for the answer, or find it here.
---
Look Back
From our April 1961 issue, Eleanor Roosevelt calls for a national recommitment to the American dream:
To me, the democratic system represents man's best and brightest hope of self-fulfillment, of a life rich in promise and free from fear; the one hope, perhaps, for the complete development of the whole man. But I know, and learn more clearly every day, that we cannot keep our system strong and free by neglect, by taking it for granted, by giving it our second-best attention. We must be prepared, like the suitor in The Merchant of Venice—and, I might point out, the successful suitor—to give and hazard all we have.

Man cannot live without hope. If it is not engendered by his own convictions and desires, it can easily be fired from without, and by the most meretricious and empty of promises.
Read more, share this story, and find more articles from our archives.
---
Reader Response
Every Wednesday, Lori Gottlieb answers questions about life's difficulties, big and small, in our "Dear Therapist" column. One reader writes:
I am a fairly successful international attorney. My wife of 47 years died last December. It has been the worst three months of my life, and my depression does not go away.

How long will this go on? I still expect her to come out of her room daily. Should I go to Alcoholics Anonymous meetings again—although I have no desire to drink—just to talk? See a thanatologist? Is there anything to ease the solitude?
Read Lori's answer, and write to her at dear.therapist@theatlantic.com.
---
Adjectives
Damning portrayal, deft inventions, gargantuan mammals, invisible world.
---
Time of Your Life
Happy birthday to Stephen's "lovely wife," Ana (the same age as Martin Luther King Jr.'s "Letter From Birmingham Jail"); to Jack (a year younger than car seat belts); to Laura's husband, Eric (twice the age of hip-hop records); and to Mary's husband, Tom (the same age as It's a Wonderful Life), and son Ben (twice the age of the International Space Station).
Do you or a loved one have a birthday coming up? Sign up for a birthday shout-out, and explore the Timeline feature for yourself.
---